Amdocs and Amazon Web Services (AWS)
Achieve business agility in the AWS cloud, maximizing value from the outset of your migration

https://www.amdocs.com/sites/default/files/aws-iot.jpg
Overview
Today's top service providers rely on Amdocs' technology services to overcome business challenges in the AWS cloud.

With AWS certified professionals across our enterprise, the AWS and Amdocs partnership enables service providers to generate new services, competitive opportunities and customer experiences along their cloud journey.
Our Services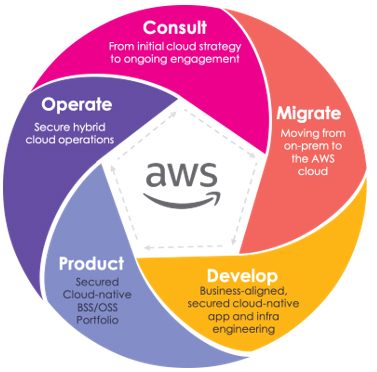 Consult
Cloud strategy
Application assessment
Domain modeling
Cloud architecture
Value stream transformation
Migrate
Landing zone
Application modernization
Platform accelerators
Application migration
CI/CD automation pipeline
Cloud-native application development
Team acceleration
MS360 localization
MS360 center of excellence
Custom full stack cloud solutions
Cloud remediation
Cloud center of excellence
Cloud program enablement
Engineering delivery with scrum teams
Products
Customer engagement via assisted and unassisted channels
Business enablement
Service monetization
Service and network automation
Why Amdocs?
In today's competitive market, where digital natives are setting the standard for consumers' digital expectations, it has never been more critical to acquire the agility to introduce innovative new services at a rapid pace. This is where Amdocs and Amazon's strategic partnership adds value.
AWS expertise

Amdocs provides a pragmatic and reliable roadmap, backed by expert professional services, to evolve mission-critical BSS, OSS and network solutions to the AWS cloud.

Cloud expertise

Our cloud-native, open and dynamic portfolio of digital solutions, platforms and services brings greater choice, as well as faster time to market and flexibility, to better meet the evolving needs of our customers as they drive growth, transform their business, and take it to the AWS cloud.

We know telco

Through our relationships with over 600 content creators and 350 communications and media providers across 85 countries, we serve billions of consumers worldwide.
We have many success stories of telco-specific, end-to-end, digital enablement cloud migrations on the AWS cloud. See some of them below.
Case Studies / Customer References

The Rhode Island Department of Labor and Training was looking to build an application that would alleviate churn, reduce confusion, and eliminate data loss that that resulted from a manual, paper-based process.
Learn More >>

Globe Telecom needed to modernize and automate its platforms with highly-flexible, scalable, cloud-based network services that its enterprise clients could easily configure, customize and monitor.
Learn More >>
Technology Partnerships