The Third Network – Live from MEF 16 in Baltimore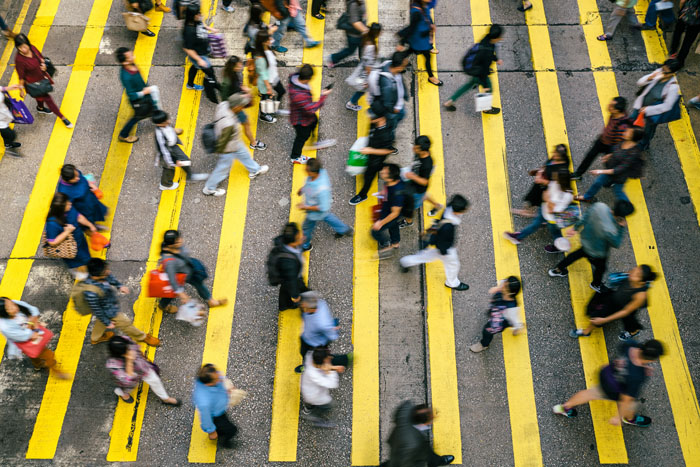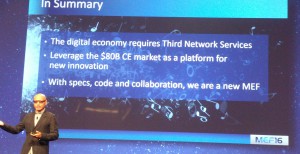 Nan Chen, MEF president, on the opening day of MEF16
The digital economy requires "Third Network services," said Nan Chen, president of MEF, in the opening session of MEF16 here in Baltimore. Or, as Comcast's Chad Haggerty put it, in today's on-demand era, "we need to think differently about connectivity services and embrace software to gain speed, agility and reliability."
But what is the "Third Network"? According to an MEF white paper announced today, the Third Network is an industry vision for the evolution and transformation of network connectivity services and the networks used to deliver them. In this vision, the Third Network combines the on-demand agility and ubiquity of the Internet with the performance and security assurances of today's business-grade networks such as Carrier Ethernet 2.0 and MPLS, and will enable services between physical and virtual networks.
Orchestrating this is are Lifecycle Service Orchestration (LSO) systems, which will be used for service ordering, fulfillment, performance, usage, analytics and security, both within an operator domain and across multi-operator networks. LSO, said Chen, is vital if the industry "is to deliver on the promise of NFV and SDN."
Haggerty, Comcast's senior director of OSS Systems, said this move to an on-demand experience with user-directed control over service capabilities and cloud connectivity reflected a major dynamic change in the industry. "We've gone from a hardware-focused, set-top-box environment to being able to watch anything, anywhere in the space of five years," he said.
This has resulted, Haggerty continued, in service lifecycle management going well beyond the network and extending to an ecosystem that needs to centered on the digital customer and their expectations of on-demand services, more flexibility and the ability to change bandwidth whenever they want. In other words, "the digitally empowered customer is becoming more involved in our business processes," the Comcast executive noted.
This isn't without its challenges. As Amdocs' Mark Gibson, director of product management, told a panel in the afternoon. "One of the major issues we see at service providers is that the move to hybrid services is leading to operational disruption. If you allow people to tailor their service, you've made operationalizing it harder and made the job of managing it more difficult."
Which is where the MEF, and its history as a standards body comes into play. As AT&T's Josh Goodell, vice president, network on demand, insisted: "We need to drive industry standardization across key areas, such as VNF onboarding, open universal CPE and SDN federation," a view that chimes with MEF president Chen's view of a standards-based approach for the Third Network.
In Chen's eyes, if service providers want to expand their service reach beyond their own networks and deliver dynamic capabilities, they need a standards-based approach that facilitates seamless interoperability with other providers and enables end-to-end service automation with open APIs.
Author: Jeff Barak is Amdocs' corporate editor and manages the company's corporate communications services team. He joined the company in 2008 after more than two decades as a print journalist.