CSPs Should Focus on Loyalty or Lose in Financial Services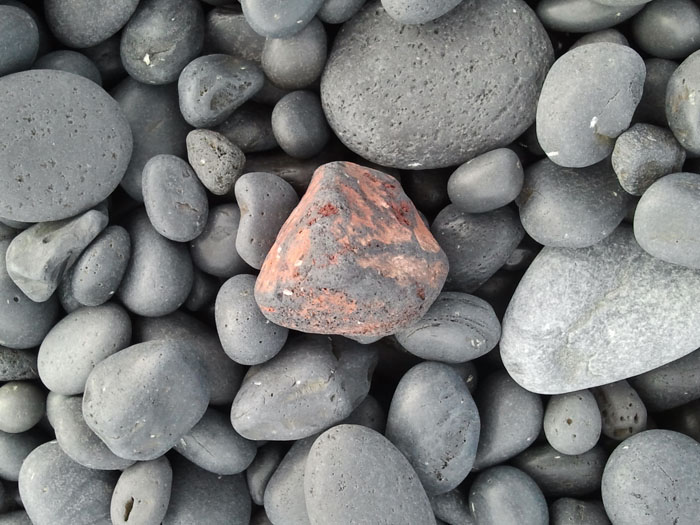 In Game of Thrones, loyalty is frequently earned through conquest, arranged marriages, or fighting with powerful friends. Mobile wallet service providers, on the other hand, don't have to take such extreme measures to get their customers to "bend the knee." They can foster loyalty through more socially acceptable means, such as reward points, discounts, or cash back. So why aren't they doing more to develop customers like Ser Davos Seaworth, the most loyal knight in the seven kingdoms of Westeros?
The Impact of MFS Loyalty Programs
We commissioned Ovum, a leading analyst firm to conduct two parallel surveys and try to better assess where the gaps between service providers and customers come to the fore as it relates to loyalty. In the first survey, they reached out to almost 50 MFS providers, probing into whether or not they had loyalty programs, their reasons for their decisions, and if they did have programs, what types of rewards they offered. In the second, we talked to 1,800 MFS consumers, to gauge how loyalty programs impact their usage habits and what if anything they are looking for in a loyalty program that they are not currently receiving.

The results were enlightening, yet they point to a puzzle that would stump the wise Grand Maester Pycelle. Overwhelmingly, consumers told Ovum that loyalty programs would increase their mobile wallet usage. At the same time, numerous service providers without loyalty programs told researchers that their customers don't need loyalty programs. We turned to the research to try and understand what's going on here.
Loyalty Programs and the Discrimination of the Unbanked
It's telling that 78% of unbanked consumers aren't affiliated with a loyalty program, compared to 50% of banked customers. The unbanked tend to be poorer, less educated, and less sophisticated than those with bank accounts. As such, it appears that service providers catering to this community believe that giving out rewards to a population that is either locked into their service, or is not aware of the concept of loyalty rewards won't deliver much of a return.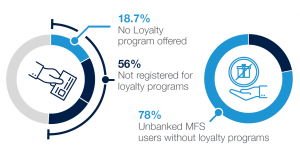 However, we believe nothing could be further from the truth. Unbanked users stand to gain the most from loyalty rewards. Service providers looking to increase mobile wallet usage among the unbanked need to create loyalty programs, and deliver consumer marketing and education messages so that their customers realize the benefits of the program.
Mobile Financial Services Providers Are Doing It "ALMOST" Right with Loyalty Programs
To be fair, many service providers are delivering loyalty programs to their customers. Research showed that 57% of MFS service providers currently have a loyalty program in place, with another 27% planning on introducing one within the next two years. However, Ovum's research points out that even within organizations that offer loyalty programs, they often times fall short of the mark.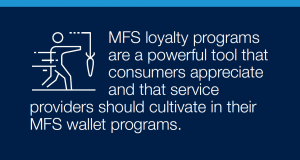 Within the existing programs, half offer tiered programs, such as gold and silver users. Of those providers who have the tiered programs, 79% claim that the different levels of rewards motivate their customers to increase usage of their services. However, when we talked to customers, 19% overall and 28% of unbanked customers didn't know if their service provider offered different levels of reward. Clearly, this is another area where effective marketing and education could pay large dividends for service providers.
Conclusion - Loyalty Programs are a Must for Service Providers
It seems, based on the research we commissioned with Ovum, service providers without robust tiered and user friendly loyalty program are missing opportunities. They suffer from lower usage rates, and unmotivated consumers. All this reminds me of one last Game of Thrones moment, when Cersei Lannister told Ned Stark "When you play the game of thrones, you win or you die." Service providers who don't offer their customers these services do so at their peril.
References:
Infographic: The impact of MFS loyalty programs on consumer usage
Why mobile financial service providers can't afford to ignore loyalty programs
Video: 5 misconceptions service providers have about MFS loyalty programs
Summary
The Iron Throne requires loyalty from its subjects
Summary
The Iron Throne requires loyalty from its subjects