A Wallet Platform Worthy of my Mobile Phone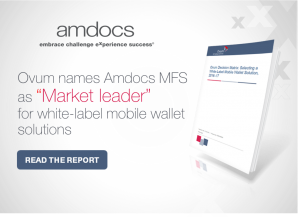 When I was around 14, my grandfather gave me a really nice wallet. What I remember most about it was the feel of the smooth leather on my hands when I touched it. I had a similar tactile experience when I got my first iPhone. Simply touching that smooth black back phone made me happy. Ironically, nearly thirty years after getting my first really nice wallet, my really nice phone is turning into a wallet. And one of mobile wallet platform leaders, according to Ovum, is Amdocs.
It's great to be recognized by Ovum, especially considering they are grouping us with industry innovators like FIS, Worldline and OpenWay, to mention a few. It's even greater to be recognized for the way we "stand out…in the telecoms space." And it's not difficult to see why Ovum regards our mobile wallet in such high esteem. With over 40 global deployments, our white-label mobile wallet platform U:Market is among the mostly widely deployed wallet platforms in the world. It's used across verticals, by banks, communication service providers and third party payment providers, showing off the flexibility in the platform to synthesize with disparate complex back-end systems while meeting the needs of different customer personas.
U:Market's flexibility extends beyond integration. Ovum noted that deployment options include on-site, hosted, and Platform-as-a-Service (PaaS). They also pointed out that our mobile wallet platform provides "a good balance of high functionality, strong fraud prevention/security, and strong integration and configuration capabilities."
To help mobile wallet providers determine which platform will provide the necessary functionality, Ovum published "Ovum Decision Matrix: Selecting a White-Label Mobile Wallet Solution, 2016–17". This update of its 2014 report serves as a reference guide for payment providers, by comparing Amdocs with the leading mobile wallet platforms and vendors. The Ovum Decision Matrix helps a mobile wallet provider to select a platform vendor. The matrix is based on three main criteria: market impact, technology and execution.
Market Impact
To evaluate the market impact of vendors, Ovum looked at the number and scope of the each vendor' mobile wallet platform deployments worldwide. The research company also probed deeper to check the staying power and growth of each vendor in the mobile wallet platform market.
Amdocs ranked on top as the market leader with its white-label mobile wallet platform (U:Market). This platform is already deployed at 40 sites all over the world, at banks, third-party payment providers, and telecoms of all sizes. Since the platform is highly flexible, it can adapt easily to various vertical segments and geographic locations. The wallet platform itself is able to serve as broader financial services
Infrastructure for customers that need a wide range of capabilities, and can but can be adapted to the specific needs of a potential wallet service provider which makes it suitable for almost all markets.
Technology
For the technology assessment of the various platform offerings, Ovum used several criteria. The platform architecture, functionality, configuration and integration were evaluated to address questions such as: What is the platform design approach? What are the functional and technology developments planned for the next 2 years? Does it comply with standard transaction methods such as NFC and QR codes? Does it provide multi-region support to work in various countries? What is the level of security and fraud detection and protection?
According to Ovum, Amdocs showed a good balance of high functionality, strong fraud prevention/security, and strong integration and configuration capabilities. It further concluded that the U:Market serves as a single consolidated wallet platform, supporting a wide range of financial services and payment forms all over the world. Since the platform is flexible and innovative, it can grow with customer and market needs and provide ongoing support. Last but not least, of all the platforms benchmarked, the Amdocs platform has the strongest security and fraud capabilities.
Execution
Execution is key, so Ovum looked into each vendor's ability to support clients directly or via partners. Since size does matter, large-scale deployments were examined to check if the platform is scalable enough. One size does not fit all, so Ovum also assessed each vendor's ability to provide various deployment options (on-site, hosted, PaaS).
Ovum concluded that Amdocs' execution capabilities are high. Not surprising, since a large number of Amdocs employees are dedicated to implement the platform working from a wide network of local offices. Ovum also noticed that Amdocs has extensive experience in deploying mobile financial services in a range of complex local environments. As the leading platform, U:Market offers various kinds of deployments including on-site, hosted, and Platform-as-a-Service (PaaS) options.
Author: Jonathan Kaftzan is responsible for defining, creating and implementing the marketing and business strategy, thought leadership, and roadmap for Amdocs' Digital, Intelligence & BSS solutions. When he's not exploring our digital future, Jonathan regularly heads out to sea, where he is a certified international yacht skipper and instructor.