DigitalONE
An end-to-end digital enablement platform for the full life-cycle of care and commerce processes
---
In today's competitive market, where digital natives are setting the standard for consumers' digital expectations, it has never been more critical to be faster than ever in offering innovative new services.
DigitalONE addresses this need. It is a telco-specific, end-to-end, digital enablement platform. It is open, cloud native, microservices based, and covers the full life-cycle of care and commerce processes, enabling business agility for accelerating time to market.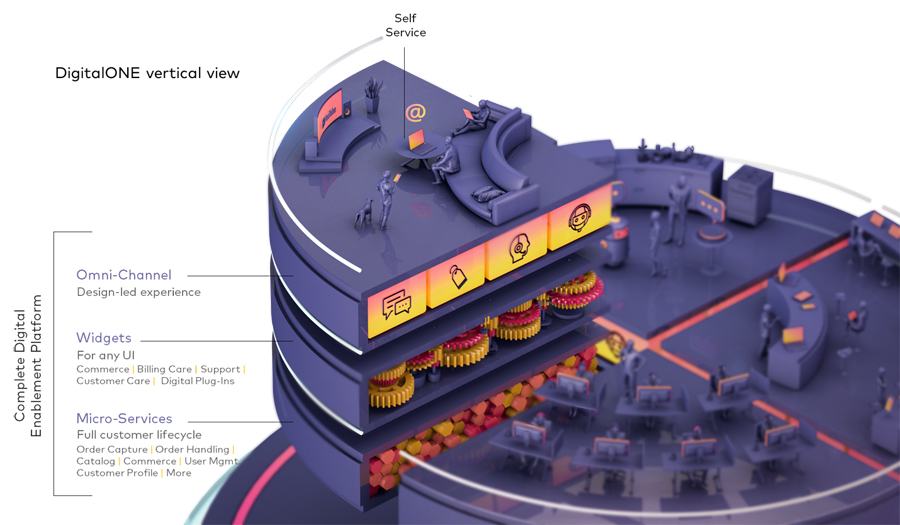 Click for expanded view...
PLATFORM HIGHLIGHTS


Give your customers control
Robust self-service empowers great digital shopping and care experiences


Provide a seamless experience
Personalize customer engagements with human and non-human interactions while connected across all channels


Bring more agile approach
Open, cloud-native approach enables fast responses and the ability to innovate
 
CUSTOMERS SPEAK OUT


"Three aims continue to evolve and innovate with Amdocs by our side. Working together, we will be very successful as a partnership."
Stephen Reidy, Chief Information Officer at Three Ireland

North American Mobile Operator

Amdocs' DigitalONE platform and microservices enabled SIM card activation via mobile in just a few weeks. The service provider improved the customer experience, reduced calls to the call center, and all in a very fast time to market.
ANALYST'S VIEW
Microservices approach in-depth review by Stratecast partners, a division of Frost & Sullivan
"Amdocs has the most well-articulated microservices stories so far within the CSP operational domain. One example of this is decomposition in Amdocs' Commerce & Care business domain, which is decomposed into nine granular, value-based business capabilities."
Read the report >>
Embrace your digital transformation with cloud-native enablement platforms
Moving to a digital enablement platform represents a revolutionary change in the way service providers operate. Such platforms embody new web-scale methods, which include cloud architecture, microservices, artificial intelligence and DevOps to rapidly develop and deploy new capabilities. When considering the best area to start implementing a microservices-based platform, Analysys Mason suggests starting in the area of digital experience – focused on care, commerce and other engagement areas.
Learn how a digital enablement platform can help you >>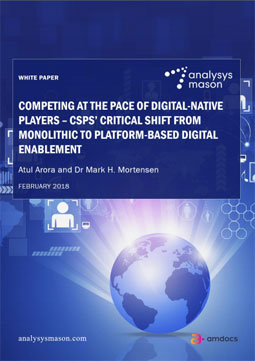 ---
See it in action!
Demo: Customer Journey
Engage with your customers in their channel of choice, providing them with an intelligence-driven, contextual and personalized experience. Watch a typical digital-native engage with her digital service provider using Alexa, a Facebook bot, a live agent and the provider's mobile app – and enjoy a great customer experience as a result.
---
Benefits
IMPROVED CUSTOMER EXPERIENCE

Deliver premier digital experiences with every engagement on your customers' channel of choice through virtual or live agents.

ENHANCED BUSINESS AGILITY

Accelerate new service time-to-market with a cloud-based, microservices driven platform that works with any BSS.

BOOSTED REVENUES

Convert every care engagement into a commerce opportunity with real-time personalized and contextual offers.

REDUCED COSTS

Automate care and commerce, and increase self-service adoption.
---