Revenue Guard
Operational Risk Management (ORM) services
---
We offer Machine Learning-based revenue assurance & fraud management platforms and services that enable detection, correction, prevention and recovery of revenue and cost leakages.
Our services are designed to ensure faster, more accurate prevention, detection and resolution of revenue leakage, fraud and cyber fraud, as well as transaction verification, financial assurance and operational efficiencies.
With Amdocs Revenue Guard's machine learning-based Operational Risk Management services, service providers benefit from analytical operational risk management solutions that enhance operational efficiencies while reducing risk.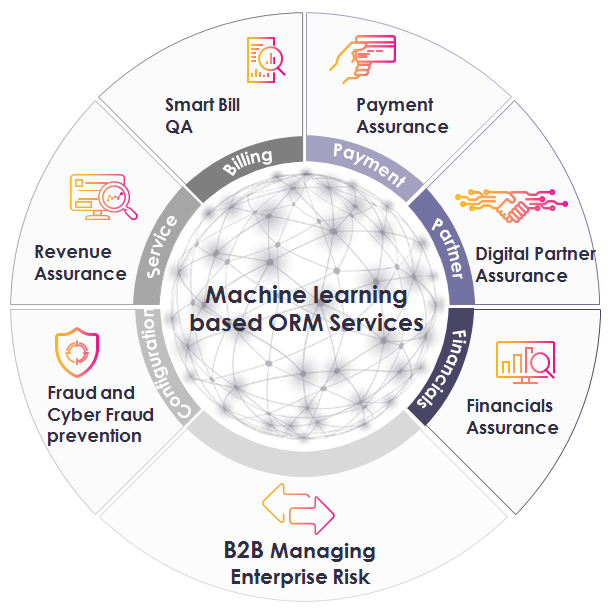 Amdocs Revenue Guard ORM Services
---
Amdocs Revenue Guard
We are with you to embrace the ever changing digital landscape
We live in an exciting era when the future reveals new opportunities every day as services and technologies change the way we communicate, they are also changing the role of service providers in our daily life. With these new opportunities there are also new risks. It is important to have a partner with a clear view of the future, a partner who can help you grow faster, safely with minimal risk. Amdocs Revenue Guard - your operational risk management partner.
---
The Amdocs Revenue Guard advantage
Minimize operational risk

Assure maximum prevention of revenue loss with an efficient machine learning based revenue assurance platform and service

Face the "digital boom" head-on

Face fraud and cyber fraud threats with a state-of-the art detection and prevention platform and services

Empower your ORM

Empower your operational risk management systems with machine learning based systems and platforms

Enhance your revenues

Leverage your knowledge to create new revenue generating engines
---