Amdocs takes the lead in setting out its generative AI strategy for CSPs
In June 2023, Amdocs announced its generative AI strategy and launched its amAIz framework – a framework that provides CSPs with opportunities to implement generative AI capabilities into their business strategy and addresses the associated challenges.
Analysys Mason takes a look at this initiative and it's impact on the rapidly evolving GenAI landscape. Highlights include:
The telecoms industry is facing a number of challenges in adopting generative AI, including data access, the reliability of results, and costs.
Amdocs' amAIz framework addresses these challenges by providing CSPs with a platform for developing generative AI use cases using their own data.
The framework also includes guardrails to assure, govern, and secure generative AI implementation and operations.
Amdocs is positioning its amAIz framework as a way for CSPs to differentiate themselves from their competitors and stay ahead of the curve in the race to adopt generative AI.
Amdocs' amAIz framework provides CSPs with a platform for developing generative AI use cases.
The amAIz framework will help CSPs to:

Achieve faster time to value for generative AI solutions
Circumvent the technology's associated risks and liabilities
Build generative AI into their portfolio of solutions

Amdocs is also providing new professional services around the amAIz framework to help CSPs get started with generative AI.
Get report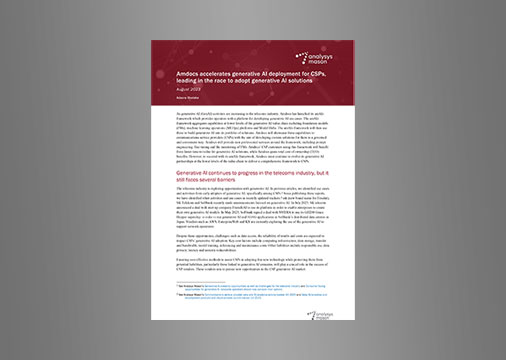 Learn more