The transition of traditional pay TV businesses into the world of online delivery and business models has been challenging for telecom service providers.
In this report, some indicators point to significant further scope for service providers to sign up subscribers to third-party streaming apps via their billing platforms and to provide compelling bundles to attract and retain such customers.
Paid online video: What consumers want and why it matters in the era of over-the-top
This report examines trends in consumer adoption of paid online video services aggregated and delivered by their telecoms (or pay TV) service provider. The study focuses on key areas of paid online video including viewing device choices, bundling propensity and user experience issues.
The analysis is based on: (a) Omdia's Digital Consumer Insights 2022 survey, which was conducted in September 2022 and covered over 12,000 connected consumers across 12 countries; (b) Omdia's Digital Consumer Service Provider Insights 2021 survey (also conducted in September 2022 and covered 250 service providers across 13 countries. Details of the surveys are provided in the appendix of this report.
Get the report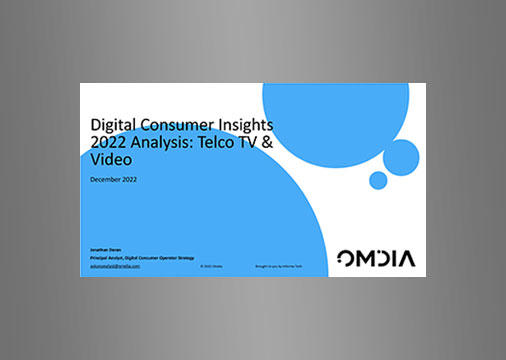 Learn more