"Cloud migration and operations are key focal points for Amdocs' future customer engagements"
This report from Omdia provides an overview and evaluation of Amdocs' services offerings. Omdia details Amdocs' portfolio of services and examines its positioning in comparison with other software vendors and IT services companies. Here's the Omdia view:
Amdocs provides software and services primarily to CSPs. In recent years, it has grown its revenue in the media sector and is starting to make headway in financial services.
The company is well-positioned to help telecom operators with 5G monetization, customer experience, and operational efficiency. Outside of the telecom sector, Amdocs has already had some success selling solutions to the entertainment industry. Going forward, it looks set to further diversify with sales to financial services companies.
For fiscal 2023, Amdocs is aiming for 6−10% revenue growth on the same basis. Amdocs' managed services engagements and the increased demand from CSPs to move and modernize applications on the cloud are expected to be key drivers for this growth.
In 2021, In the IT services category, Amdocs was the market leader with a 12% share.
Amdocs was the largest provider of IT services to CSPs in 2021
Amdocs has grown out of traditional billing, customer care, and OSS products. Its core strength is BSS; however, the company also has assets in OSS, network control plane, DevOps, microservices, AI, analytics, automation, and integration and cloud migration solutions. Most of Amdocs' products are included within its Customer Experience Suite (CES), a 5G cloud native, BSSOSS integrated suite
Get a closer look at Omdia's view of Amdocs services capabilities.
Get the report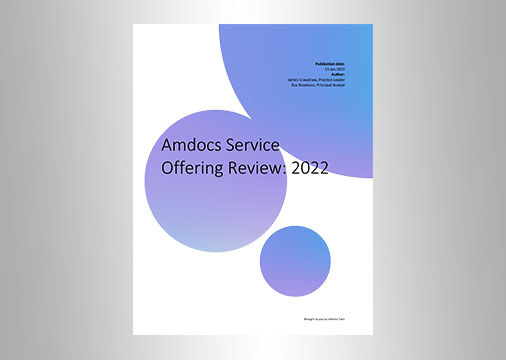 Learn more