The New Gamer Report, which surveyed adult gamers who game at least once per week, found that many are ready for a "post-console" future that pairs cloud gaming with 5G connectivity – and they are willing to pay more for it.
When it comes to the metaverse, while the majority of consumers are interested, concerns around poor connectivity, hardware costs and it being too early in its infancy could hinder adoption.
Findings from the research include:
The console wars are over: The majority gamers would consider going all-in on cloud and skip purchasing new hardware.
The gaming community is more diverse than you might think, with an even split in gender and a very surprising amount of gamers being baby boomers.
The metaverse is promising, but hurdles around poor internet, expensive hardware and relevant use cases must be addressed before gamers hop on.
Gamers would pay more for their cloud gaming subscription if it was bundled with a dedicated 5G connection to ensure quality control.
Quality of games from cloud gaming providers top the list, coming ahead of both price and quantity of games.
These insights highlight several opportunities for communications service providers, content creators and hardware providers.
Get the report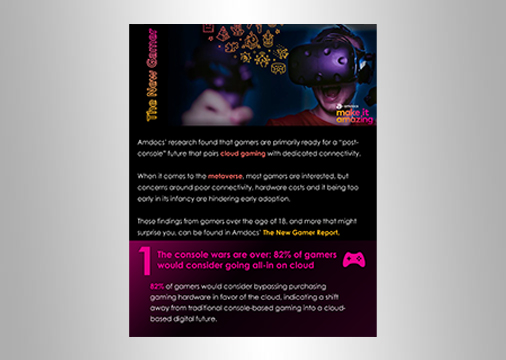 Related insights and products