Revenue Guard
Operational Risk Management (ORM) services
Intro
Video
Benefits
Learn More
We offer Machine Learning-based revenue assurance & fraud management platforms and services that enable detection, correction, prevention and recovery of revenue and cost leakages.
Our services are designed to ensure faster, more accurate prevention, detection and resolution of revenue leakage, fraud and cyber fraud, as well as transaction verification, financial assurance and operational efficiencies.
With Amdocs Revenue Guard's machine learning-based Operational Risk Management services, service providers benefit from analytical operational risk management solutions that enhance operational efficiencies while reducing risk.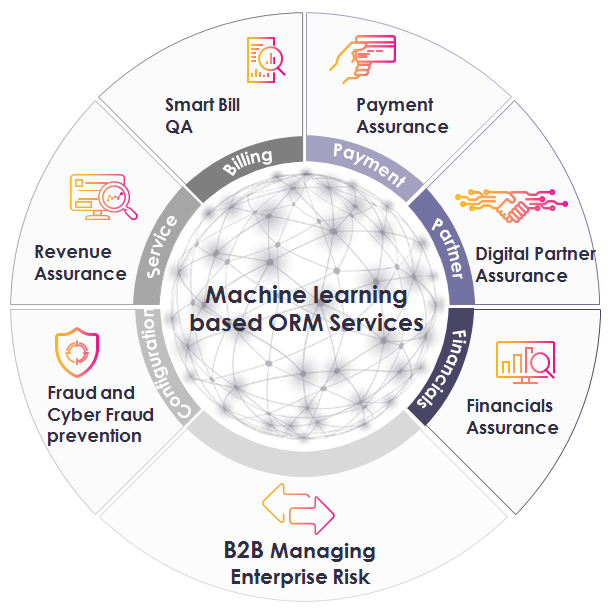 Amdocs Revenue Guard ORM Services
Amdocs Revenue Guard
We are with you to embrace the ever changing digital landscape
We live in an exciting era when the future reveals new opportunities every day as services and technologies change the way we communicate, they are also changing the role of service providers in our daily life. With these new opportunities there are also new risks. It is important to have a partner with a clear view of the future, a partner who can help you grow faster, safely with minimal risk. Amdocs Revenue Guard - your operational risk management partner.
The Amdocs Revenue Guard advantage
Minimize operational risk
Assure maximum prevention of revenue loss with an efficient machine learning based revenue assurance platform and service
Face the "digital boom" head-on
Face fraud and cyber fraud threats with a state-of-the art detection and prevention platform and services
Empower your ORM
Empower your operational risk management systems with machine learning based systems and platforms
Enhance your revenues
Leverage your knowledge to create new revenue generating engines
Learn More
TM Forum Award
Amdocs Revenue Guard wins TM Forum catalyst awards
Amdocs Revenue Guard wins TM Forum catalyst awards for an Outstanding Contribution to TM Forum AssetsWith the Empowering Business Assurance with Artificial Intelligence catalyst
Press Release
AMDOCS TO SUPPORT SAFARICOM LAUNCH OF NEW DIGITAL SERVICES WITH END-TO-END REVENUE ASSURANCE CAPABILITIES TO IMPROVE CUSTOMER EXPERIENCE
Safaricom set to more proactively protect against revenue leakage; optimizing revenue while keeping operational costs at a minimum
video
Amdocs Revenue Guard User Forum 2017
The annual Amdocs Revenue Guard User Forum was held this year in Jerusalem. This exciting three-day event, which ran through October 26, focused specifically on our customers' most burning needs and key interests such as Operational Risk Management (ORM), the role of machine learning in revenue assurance, cyber fraud, Enterprise B2B solutions and coping with Big Data.
brochure
Revenue Guard
Learn how our Revenue Guard machine learning-based ORM services ensure faster and more accurate prevention, detection and resolution of revenue leakage, fraud and cyber fraud.
video
A day in a life of a revenue assurance analyst and a fraud manager
View how Amdocs Revenue Guard ORM services enable revenue assurance (RA) and fraud management (FM) analysts to efficiently and proactively tackle RA & fraud issues.
video
Customer authentication as a key success factor to combat cyber fraud
As service providers migrate to new digitalized environments and customers are increasingly empowered to manage their journeys, application security vulnerabilities are becoming a main attack factor. Learn more about customer authentication challenges and how you can reduce cyber fraud threats in your organization.
video
Revenue Guard, Your ORM partner
Revenue Guard is a machine learning based operational risk management service (ORM) for detecting and resolving revenue leakage, fraud and cyber fraud. Using methodology, unique IP, and innovative technology, Revenue Guard provides end-to-end business process assurance. Learn More...