CatalogONE
The heart of your organization
---
An open-cloud native catalog solution that enables service providers to launch new services in minutes. It provides business & marketing with a simple user interface for their needs, analytics dashboard, collaborative processes and embedded intelligence to rapidly define,  implement, test, launch, manage new offers, product & services.
CatalogONE is a revolution
In its business empowerment
Intuitive and business-focused UI, intelligence, approval workflow, real-time publishing


In its approach
collaborative processes, run time configuration


In its design
role based UI with Design-led thinking


In its flexibility and openness
cloud-native architecture, powered by microservices360, federation of partner services
CatalogONE architecture is Cloud-native and built on API-first design and open source technologies through domain driven design.  It leverages market-leading PaaS to provide pre-defined telco-grade CI/CD environment and lean operations through amdocs Microservices360 framework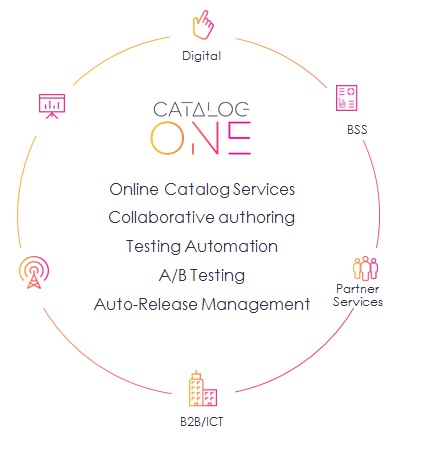 CatalogONE is the heart of your business
Advanced business models & offerings – consumer & business
Personalized and contextual offers, pricing & promotions
Digital services, ICT services, virtualization
Consistency across systems & touch points
Ability to understand and re-act to business changes in real-time
---
Design Thinking: A Success Story
Learn about the design-led thinking process used in the development of our new CatalogONE product.
---
Benefits of a Unified Catalog
Powering omni-channel selling

Integrated across the whole CSP Portfolio, allowing for fast launch of offers, personalization and creative bundles

Enabling the "world beyond connectivity"

Accelerating partner engagement fueling IoT, NFV netowrk partnerships and collaborative Enterprise solutions

Network modernization – transition to NFV & Hybrid Networks

Modular design and management of virtualized & physical network services embracing the fast pace of change

Driving forward enterprise services

Simplifies real-time interactions across sales, ordering, fulfillment processes allowing to deliver at scale
---
Customer Success
Sub Title
Story 1

Lorem ipsum dolor sit amet, consectetur adipiscing elit, sed do eiusmod tempor incididunt ut labore et dolore magna aliqua. Ut enim ad minim veniam, quis nostrud exercitation ullamco laboris nisi ut aliquip ex ea commodo consequat. Duis aute irure dolor in reprehenderit in voluptate velit esse cillum

Story 2

Lorem ipsum dolor sit amet, consectetur adipiscing elit, sed do eiusmod tempor incididunt ut labore et dolore magna aliqua. Ut enim ad minim veniam, quis nostrud exercitation ullamco laboris nisi ut aliquip ex ea commodo consequat. Duis aute irure dolor in reprehenderit in voluptate velit esse cillum
---