act on your intelligence
maximize the artificial intelligence (AI) opportunity
---
Amdocs enables service providers to leverage artificial intelligence to make a meaningful, quantifiable, and differentiating impact on their business with aia, Amdocs Intelligence Platform.
aia combines AI technologies, real-time data management solutions and extensive telco-specific domain expertise to enable service providers to inject intelligence across their business processes and customers' life-cycle.
Seizing the AI opportunity - an AI roadmap for service providers
Free white-paper by amdocs and Ovum
This paper is designed to support CSPs, providing a clear-headed perspective on AI and an actionable roadmap on how to maximize the AI opportunity.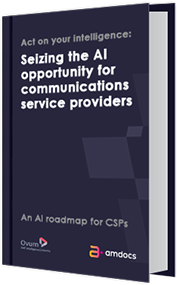 ---
Amdocs aia
Transforming customer experience, business processes and network management with embedded intelligence.
---
Benefits
Deliver the next phase of your digital journey

Enables you to be a smarter, data driven business

Revamp your customer engagement

Deliver personalized and contextual experience to customers

Drive efficiencies by automating decision-making processes

Automate processes and actions, leading to better decisions

Continuous improvement

Embrace self-learning capabilities into your business processes
---