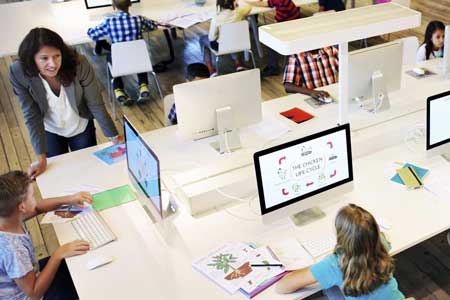 Close the digital divide & foster 5G innovation in education
Close the digital divide & foster 5G innovation in education
Empower educational institutions to promote equity in connectivity, while safeguarding mission-critical processes with dedicated private networks.
Close the digital divide & foster 5G innovation in education
Change your network game: mobile private networks for K-12 and higher education facilities
The digital divide poses significant challenges for US educational institutions, hampering equal access to reliable network connectivity. At the same time, they also strive to deploy 5G Private Networks to meet their advanced wireless needs. Yet their current reliance on the CBRS spectrum for wireless connectivity falls short in supporting all their business processes.
Amdocs Private LTE/5G Networks for Connectivity Services addresses these challenges. Through collaboration with mobile network operators, we enable greater mobility for users and devices, bridging the connectivity gap. Our expertise spans the mobile service provider, RAN, core, CPE and cloud domains, bolstered by our proficiency in designing and deploying transport solutions.
Our solutions provide reliable and affordable connectivity, empowering educational institutions to unlock the innovation capabilities of their research centers while safeguarding critical wireless processes such as video surveillance, gate control and point of sales. For students, it ensures seamless wireless experiences, freeing them to focus on their education.
Benefits
Vendor-agnostic with end-to-end accountability

Amdocs vendor experience & partner ecosystem with single point of accountability for committed SLAs, and proven mobile private network deployment experience.

Single pane of glass

Enables MNOs and enterprises to monitor and operate multiple vendors & domains, including E2E RAN, core, edge, devices and applications – all within a single solution.

Agile, flexible and scalable mobile private networks

Global delivery and support organization of over 2000 engineers, spanning systems integration, deployment automation, OT expertise, cloud, RAN, core, transport, security, software and AI.

Automated operations

Technology preparedness with the right AI/ML components ensures seamless AI-enabled operations for private network management & an enhanced enterprise experience.
Learn more