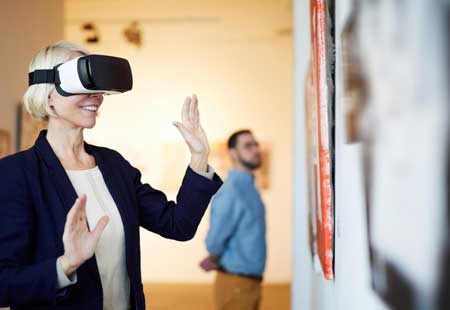 Enhance the digital traveler experience with AR & VR
Enhance the digital traveler experience with AR & VR
Low latency for high-speed wireless connectivity and faster content delivery at the edge.
Enhance the digital traveler experience with AR & VR
Travel in the digital age has created a demand for AR/VR experiences
AR/VR experiences are being increasingly fed by smart devices, geolocation and exponentially growing data consumption. For service providers, opportunities abound to enhance the traveler experience with augmented and virtual reality (AR/VR) use cases, making visits to the past or future feel more real, immediate and immersive.
Mobile private networks (MPNs) leverage high wireless data transfer rates and low latency, enabling you to partner with tourism administration entities to generate amazing experiences – and monetize your network investments. Yet deploying such networks is a complex process, requiring a wide variety of skill sets, network components and technologies.
Amdocs AR/VR Solution is a comprehensive one-stop shop for AR/VR experiences, encompassing the entire spectrum from design to network monitoring and customer experiences. Delivered in collaboration with our RAN, core and cloud partners, it guarantees the low latency you need to support high-speed outdoor wireless connectivity and accelerated content delivery at the edge.
Benefits
Vendor-agnostic with end-to-end accountability

Amdocs vendor experience & partner ecosystem with single point of accountability for committed SLAs, and proven mobile private network deployment experience.

Single pane of glass

Enables MNOs and enterprises to monitor and operate multiple vendors & domains, including E2E RAN, core, edge, devices and applications – all within a single solution.

Agile, flexible and scalable mobile private networks

Global delivery and support organization of over 2000 engineers, spanning systems integration, deployment automation, OT expertise, cloud, RAN, core, transport, security, software and AI.

Automated operations

Technology preparedness with the right AI/ML components ensures seamless AI-enabled operations for private network management & an enhanced enterprise experience.
Learn more