Layout canvas
"Digital technology initiatives remain a top strategic business priority for companies as they continue to reinvent the future of work, focusing spending on making their infrastructure bulletproof and accommodating increasingly complex hybrid work for employees going into 2022."
It will be translated to an increase of 5.5% on IT spending, bringing the spend to a total of $4.5 trillion (about $14,000 per person in the US) in 2022 as projected by Gartner, Inc [1] and expressed by Lovelock.
In his HR Predictions for FY22 reports, Josh Bersin writes that 'we are entering a fast-growing economy with the biggest labor (and skills) shortage we have ever seen in a decade.' Beamary's data supports this statement showing a 462% YoY increase in jobs posted in 2020 against the 46% YoY increase in the candidate pipeline.
Unsurprisingly, the Korn Ferry's CEO pulse survey indicates that 87% of the CEOs are concerned about further competition of labor, the supply chain, and high demanded skills.
My experience shows that today's digital journey focuses on finding the right candidate rather than reducing the cost per hire, which is usually the driver for digital transformation. Innovative technology enables the hiring managers and the HR function to focus on high-end activities instead of the routine transactional, administrative work while creating a personalized candidate experience.
Most of the article will describe the use of HR technology. Still, eventually, people work with people and for them, and there is no alternative to a discussion with a hiring manager or a professional recruiter. Loss of personal relationships with a candidate can increase the dropout of talents.
Therefore, upgrading the technology is part of a more significant transformation.
The organization had to change; for example, we transformed the recruiter's work to become an internal strategic talent advisor building bonds with the qualified candidates, conveying the cultural signals critical for the final joining decision.
I recommend reading McKinsey's article "Great Attrition' or 'Great Attraction'? The choice is yours," claiming that 40% of the employees are likely to leave their job in the upcoming 3-6 months. Based on Amdocs' digitalization journey, I will explain how we can use HR technology as a competitive edge in this 'great attraction' era.
What is HR technology?
HR Technology refers to the use of software and hardware to automate HR processes, making the repetitive, time-consuming efforts more efficient while reducing HR functions' anxiety and allowing them to focus on delivering a higher service level.
Candidate's Screening is an excellent example of a commonly automated recruitment activity. Research shows that an applicant's CV is stuck 38% of its processing time during screening.
The primary advantage of automatic screening is reducing this precious time, but waiting duration is not the only obstacle in the current era. Employer branding can be impacted due to ignored CVs or judgmental bias elimination, which might be caused by the sourcing team member.
Selecting advanced digital solutions, with artificial intelligence embedded, can lead to outstanding outcomes by processing mass candidate profiles, expanding beyond the usually considered talent pools, identifying relevant skillsets or backgrounds which recruiters might not consider, and opening non-common career routes.
In their 2022 talent acquisition trends review, Korn Ferry says 'invest in more inclusive technologies to root out bias and create equitable hiring practices. Current screening tools often exclude candidates because they do not tick specific boxes, limiting an already spare talent pool. This will need to change if organizations do not want to leave talent on the table.'
#HiredScore is an excellent example of a solution that we implemented as part of our toolset, but similar solutions are to be considered.
Candidate screening was one example of a single micro process in the overall recruitment process used, so one can only imagine the global benefit of a robust digital architecture to support this process end to end.
Per fortune business insight, The HR Technology market is significantly growing from the current estimated value of $24.04 billion globally; it's expected to grow by $11.6 billion over the next seven years to $35.66 billion value by 2028[i].
More and more companies are combining robust HCM solutions with a set of micro-HR processes served by best-of-breed solutions. This, together with the trend of embedding AI in the recruitment process, enabled many HR Tech startups and niche players to be a part of a major digital transformation.
The benefits of talent acquisition digital transformation
With the current forecast predicting that people will continue to be on the move, hiring volume is expected to grow while the fierce talent competition continues. In the bullet points below I listed the experience and diversity's benefits as they are getting higher and higher precedence over the usual cost and time elements.
Improved experience for candidates (internal and external), hiring managers, and recruiters – Engaging personalized experience, collaborative environment for various stakeholders along with fast response time, as well as transparency for both accepted and rejected candidates and supporting positive employer brand maintenance.
Removal of bias while promoting diversity – objective decision-making based on skills and capabilities assessment — consistency of hire.
Efficiency and productivity – 'Always on' recruitment process, reaching a high number of candidates without compromising on quality. Data-driven prioritization promotes candidates in the recruitment process and focuses on hiring managers or recruiters based on the most suitable profiles.
Faster hiring time – reducing idle time on processes such as screening and assessing candidates.
Constant adjustment to market dynamics – using Artificial Intelligence and Machine Learning to identify skill taxonomy as well as job modifications and adjusting candidate pipeline to the changing needs.
Human errors reduction – when manually processing thousands of applicants with sensitive data, there is a potential risk that automation can quickly mitigate.
Data – using captured data for ongoing improvements, patterns identifications, and machine learning enablement.

 
Talent acquisition digital architecture
'Best of breed' or 'Best of suite'? This is a fundamental question one must ask oneself before starting a digital transformation.
'Best of breed' is a selection of vendors each covering a part of the process while you can select the best solution suiting your needs as a customer. It gives you flexibility with design and implementation. You are getting local optimum, but you will need a strong IT department to ensure flawless recruitment since it requires multiple integrations and consistent of data integrity. On top of which, the support is given by multiple vendors, and in many cases, such a solution will be more costly than buying an integrated suite.
When selecting 'Best of suite' you are guaranteed integrations, consistency, and a single point of contact; however, you lose flexibility and are dependent on this vendor module's maturity and roadmap. Amdocs digital transformation, as displayed below, is a combination of a leading ATS in the backend (SuccessFactors) along with a complete set of integrated solutions and an added standard experience layer.
I will not use this article to cover all the microservices and related technology we use but I will offer a few examples.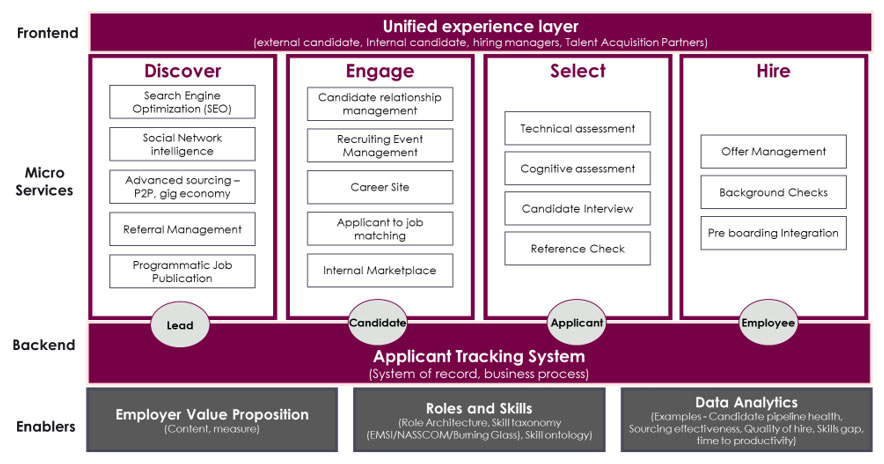 HR-tech examples layered on the four stages of talent acquisition
The Four stages characterizing the talent acquisition journey: Discover, Engage, Select, and Hire. Each step has its technology tools combined with the 'best-of-breed' course of action.
Discover
The talent discovery tools can propose candidates from outside the usual recruiters' talent pools. Once the prerequisites along with the required skills are defined, the AI based on skill taxonomy and role ontology, can identify talents with roles or backgrounds which recruiters might not have considered, enriching the talent pipeline.
Many of the solutions obtain similar functionalities enabling the AI to match relevant candidates/employees within the database, to fit available positions, and roles.
Another good example is AI-based text analysis, used by recruiters to write and publish better job descriptions. Where an issued publication is aligned with the company's EVP as well as the dynamic cultural dialect, attracting a narrower scope of a crowd. After selecting #Textio as Amdocs, we managed to dramatically improve our posting's quality score. As explained, the talent discovery tools identify the passive candidates and AI-based text analysis improves jobs' appeal yet, we still need to ensure posting them to the right audience at the right time. This entails programmatic job advertising solutions.
There are thousands of job boards, programmatic advertising using Artificial Intelligence and algorithms to find the right job candidate based on browsing history placing your ad in their feed, increasing their probability to apply.
Engage
Maintaining a healthy candidate pipeline and managing the constant relationship in a candidate-driven market is critical. In today's climate, companies are moving from position sourcing to strategic sourcing, meaning companies source top talent ahead of a requisition when generating their candidate pipeline.
Building and growing the candidate pipeline should be done on all three levels: current candidates, past candidates, and potential future candidates. Candidate relationship management's (CRM) technology is used to automate the communication process with the candidates, encouraging their engagement through targeted content, and eventually reducing active sourcing efforts by attracting candidates to apply for open positions.
CRM enables content personalization. Tailored communication improves candidate experience and increases the conversion rates of candidates to applicants.
Once a candidate applies for a job and becomes an applicant, AI solutions can perform applicant to job mapping, rating their profile match to each available requisition creating a shortlist for hiring managers' review. The benefits of progressing to the right applicant in the hiring process are reducing the hiring managers' load, optimizing hire time spend, and improving the applicant's experience.
We tend to mostly think of external candidates: however, internal mobility has become the optimal win-win for the employees and organizations. Companies now understand that many of the challenging positions can be filled internally.
Employees' progress while remaining within the company using their knowledge and experience can be crucial. We can use the internal marketplace to introduce employees to potential positions/roles based on the same AI skill matching mechanism used on external candidates matching by potential, engaging the internal employees, and offering them the next career move. Unlike the previously commonly structured career maps, now any route is viable.
Select
During the assessment and selection phase, the decision is based on the recruiter's judgment, however, using AI-based assessment can assist with a non-biased, structured way to quickly sort out candidates.
The assessment will usually search for the candidate's ability to perform the job technically and analyze the candidate's fit to work with others. Using AI-based self-assessments again improves the selection rate and quality of hire while reducing the burden off the hiring managers who now need to interview less, yet more qualified, candidates.
Hire
Losing a candidate at the final hiring stage is quite frustrating. Technology can support negotiation and offer more streamlined letter processing. A predefined template can automatically generate an offer letter ready for e-signature. Using technology can mitigate risks of legal ramifications and litigation.
We can prevent another potential liability risk with automated background checking, which verifies credentials, looks up criminal records, and monitors social media to warn you of any issues before extending a job offer.
Summary – Tips for HR tech beginners
Start with journey mapping & design – Use design thinking methods to define the ultimate candidate (internal and external), hiring manager, and recruiter journey. Involve recruiters, accepted, and rejected candidates, and a hiring manager to identify and prioritize experience-driven pain points for resolution.
Explore the market –Know the possibilities in the market, spend time reviewing the HR tech landscape. It is incredibly dynamic with an endless number of vendors. Use sources like Gartner, Josh Bersin, Deloitte, or 'google' and read the vendors' white papers.
'Best of breed' or 'Best in class' – is a critical decision. Calculate the risks of best-of-breed solutions. If you can afford them, then I personally recommend selecting this option. Flexibility is key in this market.
Do not look at it as a standalone IT project – It is a robust transformation that will change the talent acquisition operating model of the relationship between HR and the business. This should not be taken lightly.
Change takes time – There is no 'silver bullet' but many minor improvements. Monitor progress closely and celebrate success.
If you want to discover more about my journey into the future of HR, join me on my LinkedIn page > linkedin.com/in/asafjackoby
[1] https://www.gartner.com/en/newsroom/press-releases/2021-10-20-gartner-forecasts-worldwide-it-spending-to-exceed-4-trillion-in-2022
[i] https://www.fortunebusinessinsights.com/human-resource-hr-technolog7y-market-105437
Learn more