Layout canvas
By their nature, CSPs consume a lot of energy and resources. This poses two significant challenges: the rising cost of energy and the impact on the environment.
Add to this industry expectations for massive growth in mobile traffic data, and the situation becomes even more complex. To satisfy customers, investors and employees alike, these players need to pursue a green, yet economically sound agenda that both satisfies environmental, social & governance (ESG) requirements, while optimizing and improving the quality of connectivity. Indeed, in a 2022 Omdia survey, 49% of operators agreed, saying energy savings through management and optimization improvements are key to achieving their sustainability goals.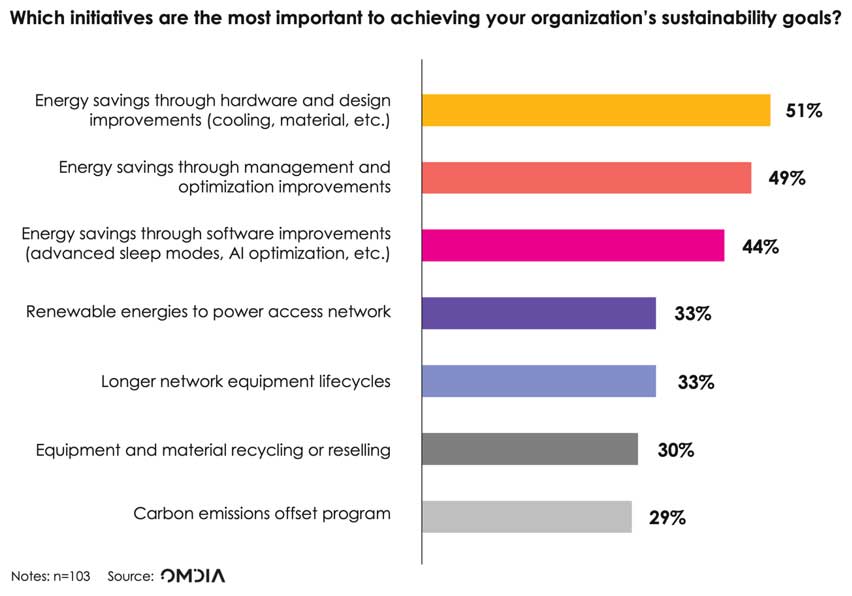 Figure: Which initiatives are the most important to achieving your organization's sustainability goals?
AI and energy management
In mobile networks specifically, the Radio Access Network (RAN) consumes the highest proportion of energy of the entire mobile network. Indeed, depending on factors such as technology, geographical location and others, this could even amount to 80%. For mobile network operators (MNOs), this creates considerable incentive to source energy efficient strategies that can help them to reduce both their environmental impact as well as energy costs. And while renewable energy sources like solar and wind power exist, a key approach to cost saving still relies heavily on energy savings driven RAN automation.  For this approach, the best path to begin lies in optimizing the network equipment providers' existing power saving features, which deactivate specific radio components during quiet periods, such as at night. Reality is that many operators still never or rarely use these features due to the fear of impacting network quality and customer experience.
Amdocs Network Optimization's data analytics capabilities support this approach by identifying and mitigating potential quality impacts, as well as establishing wider windows for power savings mode activation achieving over 10% energy savings.
Throwing 5G into the mix
It's widely accepted that energy consumption for the RAN in 5G networks will be higher than that of 4G networks – at least in the initial stages of deployment. That's because 5G networks use higher frequency bands, which require a higher capillarity with more base stations to cover similar geographical areas. But the upside is that 5G networks will be smarter, with the software-defined RAN Intelligent Controller (RIC) providing potential for significant energy savings by reducing power consumption of their network equipment. These savings can be enhanced using rApps (RIC Applications), which are software applications that run on top of the RIC to provide the network with additional functionalities and intelligence.
By using an energy saving rApp for example, operators can monitor the power consumption of their network equipment and identify opportunities to reduce energy usage, as well as automate the process of turning off or scaling down network equipment during periods of low traffic. Similarly, a coverage & capacity rApp can be used to optimize network resources to ensure they're being used efficiently, thereby reducing the need for additional equipment and energy it consumes.
Amdocs Open RAN solution overcomes the energy challenges of 5G by providing MNOs with integration services (e.g., validating vendor combinations), deployment services (e.g., network planning and design) and SMO (Service Management and Orchestration) - including the non-RT RIC hosting rApps. All these capabilities ensure the levels of energy consumed by the network are optimized in accordance with performance, customer experience and ESG needs.
Achieving energy efficiency goals
Even as the demand for connectivity continues to rise, answering this demand doesn't have to come at the expense of the environment. By embracing innovative technologies and energy-efficient practices, CSPs can meet the growing demand for connectivity while minimizing their environmental impact.
As a provider of innovative software and services for the communications and media industries, Amdocs is committed to leading the way towards a more sustainable future. Through the use of advanced technologies like AI Amdocs has developed innovative solutions such as RAN optimization capabilities that apply to both current and future networks. Amdocs has also implemented software optimization across our offerings to maximize efficiency and minimize resource utilization. Additionally, Amdocs' support for public cloud deployments can help reduce power consumption by over 50%, positioning CSPs to operate their networks more efficiently, while contributing to a sustainable future. With Amdocs' dedication to energy-efficient practices, achieving both reliable network delivery and sustainable operations is not only possible but crucial for the well-being of our planet.
To discover how Amdocs Networks can help achieve your business and sustainability goals, visit Network Deployment & Optimization.
 
Learn more