Layout canvas
I recently had the privilege of participating in the Beyond Boundaries Women's Leadership initiative – a first-of-its-kind program for women in technology that encourages knowledge sharing, collaboration, networking and professional growth.
Together, we were a group of 20 women executives from Amdocs and Comcast – each of whom I found truly inspiring in their own way. Over a six-month period, we met to build bonds, set goals, hone our presentation skills, practice team problem-solving and hear from some amazing speakers. For many, it was our first all-women technology experience, and led to conversations that were personal, introspective – and as a result, transformational.
Space and time
A key highlight was a session with two very different powerful women, each with her own story. The first was renowned astrophysicist, Dr. Jocelyn Bell Burnell, who in 1967 discovered Pulsars, the dense remnants of exploded stars. The second was 16-year-old Maya Sharma, author of 'Paving', a compilation of 25 interviews with powerful women leaders.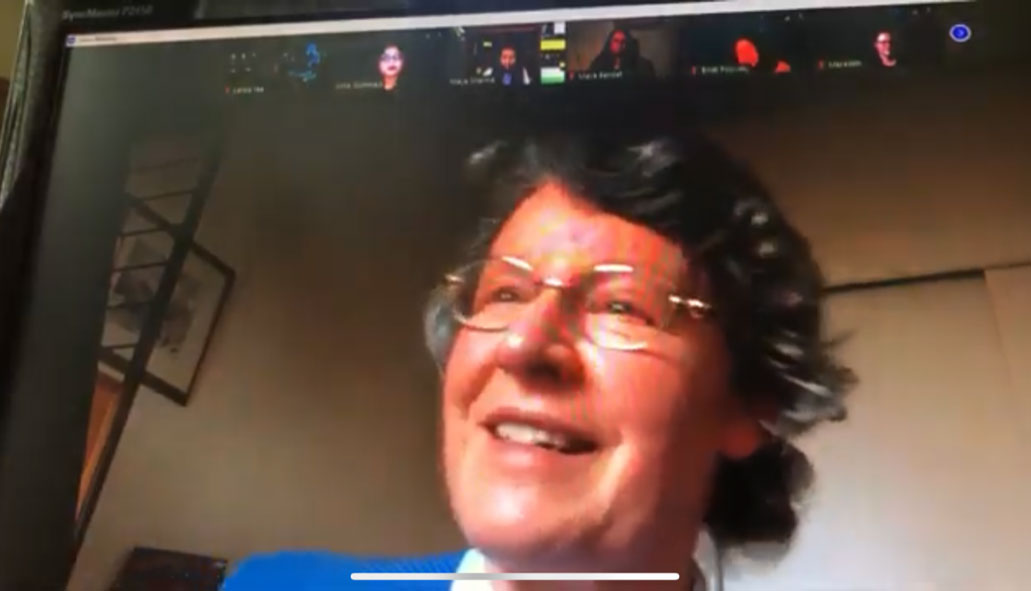 Dr. Jocelyn Bell Burnell, Astrophysicist
The session focused on each individual's fascinating stories of empowerment and inspiration. Dr Burnell shared her story of having a discovery being awarded the Nobel Prize for Physics, yet being herself omitted from the recipients – it was given to her male counterparts instead. She then related how she regathered her strength, going on to win numerous other awards and honors related to her discovery, including the Special Breakthrough Prize in Fundamental Physics, of which she donated the entire 3 million dollar prize money to a charity dedicated to women's causes. Maya spoke about "Paving", and her experiences interviewing amazing women leaders, such as Dr. Janet Yellen (US Secretary of the Treasury), Jacinda Ardern (Prime Minister of New Zealand), Lindsey Vonn (American alpine ski racer), as well as Dr. Burnell.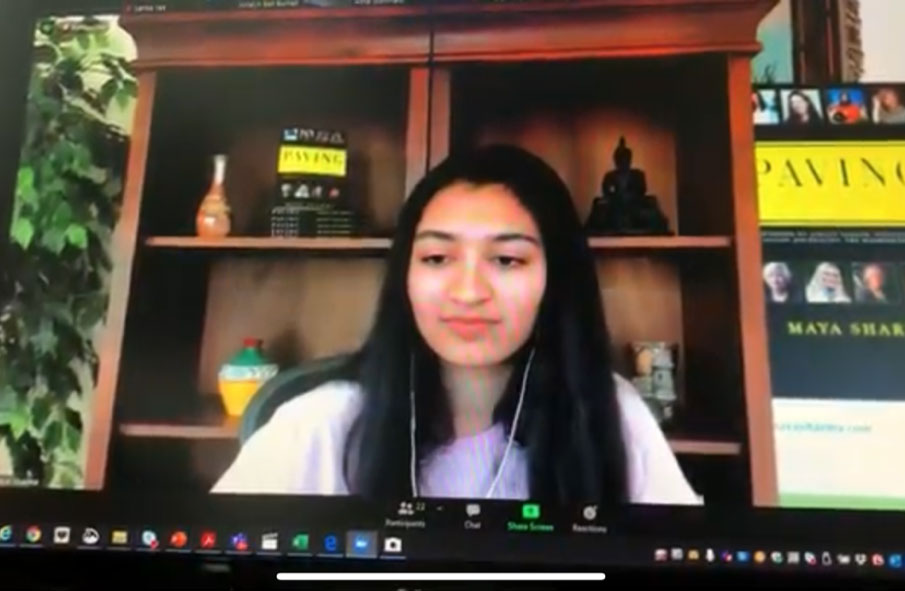 Both women shared their experiences about participating in the traditionally male-dominated domain of science, technology, engineering and mathematics (STEM), the importance of encouraging greater female participation in those fields, and why early exposure from a young age is crucial. And despite the generational gap between the two, it was moving to see the commonalities in their determination and struggles to overcome gender inequality.
Creating a sense of community
Another session that left a huge impression was a meeting with Jane Golden, founder of Mural Arts Philadelphia, which under her direction, created over 4,000 works of public art in collaboration with community-based organizations, city agencies, non-profits, schools, the private sector and philanthropies. While the murals certainly contribute to the city's aesthetics, more importantly, they raise awareness about difficult societal issues like gang violence, addiction and racism. Jane also reminded us that art is catalytic – having the power to bring people together – and related how these murals helped create a real sense of civic pride for the city of Philadelphia.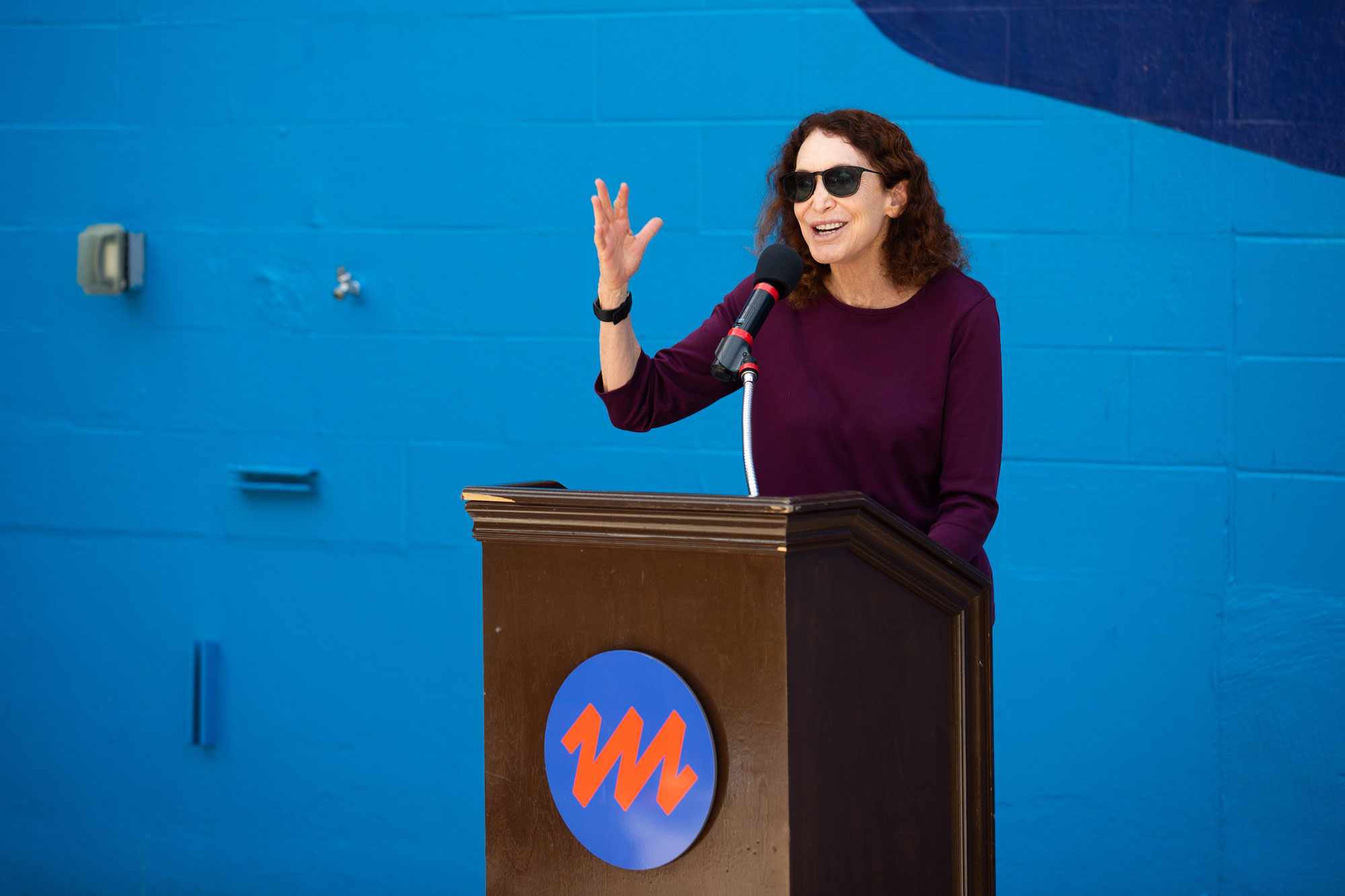 Jane Golden, Founder of Mural Arts Philadelphia
Inspired by the talks of these incredible women, we then decided to commission our own Beyond Boundaries mural. For this project, we worked with artist Serena Saunders to create something special in a prominent space in the city center – to pay homage to women who are breaking boundaries in fields related to STEM, and to serve as inspiration to younger girls to explore these fields for themselves.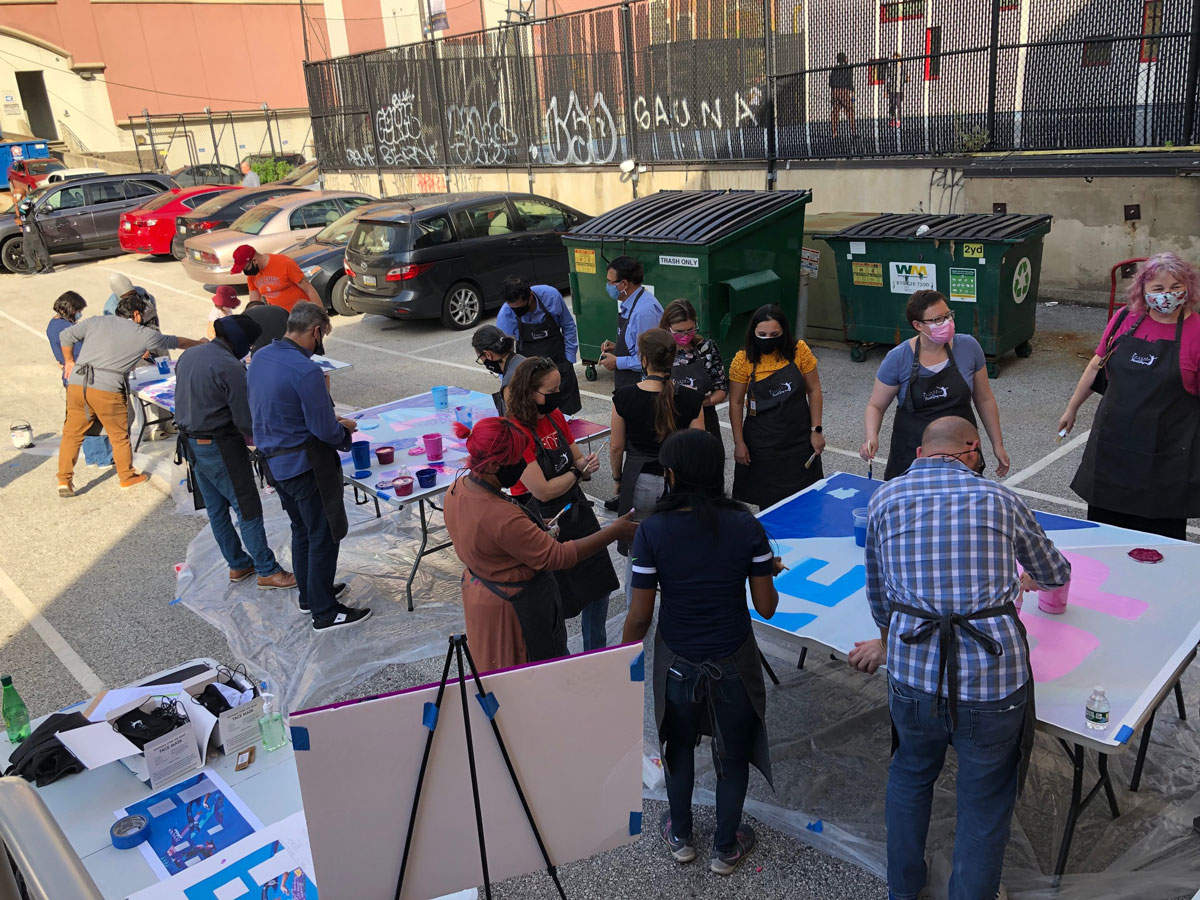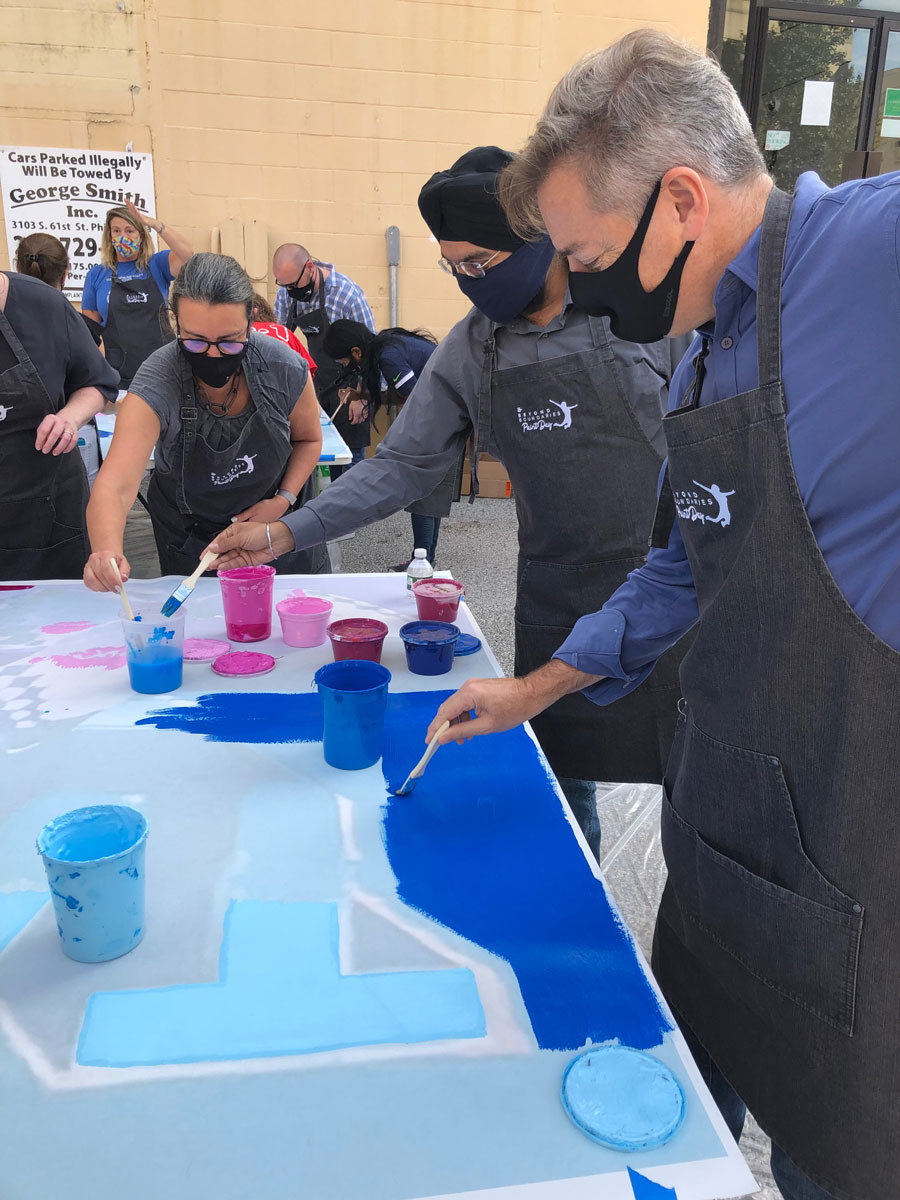 At the dedication ceremony, meeting with Serena in front of her larger-than-life mural, we heard about her experiences creating the piece, including the collaboration of all the different groups involved, as well as its central theme 'taking up space', which refers to the idea that while women in technology are often the minority, they must make their presence known and speak up.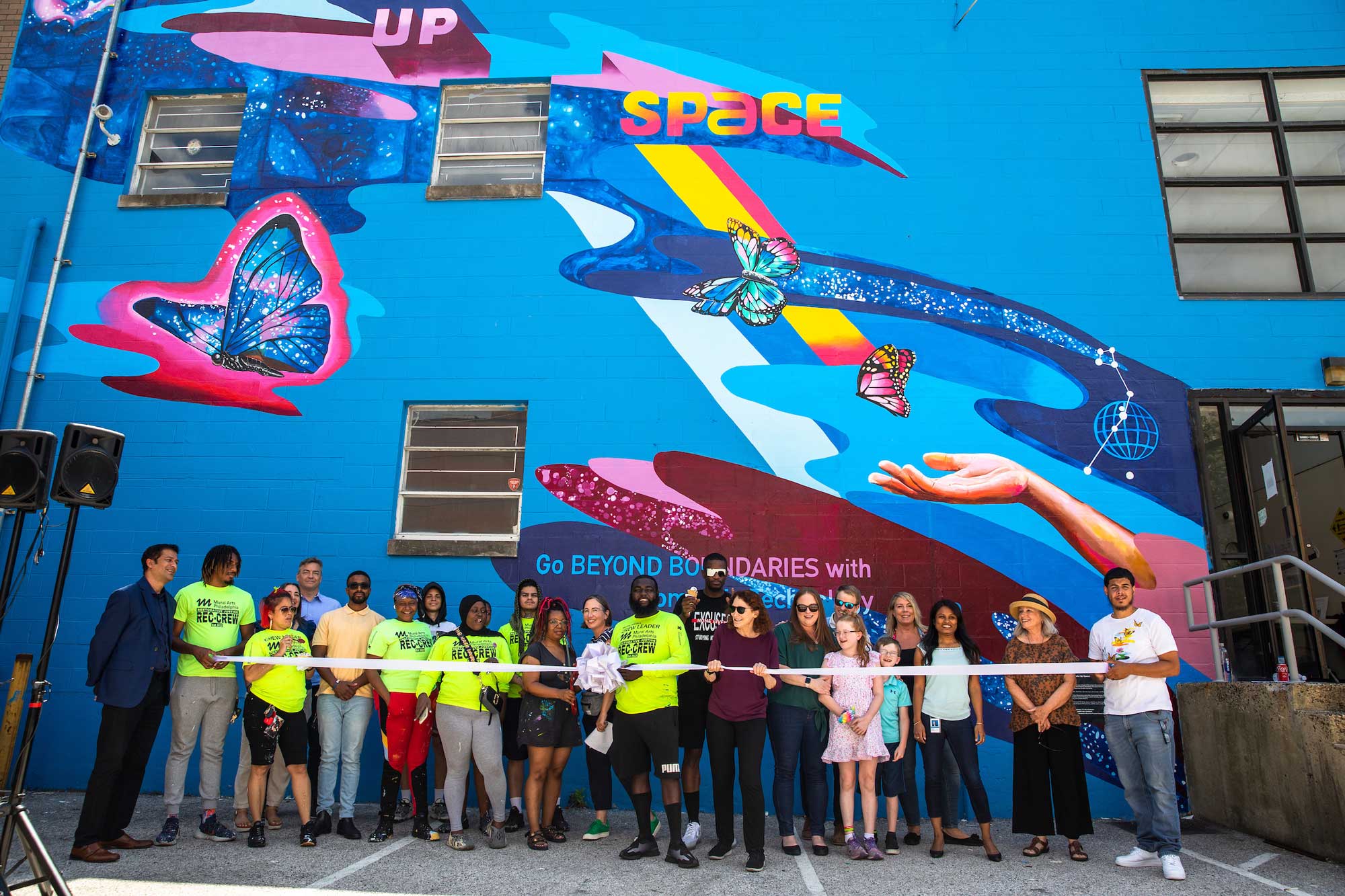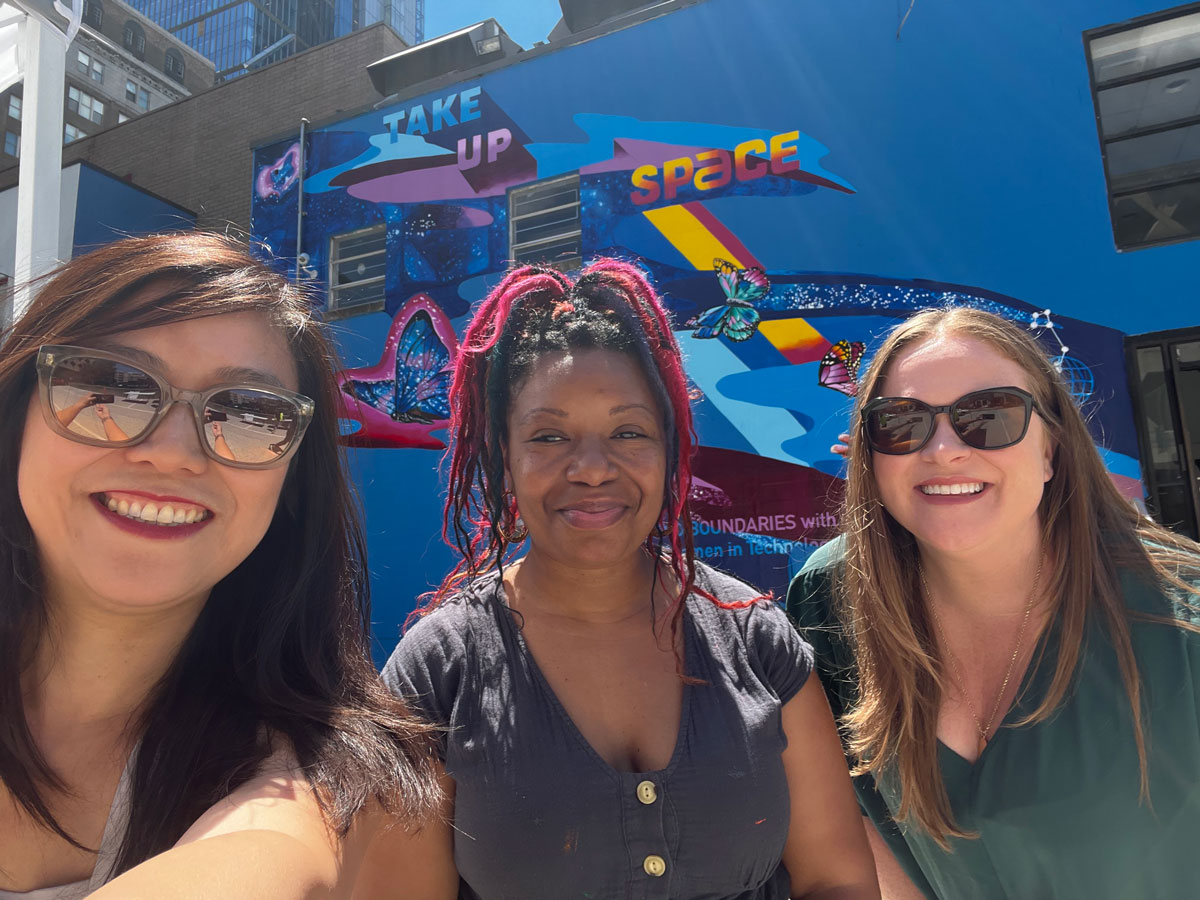 Larisa Yee, Serena Saunders (artist), Erin Hosbach
The timing of this project - which started during the pandemic with virtual sessions and ended with a public mural dedication - couldn't have come at a better time. With forced isolations still fresh in our minds, it was heartwarming to experience everyone coming together in person. What started as a journey of personal growth and empowerment had ultimately led to something much greater, bringing people from diverse groups, backgrounds and thinking to unite for a greater cause. Most of all, the program created a spark of purpose and inspired the initiation of other women's leadership programs, while we ourselves continue to push forward, think beyond and challenge accepted norms.
Learn more