Layout canvas
Whilst not catching as many headlines as 5G, fiber remains the backbone of today's telecommunications and its future remains very bright. With more economic pressure on telcos than ever, a new approach is needed to deploy this timeless technology more efficiently.
Fiber might not hold the same 'cool' factor as other technologies like 5G, 6G, fixed wireless access, or satellite, but 50 years after its birth, it's still as critical to our telecommunications systems today as it ever was. 
In fact, one could say it's gaining unprecedented momentum. This is because the demand for fiber is coming from many fronts. Whether we talk connectivity for consumer (FTTH), enterprises (FTTP), data centers, 5G, 6G, or FWA backhaul; fiber is the foundation that enables them all. 
If the pandemic taught us anything it is that reliable consumer and enterprise connectivity coupled with high bandwidth is critical to maintaining our society's functioning, and fiber is still firmly ahead of anything else in fulfilling these requirements. Yes, FWA and satellite are gaining pace, and hyperscalers will likely make disruptive moves sooner or later. But for the foreseeable future, fiber is expected to rule.
And whereas wireless connectivity demand continues to grow. This growth is perversely pushing up the demand for fiber, as 5G and 6G require higher densification, which means more fiber between the small cells and the fronthaul, and it will likely also increase backhaul traffic.
And if this was not enough, we are seeing a massive uptake in fiber coming from data centers and edge centers to support the increasing demands on capacity and latency that new digital use cases like robotics, video analytics, AI, gaming, or V2X require. 
This demand for fiber coming from different fronts is reflected in telcos' high investments in fiber deployment worldwide. According to IDC's Worldwide Telecommunications Capex Forecast, telcos' CAPEX by 2026 is expected to be $328bn, with fiber still representing 44% of their total expenditure. 
What it is promising is that advances in technology are providing telcos with new avenues for revenue beyond traditional connectivity subscriptions.  The opportunity to monetize the network by exposing its capabilities to the consuming layers by quickly developing and opening the possibilities of network monetization to previously unattainable levels.
Despite all the massive growth and new revenue opportunities, it is well known that all telcos are under tremendous pressure to reduce cost and speed deployments to address the ever-present threat of a declining return on investment capital (ROIC). 
Deploying fiber is still a costly and complex process that requires skills and tools that not all telcos have. And it is not easy to find the right provider with a telecoms DNA and the modern tools to be able to partner with them to achieve the savings they need with the quality expected by consumers and regulators.
Amdocs has made significant investments in its fiber solutions and with years of telco expertise and over 3,300 fiber projects delivered, we have what is needed to address these challenges.
Amdocs Fiber 360, a new approach for the next generation
Our unique proposition is not limited to supporting telcos at the rollout stage. 
We take them beyond deployment and support them in the provisioning and activation of customers orders as well as operations and assurance of the network. 
Our Fiber 360 Solution is comprised of a comprehensive set of services and our open and cloud-native solutions are ready to cope with the modern telco and IT worlds.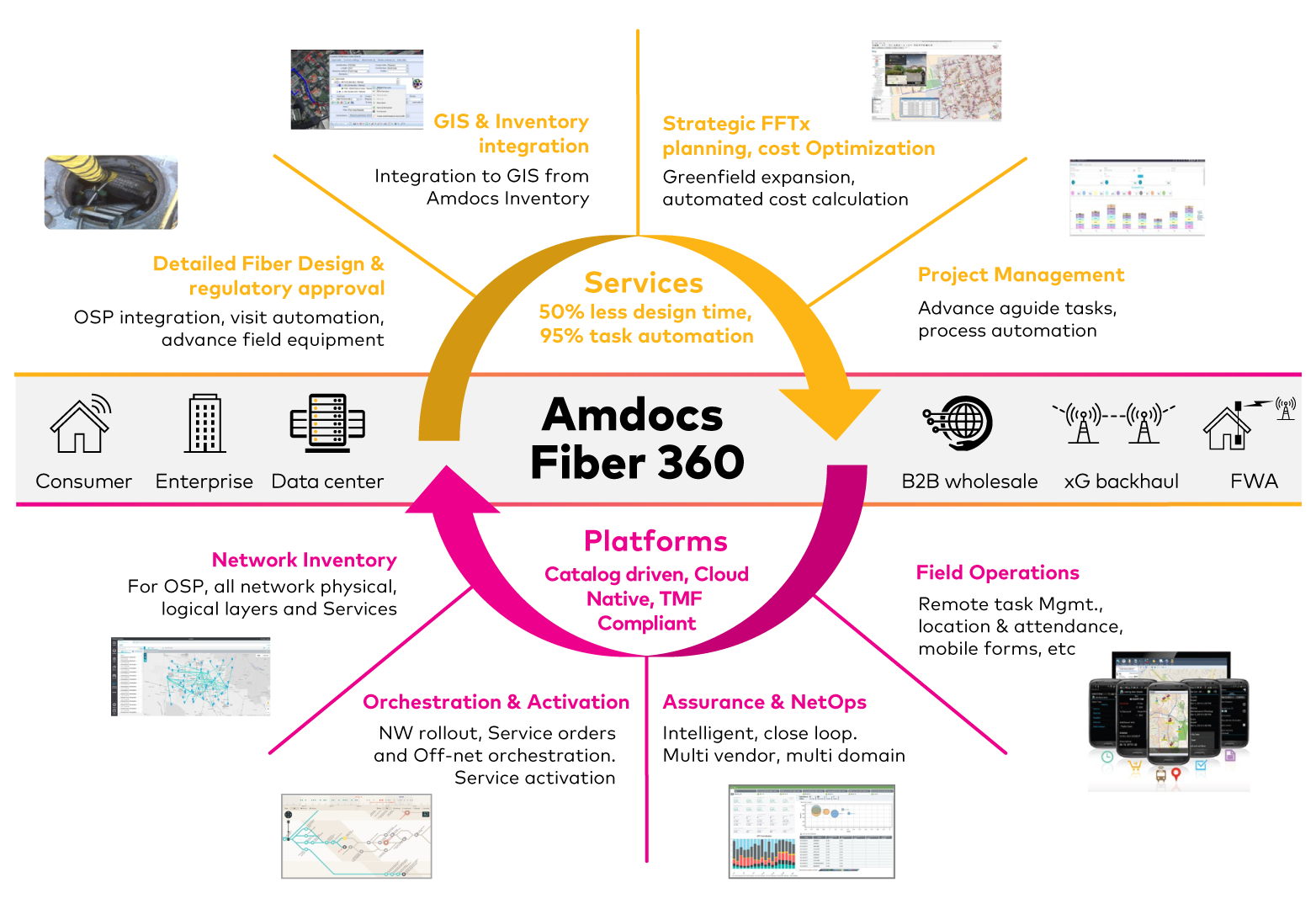 Our services include
Detailed fiber design and regulatory approvals including scoping, bidding, and field surveys, either using the Telco's preferred tools or our own.
Strategic FTTx planning and cost optimization.
GIS systems for precise location of built infrastructure to provide essential input for detailed design and construction.
GIS integration to our market-leading inventory solution for both physical underlays and logical and virtual network and service overlays.
Workflow management solutions with advanced visualization of tasks, and automation to ensure on-time delivery of projects.
Our cloud-native, TMF standards-compliant platforms include
Comprehensive Inventory solution for supporting all network layers, services, and outside plant. Vendor agnostic and with multi-technology support. It provides a state-of-the-art UI and federation capabilities to integrate to 3rd party inventories
Network and Service Orchestrator to automate the rollout of network and services and manage their lifecycle. All in a modern platform catalog-based, policy driven, and with dynamic decision-making based on inventory status.
Service activation for any LOB and service type. With support for mass, and bulk activation, and with activation packs for easy deployment
Intent-base driven, close loop, intelligent Assurance. Supporting multi-vendor and multi-domain environments.
Field operation and workforce management, to ensure work order and installation life reporting, monitor location and attendance, provide mobile online forms, support task management for repairs, etc.
In conclusion, fiber represents the past and the future of telecommunications, and our next generation of open and cloud-native solutions coupled with years of expertise are ready to transform the way telcos deploy in a more cost-effective, efficient, and reliable way.
Learn more