Layout canvas
Avishai Sharlin pulled no punches when discussing the critical need for organizations to transform.
"It's a world of disrupt or be disrupted. Either you change, or you die," explained the Amdocs Technology division president in his session at TM Forum's Digital Transformation World (Human Factor track) today.
In this world, the only constant is change, the Amdocs technology leader continued, and organizations have to be able to adapt, and then adapt quickly. This means creating a new organizational culture, and Sharlin outlined how Amdocs successfully completely transformed its entire culture worldwide with impressive results both for Amdocs and its service provider customers, for which the company was last week recognized with TM Forum's Excellence Award in the Human Factor category.
How to transform into a digital organism for complete business agility, with Avishai Sharlin, President of Amdocs Technology and TM Forum Excellence Award Human Factor winner
The first barrier is the human factor
So how do you become a digital, cloud-native organization for complete business agility? Amdocs focused on the human factor. Obviously, technology plays an important role as an enabler for business growth, and Amdocs embraced automation, cloud, 5G, private area networks, IoT, DevOps and SREs, as-a-service and open APIs among other technologies. But, Sharlin stressed, a key understanding from day one was that the first barrier to a successful transformation, and the one "that will cause the most agony, relates to culture, the human factor inside an organization. How do you transform an organization and take it to a completely different point? It's all about the human factor."
A rejuvenation journey that started in the desert
Sharlin decided to take his team on a journey, literally as well as metaphorically. He actually took his R&D team to the desert in Israel for a few days where, among other experiences, they had to search for food, water and shelter (don't worry – it was there for them, they just had to find it).
The experience taught them that "they need to unite, they need to bond, they need to create a different feeling, they need to create a new organization." And Sharlin said the team subsequently grew to understand that the same could be applied to the objective of turning a mammoth global organization into a digitized and cloud environment. They realized, he said, that it's up to them to change reality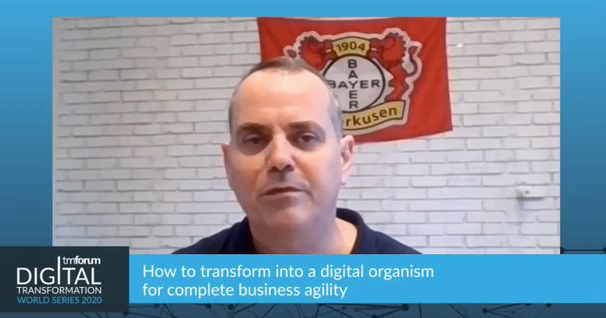 Amdocs' Avishai Sharlin speaking today at TM Forum Digital Transformation World Series 2020
-->
Design-led thinking
Of course, not all these answers can be found internally – so Amdocs leaders travelled to Silicon Valley to learn first hand from the webscalers how they develop software, automate processes, and organize their people, and also worked with professors from the Stanford d.school. As a result, Amdocs has completely changed how it develops software by adopting a design-led thinking approach.
It's OK to fail
It's also important that employees understand that it's OK to fail, said Sharlin, "as long as you learn from your failure and you take it to the next level." Once an organization understands this, you have "won the game," Sharlin continued, "because then people are open to share and then people are cultivating a different culture and you're able to create a different organization."
Change has become part of Amdocs DNA
The impact of this cultural transformation are best illustrated with some examples
Amdocs CES20: the industry's only fully-cloud-native, 5G-ready, microservices-based, pre-integrated BSS-OSS suite, enabling CSPs to go from concept/code to monetization/production in minutes, in a full DevOps environment
R&D velocity has increased by more than 50% year-on-year
Testing automation is almost 100 percent of all development and deployment efforts
Rapid iterations are the norm -- functionality is now delivered in days, instead of months, and microservices in as little as an hour
More than 10,000 employees are now DevOps qualified
"We've embraced change so change has become part of our DNA, and by doing so we changed Amdocs completely," Sharlin concluded. "We are a different organization with a culture of openness, innovation, speed and agility."