Layout canvas
What can CSPs learn from a YouTube marketing idol?
MrBeast, otherwise known as Jimmy Donaldson, aged 22, is a very successful YouTuber with more than 53M followers and is said to be the second-highest paid star on the platform. His famous videos include the one where he counts from one to 100,000 (22M views, though not sure how many actually lasted through the 23+ hours of the video) or "I put 100 million Orbeez in my friend's backyard" (112M views).
But now, he's completely disrupting the restaurant industry. Big time.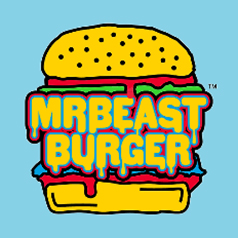 After a gig opening a restaurant that "pays you to eat at it" (44M views) last December, Donaldson launched "MrBeast Burger" – a delivery-only, virtual restaurant chain operating across 300 locations. Overnight, MrBeast made the top of Apple Store's food & beverages section (#32 as of mid-Feb. 2021) and remains ahead of other venerable brands such as 7-Eleven.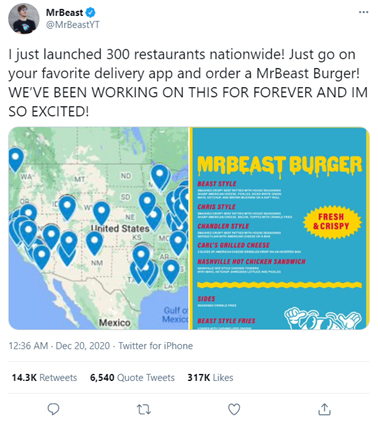 The concept is that MrBeast burgers are prepared by physical restaurants (many of which were hit by COVID-19), utilizing their extra kitchen capacity separately to their own menus, and then delivered directly to the consumer. The restaurants are said to keep a cut of 30%.
But Donaldson didn't do it all on his own. The venture is a partnership with Robert Earl's Virtual Dining Concepts. Earl, the founder of Planet Hollywood restaurants in the 90s and former CEO of Hard Rock Café, today specializes in providing a platform for creating new revenue streams for brick & mortar restaurants by setting them up as physical production and distribution points for virtual brands. MrBeast is just one of more than a dozen brands he maintains with his platform, some of which are celebrity-backed, such as Mariah Carey's "Mariah's Cookies", rapper Tyga's Tyga Bytes and others.
And he's not alone. Some say there are 100,000 virtual dining concepts operating via third-party apps, in an industry that is today worth $240B.
Should telcos start selling burgers?
Digital sub-brands are not new in the communications and media industry. In fact, a TM Forum report found more than 210 mobile sub-brands were in operation in 2019, supporting strategies ranging from digital-only offerings that seek to provide a different experience to those that cater to specific market segments.
However, as the report states, creating a sub-brand is an IT challenge. Much of this can be attributed to the tensions between many conflicting needs, including quick time to market, a low entry cost, and powerful functionality to support business growth with agile innovations and stable scalability.
Just as MrBeast's success is based on sourcing a platform that provides the operational support for the virtual business, digital sub-brands can accelerate their business and improve their success factor by sourcing a business support platform to manage the operations while the brand focuses on marketing and acquiring customers.
However, there are not many solutions that provide end-to-end business support IT (BSS) as a service, tailored specifically for the typical customer journeys and business processes of CSPs. This is much more complex than ordering hamburgers, and the customer journeys range the full lifecycle of subscribers from acquisition through usage, loyalty and retention while engaging multiple IT systems in the process – care, commerce, catalog, ordering, billing, charging, inventory and more.
The new Amdocs Digital Brand Experience Suite provides just that as a service: a full BSS solution with all the business support needed to launch and run successful digital sub-brands, provided as a service. This is a pre-integrated suite with packages of ready to use customer journeys, delivered in a SaaS model on AWS cloud with AWS native services to eliminate IT overhead from operators and let them focus on building their brand and growing the business. With a single code base and extensive business configurability, Amdocs customers can now launch their own sub-brands in just few months and enjoy high agility with a cost model that spreads the investment as they grow. While service providers may not necessarily want to penetrate the fast food market (yet), with such solution they can firmly offer digital sub-brands with more complex (albeit less edible) value propositions such as fixed-mobile bundles, and go as far as the most advanced 5G use cases.
And yes, the Amdocs solution can support third-party charges so operators could also sell hamburgers...
Learn more about the new Amdocs SaaS solution.
About the author: Shahar Dumai is Head of Marketing - Amdocs Optima
Learn more