Layout canvas
In the spirit of "make it amazing", Amdocs' Gaby Israel, in partnership with reBOOT Canada, will be sharing his journey to Everest - starting May 1st - while raising awareness and funds to help close the digital divide in underserved indigenous communities across Canada. 
"The goal of the project is to help northern communities to gain access to better technology and allow them to use said technology to better the lives of families in need," says Ash Miller, Program Analyst at reBOOT. "This mostly is aimed towards youth and allowing them to gain access to better training and education as well as help them to search for job opportunities and gain skills more geared towards today's areas of interest. So far in the project scope we here at reBOOT have connected with 4 communities spread around Canada and are already in the process of allocating units, and shipping has started with multiple units enroute to communities as of now."
Furthering truth and reconciliation
As a commemoration of the tragic and painful history of residential schools in Canada, Gaby Israel's journey will help raise further awareness and funds to help close the digital divide by providing communities in need with laptops with Microsoft certifications. We believe this is a is a vital component of the reconciliation process. "We are helping Northern Communities, places on the map that would go unnoticed or just communities that don't have access to the things other places would," Miller added. "In this case we are helping the families of these communities to better their education, skills, and training by giving them technology so they can access these opportunities remotely. Some of the communities we are helping are far north in places where gaining access to technology is very difficult."
"The main reason these communities need help is because again, a lot of them have been forgotten by the people it is very easy to go your whole life without knowing a lot of the communities here in Canada and that just makes it even more difficult for them to gain access to these sorts of opportunities. The point of this project and what we and Amdocs are offering is the technology itself, we are doing the main grunt work for these communities to help jumpstart better education and a larger scope of opportunities to the individuals in these communities; in this case it is all about the hardware and getting it to the people in need."
What as the most challenging moment, and what inspires you to continue?
Miller: "For me the most challenging moment was the beginning, we started with very little information and it was fairly difficult to find communities that we would easily be able to connect with. As of now we are still in the process of connecting with more communities, however some of them have outdated contact information and it is still one of the most challenging aspects of the project. What motivates me to keep going is the thought that as an indigenous youth myself, I look back and see how a project like this could have helped me or my community in the past and realize that we are doing it for the next generation, as well as for families in those communities who don't have the opportunities that many others have."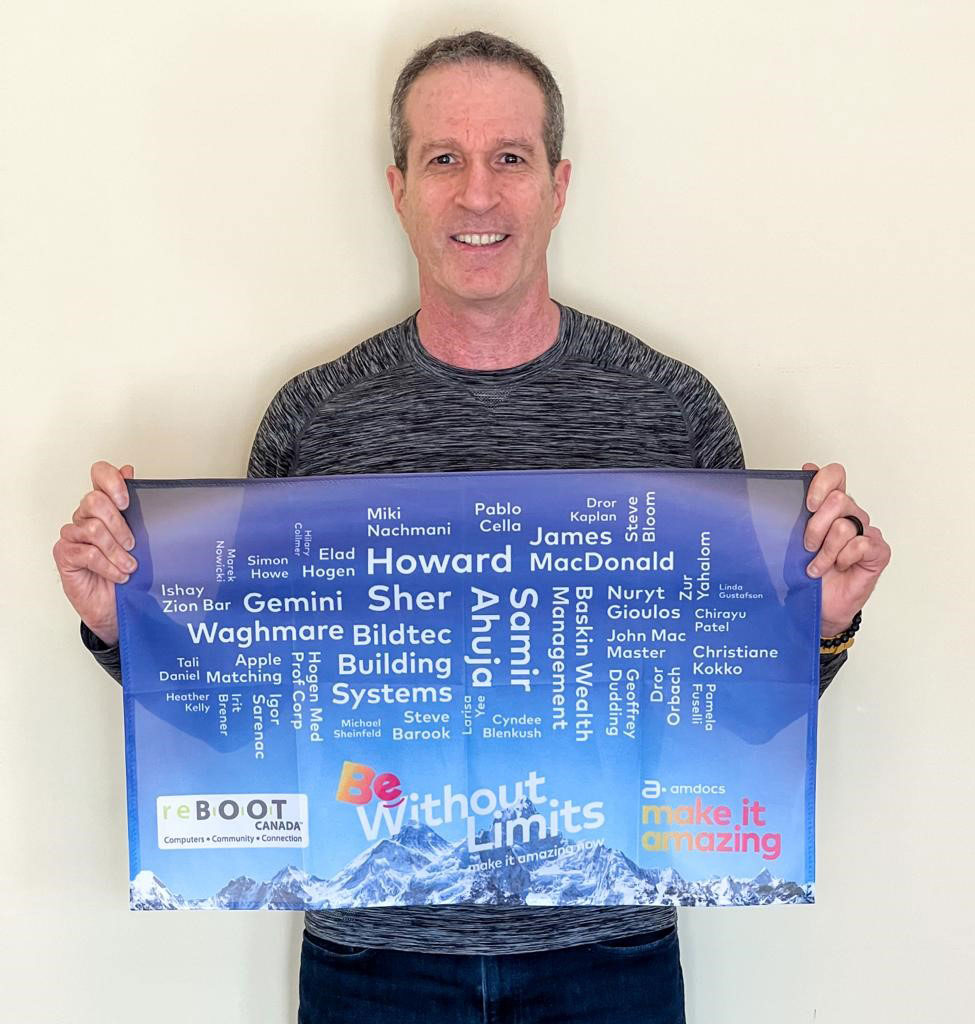 Gaby Israel, Customer Business Executive at Amdocs, holds the flag he intends to plant at Everest Base Camp on May 7.
Tell us about a rewarding experience in this journey
Miller: "I believe that one of the most rewarding parts of the project is one that we cannot see at this time. For me the reward is knowing that we are helping people. The way I was raised was community based; everyone helped everyone else, and I still believe that even small-scale projects that help others makes a difference whether we see it directly or not. As the project becomes bigger, we will start to see the impact of all the hard work we have put in and all the lives we have changed, and the reward comes when we start to see how the individuals who receive these computers change their communities and the country. In better terms, the reward is the journey itself, just like what I was taught from my upbringing."
Learn more