Layout canvas
Shortchanging 50% of the population means shortchanging the product.
As the Zooms and Netflixes of the world have proved, the post-corona world is product-led. Product-led growth (PLG) requires shifting the business focus entirely to end-users, addressing their needs and frustrations and relying on the product itself to drive the company forward. For B2B companies, PLG is a unique challenge with a host of pitfalls. But as the Head of HR for Amdocs' technological units, I can say with confidence that PLG is the way forward. But one critical ingredient for a successful PLG business is often overlooked: Women.
While there are many good reasons for equal representation in the workplace, it is absolutely essential for PLG businesses.
Where do we stand?
The first reason can be reduced to the most basic of equations: If 50% of end-users are women, it makes sense that 50% of those engaged in catering to them should also be women. Amdocs is not there yet, but as our recently released CSR report shows, its inching towards that goal. The last three years saw a 12% increase in female hires in technological roles, bringing the total percentage of women in tech up to 28%. The scales tip more favorably when looking at software testing engineers, whereby 40% are women.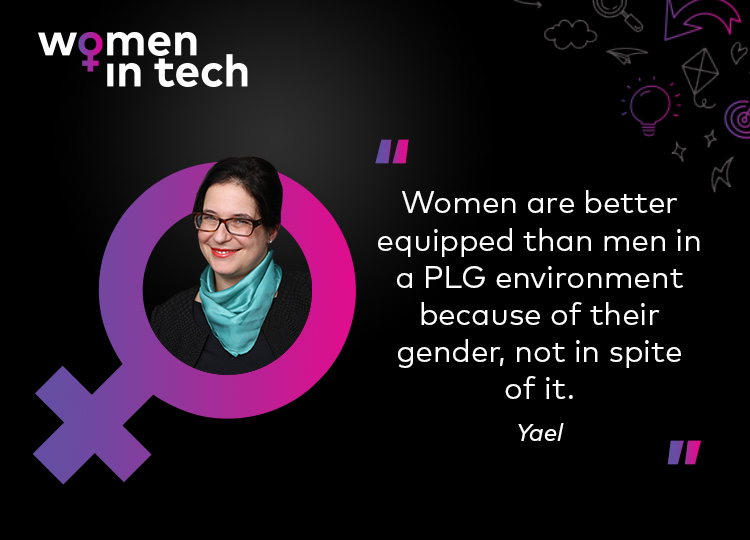 "Women are better equipped than men in a PLG environment because of their gender, not in spite of it" - Yael Shur
The second reason PLG companies need women in tech is because of how women function – and more than that, who they are at their core. At the risk of falling into gender stereotypes – and it's a risk I don't take lightly – I believe that women are better equipped than men in a PLG environment because of their gender, not in spite of it. Women's natural traits are quite simply a better fit for an industry that hopes to base its growth on the end-user: They are empathic, attentive, and attuned to the other's needs, which allows them to capture feedback and make the necessary changes with far more finesse than their male counterparts. In addition, women's unique experience balancing the eternal work-life conundrum and mixing traditional roles such as childrearing and homemaking with flourishing careers have made women highly evolved multitaskers – an essential characteristic for any successful tech employee.
To sum up, shortchanging 50% of the population will inevitably lead to misdiagnosing the end-user's needs and is a terrible strategy for running a PLG business. The same is true for diversity in general, not just women. 
What we can do
Amdocs is investing in a host of initiatives in a bid to close the gap, including women leadership programs, graduate programs that comprise 50% women, equal pay, real-time gender data in all of our people processes, partnerships with multiple likeminded community organizations around the world to promote girls' STEM education, and of course, our newly launched Women in Tech series. Our efforts are being recognized: Amdocs India recognized as 'Best Workplace for Women 2021' by The Economic Times.
Women in Tech aims to showcase Amdocs' female talent by making sure they're front and center of all our communication channels, our internal TV screens and portal, and of course the company's social media channels. 
Learn more