Layout canvas
Wi-Fi 7 brings far reaching and innovative changes; in particular, the benefits of multi-AP capabilities stand out.
In 2023, Wi-Fi 7 will be introduced with new capabilities that will make it more suitable for demanding services like AR, VR, and the Metaverse. One way of looking at the evolution to Wi-Fi 7 is to think of it as shifting from single-lane roads with traffic lights at each junction, to faster and bigger multi-lane highways with off and on ramps seamlessly moving you from one fast highway to the next.
The new Wi-Fi 7 capabilities will increase the maximum connection speed to 46Gbps, reduce communication latency, and enhance connection reliability. It is expected that Wi-Fi 7 will continue to dominate in its main markets of home, office, and enterprise, whereas mobile, will continue to dominate in the big geographic spaces and those with significant interference issues Finally, there will be strong competition between Wi-Fi and mobile in mid-sized spaces like airports, venues, and factories, where Wi-Fi has historically dominated.
The evolution of Wi-Fi is controlled by two international bodies, IEEE (for standards) and Wi-Fi Alliance (for compliance). Each new version is generally backward compatible, and new generations are well-adopted by the industry. Wi-Fi 7 is expected to have a specification ready for production in May 2023, with minimal changes expected in the final version by May 2024. Compatible devices have already been released in 2023.
Wi-Fi 7 introduces several new features that offer significant improvements over previous versions. These features include multi-link aggregation, bigger channels, multi-band congestion avoidance, multi-AP data transfer, multi-AP mobility, roaming compatibility, enhanced sensing, and restricted targeted wait time. These improvements will help deliver high-quality video, and they will better serve AR and VR applications that require high throughput and low latency. With more channels, Wi-Fi 7 helps to address the congestion issues that Wi-Fi 6 and earlier version suffered from. These will particularly benefit locations with high densities of end-user devices such as stadiums and enterprise premises.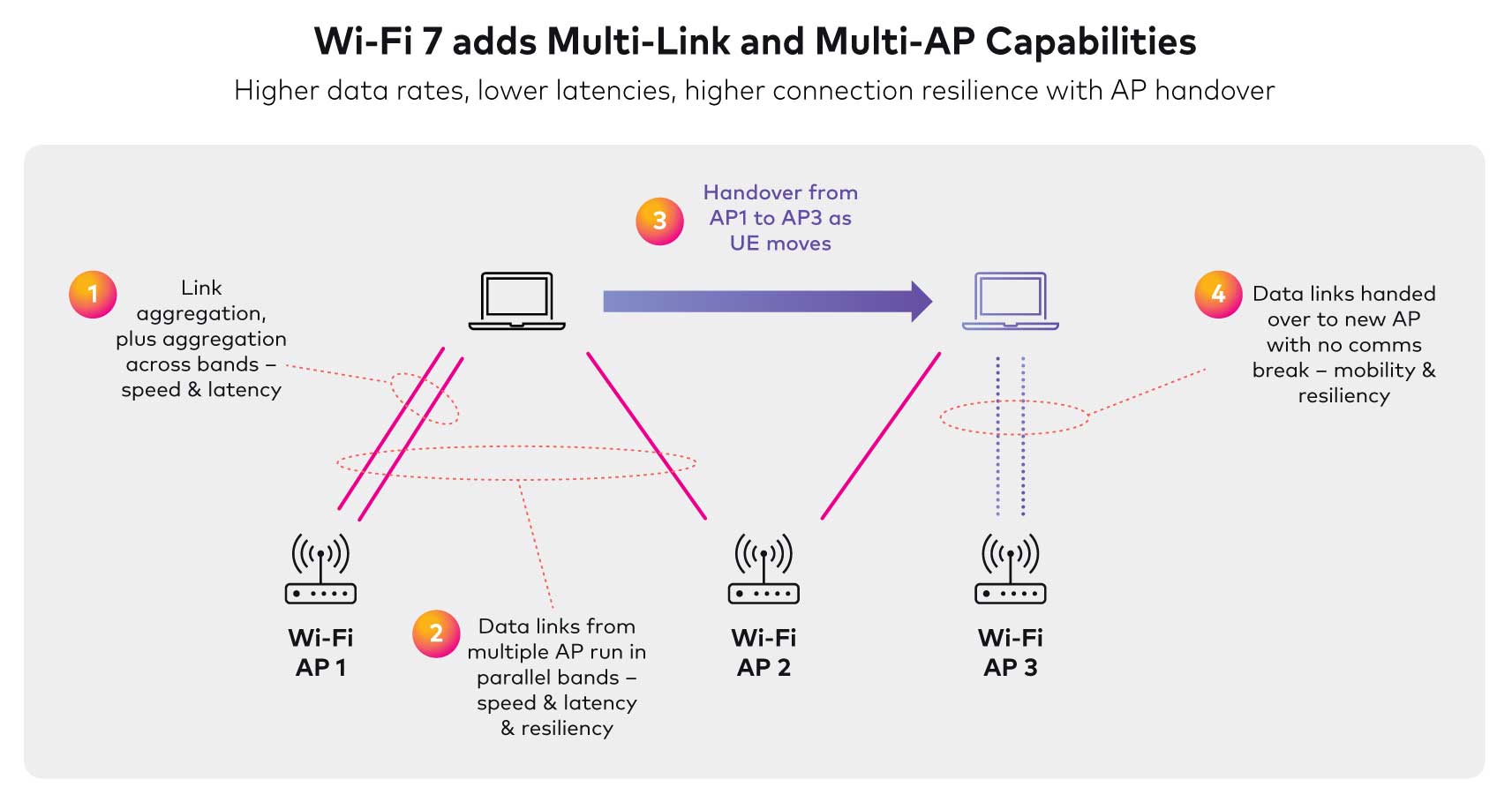 Figure: Multi-link, multi-API capabilities
Multi-link aggregation enables devices to use multiple links from the same access point (AP) simultaneously, effectively reducing latency and increasing resiliency. The bigger channels at the higher 6GHz frequencies allow for faster data rates, while multi-band congestion avoidance enables devices to connect on multiple radio bands and find the least congested channels. By having Multi-AP data transfers it allows devices to send and receive data from multiple APs in parallel, further improving speed, capacity, and resiliency. 
The Multi-AP mobility capability ensures that devices maintain a good connection when moving around, by seamlessly handing off communications channels from one AP to another. An enhanced sensing capability allows for more accurate motion sensing; and restricted targeted wait time supports low-power devices by enabling them to sleep for extended periods, enhancing their battery life.
OpenRoaming continues with Wi-Fi 7 enabling frictionless roaming on Wi-Fi networks. As of May 2022, there were over 1 million OpenRoaming hotspots. It makes Wi-Fi roaming seamless for end-users, so much so, that they may not be aware they are roaming from one network to another. 
Unlike 4/5G mobile networks, there is less focus on finding new paid-for services for end-users with Wi-Fi networks. In general, Wi-Fi networks are typically smaller in scale and owned by enterprises to provide connectivity for their employees, making them an IT-provided employee service rather than a revenue-earning service.  
In conclusion, in May 2023, Wi-Fi 7 will be officially released. The new version addresses previous weaknesses and should be capable of supporting next-gen services with link aggregation, multi-band communications, multi-AP communications, and AP hand-off. Wi-Fi 7 is expected to be rapidly adopted due to its low cost & large ecosystem and so is highly likely to continue to secure its dominant position in the home and office markets. Although, in larger spaces like factories, there will be fierce competition between Wi-Fi 7 and 4G/5G mobile. However,  the prediction is that mobile will continue to dominate in bigger outdoor spaces like ports and mines due to its better coverage and interference handling.
For further information on network solutions, please visit Amdocs Networks.
Learn more
More about Amdocs Networks