Today's workforce seeks more than just a job; they aspire to unlock their full potential.
At Amdocs, we understand this dynamic, and our recent survey of modern workers highlights their ambition and thirst for growth. We are well-equipped to meet these aspirations and offer the support they need.
Discover the full findings of our research in Amdocs' Future @ Work: The Changing Talent Dynamics Report, which provides insights from qualified full-time workers aged 18 and above, including surprising revelations.
Key findings include:
Empowering growth and talent mobility
Nearly all respondents prioritize growth and talent mobility. One-third of full-time workers stated that they would consider leaving their current job if internal mobility support was lacking. However, only 45% confirmed that their current workplace offers such support.
Growth as a retention factor
Almost half of the respondents have left a company despite being satisfied with compensation, benefits, and culture. The lack of growth opportunities, mobility to other roles, or reskilling/upskilling opportunities were the primary reasons for their departure.
Get report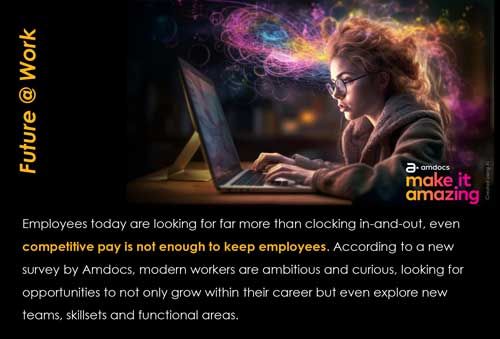 Early disillusionment among Gen Z
A significant number of Gen Z employees reported that their job did not meet their expectations within the first 3 to 6 months of starting. This highlights the importance of fulfilling initial career expectations for this demographic.
Neglected reskilling and upskilling
More than a third of respondents felt that their companies did not prioritize reskilling, with an additional 17% noting a decline in such opportunities over the past year.
How we support our employees and new talent:
Most Loved Workplace certification
Amdocs has been proudly certified as a Most Loved Workplace®* by Best Practice Institute (BPI). Our commitment to learning, internal mobility, well-being, and diversity is the cornerstone of our organization. Moreover, we offer programs like the employee stock purchase plan, allowing employees to share in our collective success.
Cultivating continuous learning and growth
We foster a collaborative work culture that enables employees to continuously learn and grow, both individually and as a team. Our investment in employee development helps us meet the evolving needs of our customers. In recognition of our efforts, we were previously honored with the TM Forum Excellence Award (Human Factor) for successfully transforming our culture to drive customers' cloud migration.
Unlocking internal mobility opportunities
We are deeply committed to empowering our employees' career advancement. To that end, we provide various internal mobility opportunities, enabling individuals to explore diverse roles and business areas. Remarkably, 40% of our open positions are filled by internal candidates.
Balancing flexibility and well-being
Recognizing the importance of work-life balance, we offer unlimited vacation time to our employees. Furthermore, we encourage our employees to give back to their communities and facilitate their personal growth through monthly volunteering hours.
Embracing diversity and inclusion
At Amdocs, we value and respect diversity, fostering an inclusive workplace where everyone feels welcomed. Our team comprises individuals from a wide range of backgrounds, perspectives, and experiences. If you're ready to embark on an extraordinary career journey, we invite you to join our team! Visit our careers page and upload your resume to explore positions that align with your skills
Learn more