As of March 2023, 23 operators, Microsoft & Amazon joined this initiative.
The scope of activities includes nurturing an application developer community, standardizing network APIs, East-West service Provider to service Provider federation APIs including the commercial framework to drive the adoption of the universal Northbound API.
Application Programable Interfaces (APIs) have a mixed history in the telecom industry due to complex technology and lack of global availability. Today, initiatives are focused on simplicity and uniformity to appeal to a wider market. Designed to be simple to use and uniform across all service providers, APIs enable the easier development of network-aware applications to improve the end-user experience.
Traditionally, CSPs have not been a part of the application value chain, where most applications are considered over-the-top (OTT), bypassing the need to directly pay for network access. This is increasingly important as modern applications demand more from the network. Use cases include AR, VR, AI, and the Metaverse and enterprise applications such as Industrial IoT and smart factories.
A Network API can enable differentiated network control and access to previously inaccessible network services. By providing a Network API, service providers can insert themselves into the value chain and potentially generate new revenue streams.
Download this whitepaper to find out more on:
Use Cases for the Network API
The Characteristics Needed for a Northbound API
CAMARA: The Telco Global API Alliance
The GSMA Open Gateway Initiative
GSMA Open Gateway APIs
The Role of Hyperscalers & API Brokers
What Will a Successful API Look Like?
Get the whitepaper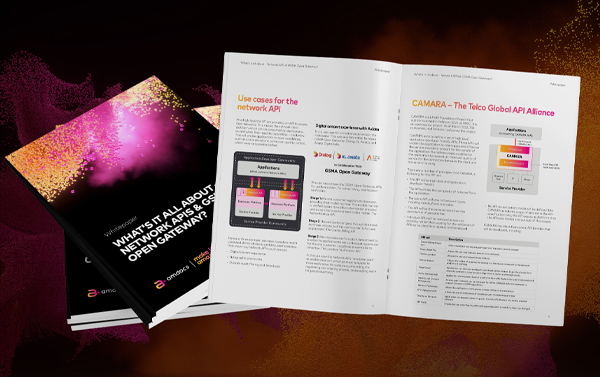 Learn more