Cardless Cash, Mobile Banking and Other Innovations Impacting MFS Success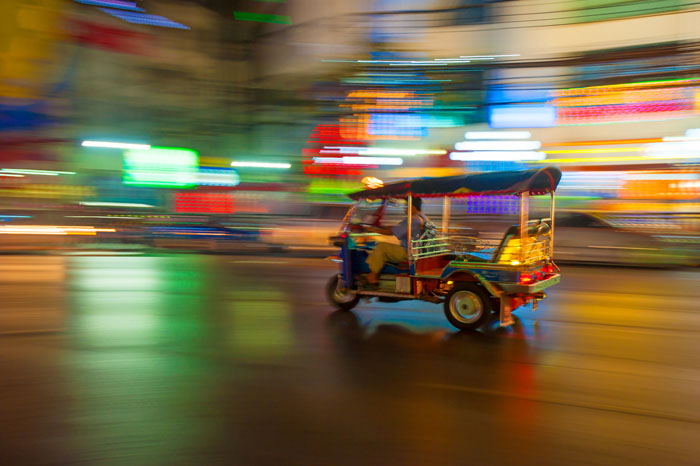 As a MFS provider, you operate in a fast-changing world. New technologies, trends, socio-economic and regulatory changes – they all shape and impact the customer experience that your end users will have when they utilize mobile financial services. Fast-moving technologies are driving the convergence of retail, mobile and telecom, allowing telcos to offer their customers more flexible yet cost effective means to transact via their mobile phone. According to KPMG, mobile technologies can cut the cost of financial transactions by up to 80 percent, which will help MFS providers to onboard new customers.
Let's explore three new innovation-driven developments in the MFS arena that are strongly impacting the MFS user experience: online-to-offline commerce, cardless cash, and mobile biometrics.
Online-to-offline commerce
Despite popular belief that customers prefer an online, digitally driven commerce experience, online-to-offline commerce has taken flight, with China leading the way. This trend is being driven by the customers' preference to research a product or service online and then purchase it offline in the real world. Consumers expect a seamless experience between the physical stores, websites and mobile applications of their favorite retailers and brands. They want to pay with their mobile wallet that also allow them to use digital coupons and loyalty cards inside the physical shop.
Digital Wallet Loyalty Platforms
MFS providers must partner with loyalty clubs that support the digital wallet. Apple Pay, Samsung Pay and Android Pay are just a few examples of successful integrations of loyalty capabilities on different platforms. MFS providers can leverage the popularity of loyalty programs by providing full integration of loyalty points into their wallet. For consumers, this enhances their digital experience, engagement and loyalty.
Cardless Cash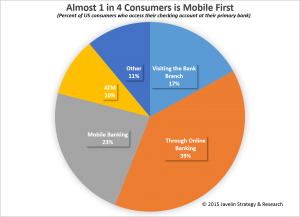 Customers want to withdraw cash in an effortless and secure and way. Bank, credit and debit cards require PIN numbers for withdrawing money from an ATM. Security is an issue, since they can become victims of identity, password and data theft from skimming machines that are attached to ATM card readers by cybercrooks.
Banks such as Bank of America and JPMorgan Chase are offering their customers the option to withdraw cash from an ATM without a card or PIN number by simply using their smartphone. Cardless cash is one the latest developments in digital banking to enhance customer experience and to prevent churn.
When MFS providers make cardless cash part of their mobile banking services, it provides customers with the privacy and convenience that they want. Furthermore, banking apps will also allow users of mobile wallets (e.g., Apple Pay, Android Pay) to authenticate transactions on their smartphones.
Especially in the US, cardless cash is a growing trend. Payment researcher Crone Consulting LLC expects that 95,000 ATMs will provide this service by the end of 2016. The Payment Alliance International, the leading provider of ATM processing and maintenance services, announced that it plans to have cardless cash access at 25,000 ATMs in stores and gas stations by the end of 2017. As shown in case of FIS Cardless Cash (which is powered by PayPal), cardless cash brings the best of both worlds to consumers – they will have access to their cash as well as enjoy an enhanced digital experience.
Mobile Biometrics Authentication for Mobile Payments
Often dubbed "the next frontier", mobile biometrics are making headway to keep customers and transactions safe. Fingerprint scanning and facial recognition are already being deployed for login and authentication. Future methods of biometric authentication will also include voice, retina and heartbeat recognition. According to Juniper Research, there will be 770 million biometric authentication apps downloaded annually by 2019. Biometric single sign-on (SSO) will provide convenience for users as well as security and identity verification, replacing current authentication methods such as passwords and PINs.
Biometric solutions are especially useful for payment use cases, such as for POS purchases and getting cash from ATMs. Apple Pay is already making mobile POS payments via smartphones more secure by using fingerprinting in its Apple TouchID biometric system. This both verifies the user's identity and simplifies the online and mobile process. Banks that have already adopted Touch ID in their mobile banking apps are American Express, ING Bank, OutBank DE and Deutsche Bank. Banks are also cooperating with technology firms, developers and startups to create fool-proof authentication systems which will be key to enhancing the mobile banking and mobile payments experience of existing customers and to onboard new ones. Wells Fargo is already testing a fusion of voice and face biometrics to authenticate customers.
How Globe Telecom used innovation to grow its business
Technology innovations abound and are most important since many times they are the catalysts for business growth and innovation for companies. By deploying market-centric technological innovations, MFS providers can generate new revenue streams, as shown in case of Globe Telecom.
Cashless and Cardless Transactions through Text Messages
In 2004, Globe Telecom launched its GCash brand which allows any Globe or TM (Touch Mobile) user to send and receive money, buy prepaid load, pay bills, and execute other money-related transactions – all on his or her mobile phone. GCash effectively gives Globe and TM subscribers a cashless and cardless method of facilitating money remittance, donations, loan settlement, disbursement of salaries or commissions, and payment of bills, products and services, with just a text message. Since three out of four adults in the Philippines do not have a bank account, and only three percent of the banked adults have credit cards, GCash provides mobile financial services to unbanked and underbanked customers.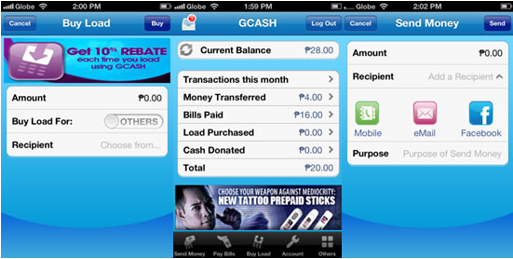 Direct Carrier Billing Services
Then, in order to enhance its existing customer base's wallet experience, Globe partnered with American Express and pioneered a direct carrier billing service for apps on Google Play and Apple App Store in the Philippines. GCash American Express Virtual Pay allowed Globe to onboard customers who did not have a credit card to shop cashless and make online purchases at places where credit cards are required. The service is a virtual prepaid card linked to a user's GCash wallet allowing him or her to shop securely online at retail sites that accept American Express. Users can also transfer funds to their GCash wallets by cashing in from their bank accounts or through any of over 7,000 GCash outlets nationwide.
Prepaid Cards for Mobile Banking
In order to continue to enrich its offering, Globe has released its own version of a Beep Chip embedded prepaid credit/debit card. The GCash Beep MasterCard is an all-in-one payments card which functions as an ATM card for cash withdrawals, as a prepaid card for purchases, and as a beep card for the Light Rail Transit (LRT) and Metro Rail Transit (MRT).
Globe must have been inspired by Steve Jobs who once said that innovation is the only way to win.
To learn more about how innovative approaches to MFS can help you grow your business, click here.
References:
B2B2C and Banking-as-a-Platform – Finding the New Frontier for CSPs and Retailers
A Wallet Platform Worthy of my Mobile Phone
The Ovum Decision Matrix – A Must Read When Seeking a Mobile Wallet Platform for your business
Summary
The fast pace of technology is driving innovation in your wallet and innovations like cardless cash, mobile wallets, and mobile banking allow MFS providers to reach a wider audience.
Summary
The fast pace of technology is driving innovation in your wallet and innovations like cardless cash, mobile wallets, and mobile banking allow MFS providers to reach a wider audience.