You have big data. Use it to create big-time intelligence
The data opportunity
When it comes to knowing your customer, service providers are in the box seat. When we compare our industry to any other, the amount of data shared by customers (directly and indirectly) is huge.
Potentially, all this valuable information can be channeled both into serving those customers, as well as growing your business. But the big data opportunity can also be overwhelming. It even runs the risk of making the decision of what to do with all this information a resource-consuming exercise in itself.
The key is that big data is not about quantity. Rather, it's about the ability to access a complete, high-quality dataset in real time, so you can better understand your customers, their needs and intents – and then using this information to optimize your engagements, products and services.
Essentially, there are three steps to extracting the maximum leverage out your data: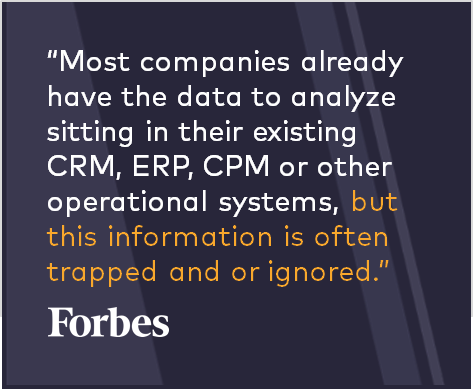 Understand what data is available in which applications and systems, and from which internal and external sources
Pool this data together, bridging multiple data silos that are scattered across complex, often geographically-dispersed systems
Ensure data-consistency and quality with real-time ingestion and processing
But there's a downside too. Without the proper tools, any attempt to aggregate and leverage all this data can result in:
Latency
Poor data quality
Analytics that take too long to perform
Reports that are difficult to produce, and which are sometimes inaccurate
In addition, moving large volumes of data to a central location for analysis is time-consuming, expensive and prone to error. And if for any reason you need to access your entire dataset, the complexity is even greater...
Data quality: the key to seizing the AI opportunity
With the latest advancements in artificial intelligence (AI) technology, the importance of high-quality, real-time data is critical. For example, when it comes to customer care, given the right data, at the moment it is needed, AI can enable proactive engagements that address the real-time and specific needs of each individual customer in your database.

Yet, the challenge remains in sourcing this data – ensuring it is both valid and of sufficient quality – and then combining it into a format that enables it to be used.
Amdocs aia: turning data into intelligence
aia, Amdocs Intelligence Platform, enables you to overcome the challenges of big data, and convert the wealth of information in your possession into a strategic corporate asset:
Seamlessly collect, store, integrate, and visualize your data
Organize relevant data in an open, TM Forum-compliant data model
Merge customer information from across all data sources
Extract intelligent insights from first-party customer information and third-party data
Compile a 360-degree intelligent customer view
aia combines data from CRM, billing, engagement history, web visits and real-time customer activity. Using machine learning, it then creates a complete, accurate understanding of the customer's needs, preferences and intents, including recommendations of how to interact with them at any given moment for any possible need. This is coupled with the calculation of valuable metrics, such as real-time customer KPIs, including churn risk and purchase propensity, enabling you extract maximum value from every customer and every interaction.
And there are many other benefits. For example, transforming data into intelligence can enable automatic detection and correction of issues within business processes such as billing, activation, and workforce planning. It can even help you improve product planning and automatically optimize your product catalog in real-time.
Looking forward, with virtually unlimited business benefits, properly applying artificial intelligence to customer data will be a must for any service provider looking to extract the maximum value from each and every hard-earned subscriber.
To learn how Amdocs can help you capture the AI opportunity and turn your big data into great assets, Read the solution overview or request a demo of Amdocs real-time intelligence platform
Summary
Roni Dvir looks at how big data can drive AI
Summary
Roni Dvir looks at how big data can drive AI