Layout canvas
The growing complexities, challenges, and possibilities the facing networks today require partner ecosystems that can create tailored services to serve highly specific needs. Tasked with delivering optimal customer experiences, requires open, agile, scalable efficiencies.
The 5G Core is the backbone of the next generation of wireless networks, providing a powerful and flexible platform that enables the delivery of new and innovative services. One of the key features of the 5G Core is its open, cloud-native architecture, which enables greater flexibility, scalability, and efficiency.
The 5G Core also supports guaranteed, on-demand services, allowing service providers to offer their customers high-quality, reliable services that are tailored to their specific needs. This is made possible by the network slicing capabilities of the 5G Core, which allow for the creation of virtual networks that can be customized for different use cases and scenarios.
In addition to its support for guaranteed, on-demand services, the 5G Core also supports edge and cloud computing, enabling faster and more efficient processing of data. This is especially important for applications that require low latency and high bandwidth, such as augmented reality, virtual reality, and autonomous vehicles.
Smart, zero-touch AI operation is another key feature of the 5G Core. Driven by AI and machine learning algorithms, this capability allows for proactive network management and optimization, reducing the need for manual intervention and improving overall network performance.
At Amdocs, we bring unique software and expertise to the 5G Core, enabling service providers to monetize their 5G networks and improve their operational KPIs. Through our partnership with Microsoft, we can offer a comprehensive suite of solutions that combine the power of the 5G Core with the advanced capabilities of the Microsoft Azure cloud platform.
The ultimate in 5G readiness
Amdocs and Microsoft combine as the best in the business at what they do in Mobile Core/BSS/OSS as well as Cloud and IT to provide a unique partnership that delivers rapidly deployable "AnyG" Core solutions for service providers.
Tightly coupled AI/Ops, DevOps, and CI/CD pipeline processes ensure the highest level of automation focusing on a Zero-Touch Network strategy.
Features:
Unified solution with Microsoft cloud management
Cloud or hybrid cloud options; cloud benefits for on-premise if required: scalability, automated & fast deployment
"Any G" architecture based on cloud-native with best-of-breed network functions – and especially Amdocs 5G Value Plane (PCC plus extensions to Amdocs Intelligent Networking, Commerce, Partnership Management, Data Management, and AI as needed)
High automation to simplify deployment, and operations and expedite services creation across the platform and 5G core applications
Centralized management & operations with a full stack view across infrastructure and applications
Azure as a single interface throughout infrastructure and application lifecycles
Platform and applications built on Microsoft's industry-leading zero-trust framework
Proven support for multi-vendor EPC/5G network functions as necessary on a common unified platform with support for VNFs and CNFs
All service management modules are aggregated into a tailored "single pane of glass" view that reflects key performance metrics, service insights, and risk profiles
Network service management
In parallel, to meet operational, performance, and subscriber expectations a world-leading service management layer is required.    Developed across the network and IT domains Amdocs has merged the function, performance, and optimization benefits of the BSS space with the transparency, tooling, and service criticality of the network domain.
A complete portfolio of products for automating and optimizing large-scale operations is available to reduce exposure and risk, reduce cost, and improve customer experience.
Zero Touch and closed loop form the central part of the philosophy with the deployment of AI and Machine Learning to further advance the overall solution.
The Amdocs Intelligent Networking Suite further supports all aspects of service design, inventory, and orchestration across physical, logical, and virtual elements for 5G-based services. This includes:
Full service and network orchestration, network monitoring, and control loop to execute the full-service management lifecycle across hybrid virtual and physical networks
Comprehensive set of design tools and development SDKs to support multiple service types of Cloud-native, microservices-based features – deployable in both public and private clouds
Carrier-grade platform, with high availability, advanced logging, self-monitoring, and self-healing
Highly extensible and configurable platform with plugin and customization support
Aligned with and based on industry-leading standards including, ETSI, TMF, ONAP, and 3GPP
Widely deployed system successfully automating multiple enterprise services and mobile core services today in production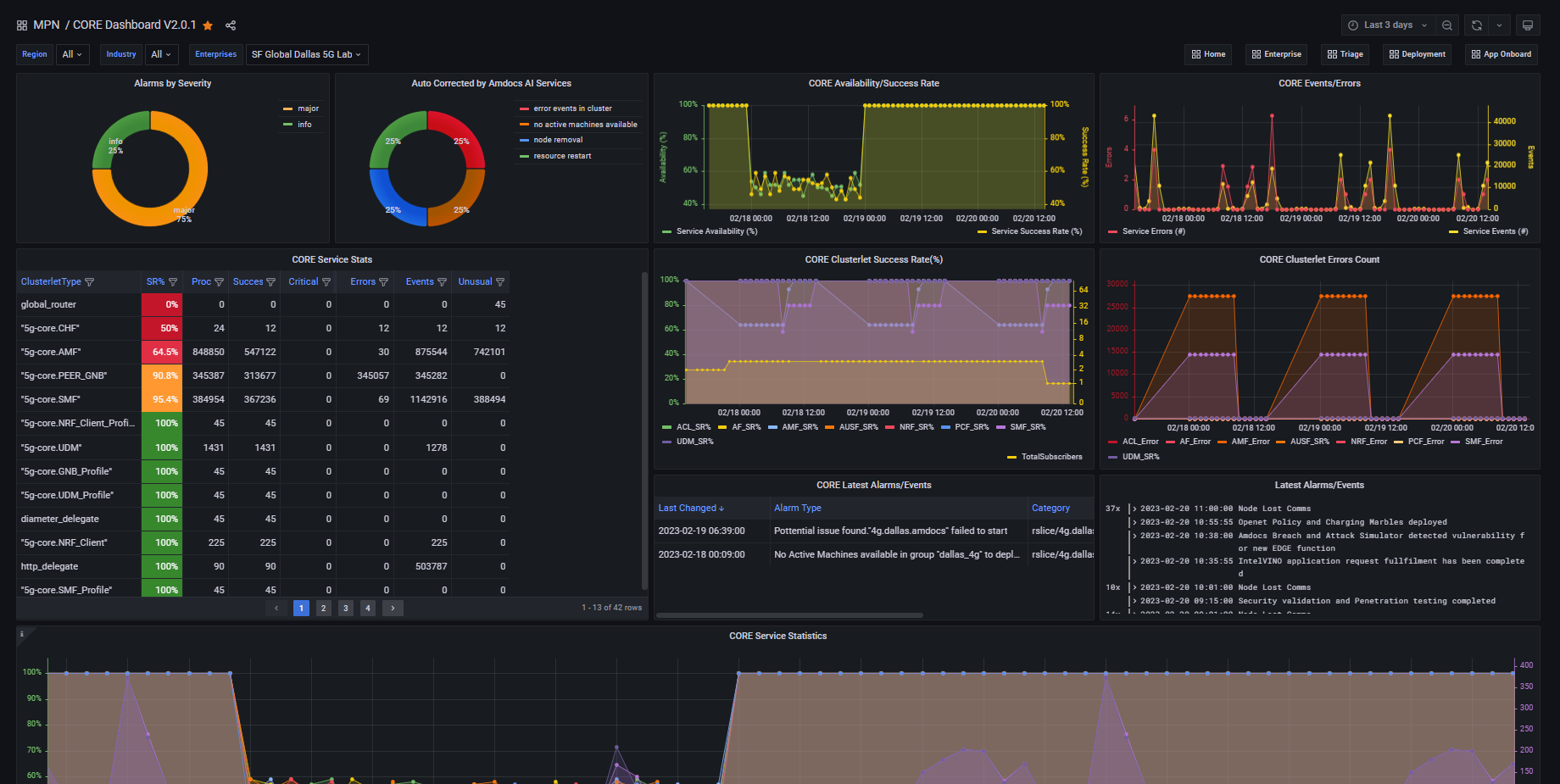 Together, our solutions enable service providers to deliver new and innovative services to their customers, while also improving network performance and efficiency. Whether it's high-speed internet, low-latency applications, or mission-critical services, the 5G Core and Microsoft Azure platforms are built to deliver.
In conclusion, the 5G Core represents a significant leap forward in wireless connectivity, offering a range of advanced features and capabilities that were previously impossible with earlier generations of wireless networks. With its open, cloud-native architecture, support for guaranteed, on-demand services, edge and cloud computing, and smart, zero-touch AI operation, the 5G Core and our partnership with Microsoft are poised to transform the way we connect and communicate.
Learn more