Layout canvas
So what's driving service providers' move to the cloud?
Andre Fuetsch, president AT&T T&T Labs and Chief Technology Officer, says that aside from the economic benefits of scale, AT&T is moving more of its IT and network workloads to the public cloud "to get more agility and more exposure to fast-growing developer ecosystems and toolsets that these cloud players bring to the table."
Speaking in the headliners session of the opening day of TM Forum Digital Transformation World with Anthony Goonetilleke, Group President – Strategy & Technology, Amdocs, the AT&T senior executive stressed that when migrating workloads to the cloud, it was important to be selective and only move over those products and services which would benefit from the elastic, dynamic capabilities the cloud can bring. And as AT&T refactors them in this migration process, Fuetsch added, "we want to make sure they're being refactored to take as much advantage of the cloud-native ecosystem that many of these clouds operate in."
COVID as a compelling event
Apologizing for the use of the "C-word", Goonetillike pointed out that COVID had accelerated human behaviour in terms of technology adoption, using the example of his mother now being prepared to take photos of a QR code to pull up a menu in a restaurant.
"Will we ever go back to normal? I think the answer's no, we're going to take some of these things and accelerate them," said the Amdocs executive. Goonetilleke said that in pre-COVID days, Amdocs used to put hundreds of people on a plane and send them around the world during release weekends for major deployments. "Now you have this continuous deployment, continuous integration, you don't need this anymore," he added.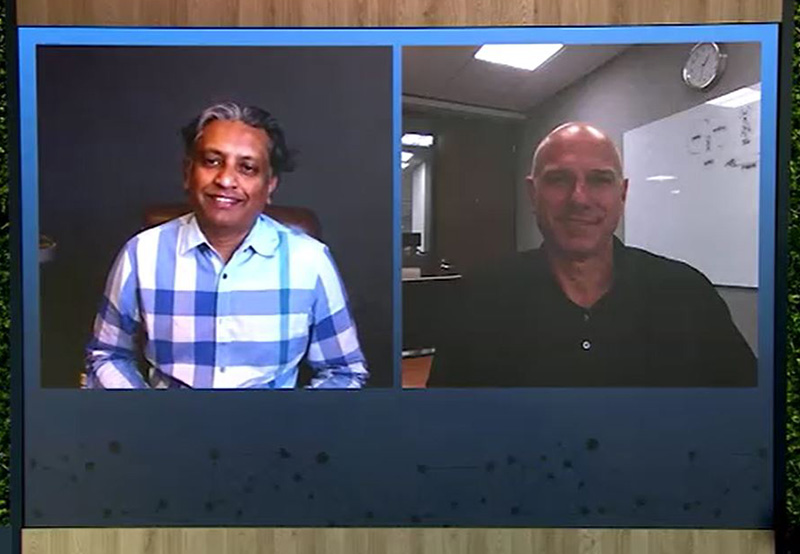 Amdocs' Anthony Goonetilleke and AT&T's Andre Fuetsch
Working together with cloud players
Telco networks and cloud data centers are very complementary, Fuetsch noted. "In the end, it's all about connecting customers to the resources that they need." While telco companies have the last mile, end-point connection, cloud players primarily operate in dozens of data centers throughout a geographic area which could spread over 500 or 1,000 miles. Such a distance is not necessarily problematic for applications that are not that dynamic. But, when thinking about the demands of the 5G world, where applications like virtual reality, autonomous cars, drones are much more latency sensitive, these applications need a strong network as they can't be dependent on resources so far away. "By us working together with these cloud players, we're really stitching together solutions to bridge those gaps," Fuetsch said.
A Black Mirror future
Saying perhaps he's been watching too much "Black Mirror", the Amdocs leader said he saw a world in which "you pick up a pane of glass, there's nothing else on it, that's your device. Whatever you need, wherever you go, you pick up a pane of glass, you identify yourself and suddenly all your digital locker is downloaded to the pane of glass."
That's the dream, he continued, that the communications and media industry is excited to build.
Learn more