Layout canvas
Largescale cloud migration is no mean feat, especially for organizations operating in heavily regulated sectors.
But application-centric planning and implementation can streamline the process. Handled well, this approach makes it easier to avoid issues we've written about before like analysis-paralysis and limited understanding of how things will work in the cloud.
What is application-centric cloud migration?
As you might expect, this model for cloud migration focuses on needs and requirements related to individual applications. Rather than taking a homogenous approach for the entire IT estate, each workload is assessed in terms of its current state and desired outcome.
From here, it's possible to determine the most effective route to the cloud on an application-by-application basis. It might be necessary to refactor or re-platform an application to make the most of the new environment. Sometimes a simple rehost (lift-and-shift) might be the best first step for the sake of speed. Other times, it might make sense to retire the application and replace it with something more suitable.
Figuring all of this out is complex and time-consuming. Besides gathering insights for each application, cloud engineers must unpick interdependencies to plan what to move when, and how. Nevertheless, the upfront effort reaps dividends when it comes to getting a head start in the cloud.
In a recent project, we discovered the benefits of working with the AppScore platform. This SaaS solution makes application-centric migration planning faster, easier and more effective.
Application-centric planning for an AWS migration
Optimization of security and compliance was a top priority for our customer's migration to AWS. Since ease and speed were also important factors, the company initially expected to use lift-and-shift for the bulk of the estate. However, it wanted to lay strong foundations for cloud best practice too.
We were engaged to conduct the Assess phase of AWS' Migration Acceleration Program (MAP) ahead of managing the largescale migration. Knowing that application-centric planning would enhance the outcome, but that time was constrained, we used AppScore to eradicate toil and accelerate the process. We went on to discover that the benefits of using this tool went far beyond speed and efficiency.
How AppScore works
AppScore is a leading next-generation cloud transformation platform, enabling organizations to go beyond lift-and-shift in cloud migration and modernization. Founded by former staff of a major global bank, the platform is based on a deep understanding of the reality of enterprise technology.
Combining macro and micro level insights, AppScore simplifies cloud transformation. It focuses on the modernization necessary to facilitate successful adoption of cloud, not just the physical move to the cloud.
Firstly, an algorithm aligned with the 7 Rs (refactor, re-platform, repurchase, rehost, relocate, retain, retire) is applied to each application. Termed 'signposting', this provides a high-level view to shape initial recommendations.
Next, the current state of each application is captured to facilitate 'scoring'. Focused questions are used to ascertain everything from data classification to an application's audience and criticality. Questions can be customized according to the organization's objectives, which enables better insight and control for highly regulated industries. For instance, if data is subject to financial or medical sector regulations, this is accounted for at the outset. An algorithm uses the answers to score applications in terms of risks, complexity and potential benefits associated with moving to the cloud.
Combining application scores with signposting information helps organizations address that million-dollar question 'Where do we start?' with confidence. And any potential issues surrounding criticality to operations or regulatory compliance are flagged at an early stage.
This visibility enables more informed risk management and mitigation, alleviating concerns which might otherwise stall activity. If extra time is needed for an application that is especially complex or holds sensitive data, the plan adapts accordingly. All stakeholders can instantly see the impact on wider timings and outcomes, enabling better risk-based decision making.
How we used AppScore
1. Importing to AppScore
Before we got started, information had to be uploaded for each application. Since the customer was migrating to AWS, we benefitted from AppScore's ability to import data from the AWS Migration Hub API. This is far quicker and less error-prone than manually copying data across or using spreadsheets to import.
We ran the following steps:
i. Created an IAM Policy with the below permissions. This created a set of specific actions to Get/List/Describe tasks to download the information. (No write access was needed.)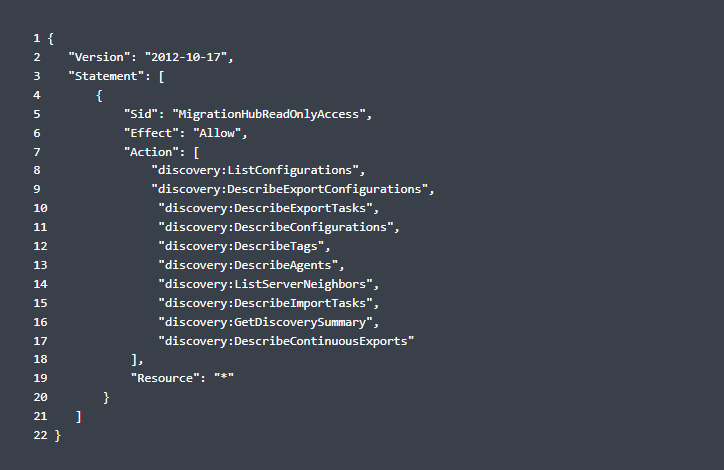 ii. Next, we created an IAM user with access keys. Whilst the AppScore SaaS platform is hosted on AWS it needs its own Access Key and Secret Access Key to access data in another account. To restrict access to what the AppScore process needed (least-privilege security) we didn't allow console access for this user.
iii. Once the Access Key, Secret Access Key, and the region that AWS Migration Hub runs in were established, details were added to the Server API Import page.
2. Signposting
With the necessary data imported, we introduced the customer's team to AppScore's signposting procedure. Five questions establish key information such as whether the priority is to optimise for the cloud, get to the cloud at speed or achieve cloud-native status.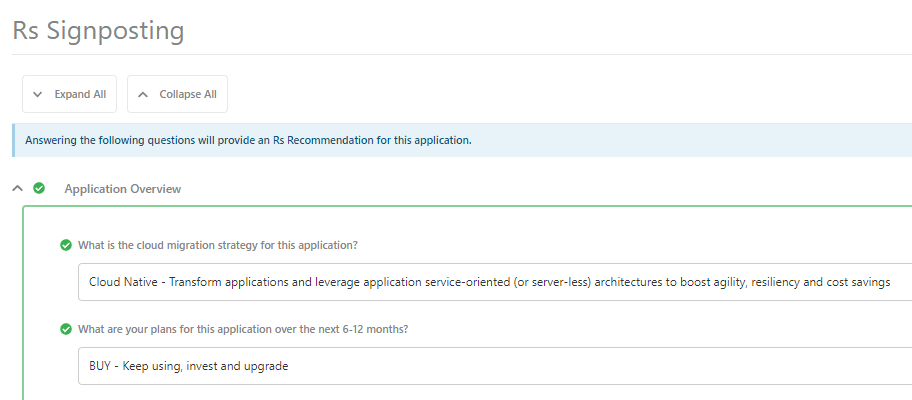 Allowing application owners to answer the initial signposting questions saved time and ensured they became familiar with the platform.
This process is incredibly useful when planning migrations into the cloud. When you understand the thinking and direction of people maintaining the workloads, it's easier to initiate conversations and elicit relevant information. In turn, this helps with preparation for deep dives into workloads, bringing greater focus and delivering outcomes which accelerate migration.
3. Scoring
AppScore's 25 standard scoring questions were applied to each application, along with five bespoke questions. Only binary answers are required, so applications can be segmented according to key characteristics, such as 'contains sensitive or secret information', 'subject to compliance requirements' or 'disaster recovery plans in place'. As the below image shows, this generates a simple but extensive application-centric view of the estate, making it easier to determine the allocation of engineering time and other resources.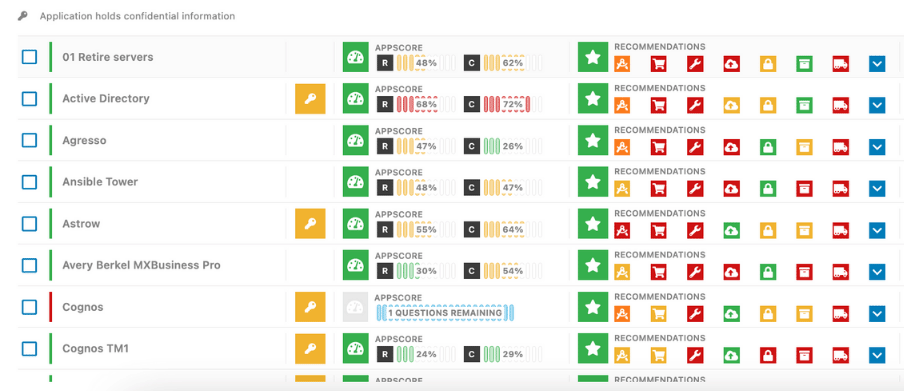 We held workshops for the first few applications, so we could explain how the scoring process works. Then we liaised with the customer's Project Manager who assigned colleagues to fill out the remaining information.
The dynamic nature of the tool means decision makers can quickly see how the overall plan will be affected if priorities are adjusted. It's also possible to tune the algorithm to reflect customer preferences. For instance, when the main driver is speed, we might lean towards lift and shift migrations. If modernisation is a higher priority, we might put greater emphasis on refactoring or re-architecting.
The information provided by the customer meant we were prepared for the workload discovery meetings which inform current state assessments and deep dive activity. We were able to conduct research prior to the workshops, meaning relevant and specific design choices could be discussed from the start. This further accelerates the overall process of migrating into the cloud.
More good stuff
As mentioned earlier, AppScore is predisposed to support the modernization of workloads for better success in the cloud. One feature we really like is the 'technical debt timeline':

It uses a traffic light scheme to indicate at what point issues might be encountered if an application isn't modernized. In time-constrained migrations this empowers stakeholders to make quick and pragmatic decisions about what should be a priority now, and what could be refactored or re-platformed later.
AppScore also has a great visualization tool for dependency mapping, so users can clearly see the repercussions of any changes made to the plan.
Additional information like this smooths the migration process and enables cloud solutions architects to make better choices. Cloud migration should happen with minimal technical debt, so understanding future supportability of workloads helps with short and long-term planning in this vein. It ensures the right conversations are held with service suppliers to reduce future work required in the cloud.
Enabling a smooth, secure migration
Our MAP Assess work was enriched and expedited though use of AppScore. It allowed us to clearly demonstrate the likely outcomes of different approaches to cloud migration for individual applications. Decision makers had a clear view of the costs and implications attached to the options we recommended. And we could quickly visualize the consequences if different routes were taken, enabling well-informed decisions about the best way forward.
Keeping things running smoothly and securely while embracing cloud at scale requires skillful preparation and expert implementation. Organisations in heavily regulated industries need to approach this prudently. However, delaying cloud adoption presents its own risks, and can put the organisation at competitive disadvantage.
AppScore makes it possible to drive progress in a methodical but Agile manner. It quickly achieves a good balance between depth and breadth of cloud migration planning. This leads to smarter estimates which underpin better trust and transparency, as well as expectation alignment. It all adds up to strong foundations for a more seamless and successful journey to the cloud.
The AppScore platform enabled us to devise an application-centric migration to AWS much more quickly and easily than with a manual approach. It integrates really well with the AWS MAP Assess phase, and we're planning to use it to support Azure migrations in the near future. Find out more about AppScore here.
Learn more