Layout canvas
So, our journey begins with a slightly more modern story and (something that Perceval would have appreciated): a map. Maps have certainly inspired my adventures and stories; I once considered a career in the Royal Navy as a navigator.
In 1931 Harry Beck worked for the British London Underground. That's the subway as our friends across the pond call it, or as it's now known, the Tube. In his spare time he worked on drawing a map of the system. He understood what the customer wanted. Not a map that represented geography or the time it took to get from station A to station B but rather a topology of the route. Some of his colleagues joked with him that the map looked like an electrical circuit diagram, but this wasn't his inspiration. He wanted to create a map that was easy for the customer to read, and easily see not only each station, but more importantly what were inter-change stations (those that would connect you to other lines). He used vertical and horizontal lines at 45-degree angles to make the map clearer and to emphasize connections. His managers were not convinced the map would be a success so in 1933 they launched a pilot (like a proof of concept trial) and printed a small number of maps that could be carried by travelers in their pockets.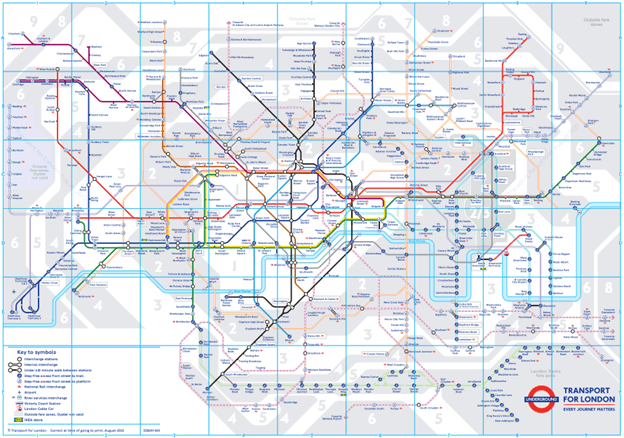 Map of London Underground, "...inspired by the original design conceived in 1931 by Harry Beck"
I relate to this part of the story. Not everyone is convinced by my ideas, you might not even agree with what I am writing, but what is important is the reaction.
You're not able to control the actions of others, what happens around you, what other people think, or the outcome of the hard work you put in, but you can control the energy you give to something, your thoughts, actions, and how to handle challenges. I believe that Beck knew his work was going to change things in a big way, and he put his energy and thoughts into his work despite others' not believing in it.
Beck was right of course, the pocket map was a roaring success and was quickly adopted. In 1960, Beck fell out with his employers, claiming he was not 'well recognized or compensated for his contribution'. Note he was paid just 10 guineas for the artwork and design (equivalent to £10.50 today). The map was changed a few times afterward, but the core of Beck's design remained. In 2022, all London Underground transport maps now have a reference "This diagram is an evolution of the original design conceived in 1931 by Harry Beck" and he has finally been recognized for his work.
In an age of GPS, maps have fallen out of favor. My kids say, "Dad, there is literally an app for that" but I'd argue that there is value in being able to see – and evaluate - all of the possible routes and destinations along the way. I'll make my case (to you, the kids are a lost cause) through the concept of customer journeys.
Most are familiar with customer journey maps Discover, Investigate, Prepare, Apply, Receive, Use, and Loyalty (recently added). Digital Brands Suite uses similar stages to describe the customer journey with variations for B2C, B2B, and B2B2X. We will focus on the B2C journey.
We group the customer journeys together based on the following categories to focus on the experience:
Browse and Buy
Use
Engage and Delight Me
Help Me
Know Me
Retain Me and Depart
Under each of these categories we group the business capabilities that are supported. When engaging with customers, we describe journeys and capabilities as stories that can be easily understood and remembered, 'Who doesn't remember a good story?' Stories are described from the perspective of the persona interacting with platform. The main goal is to help customers onboard quickly, understanding business value while focusing always on the digital experience. Our journey maps are perfect for this. Each stop within the journey is represented as a station on the map that brings value. This way our customers can quickly understand, with context, the relationships between the stops, all possible routes, and the destinations along the way.
This is an example of a customer journey map that covers the buying process for a B2C customer that wants to purchase a wireless subscription: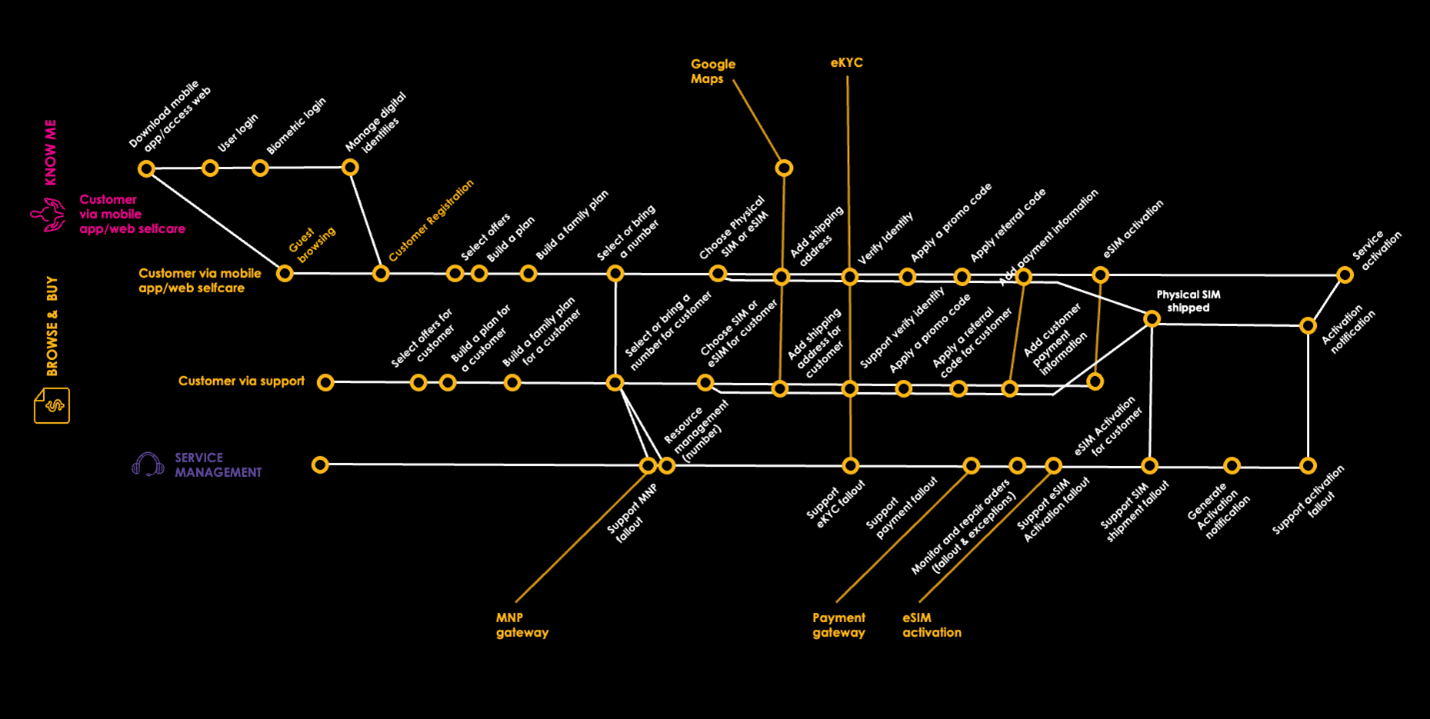 It is quite an extensive journey but it provides the adventurer with a map, they know where to start the journey and what possible stops they will encounter along the way. When you stop at a station there is story that describes the 'total experience' from the perspective of the customer, tenant, support and the developer. Here is an example of one of the stories: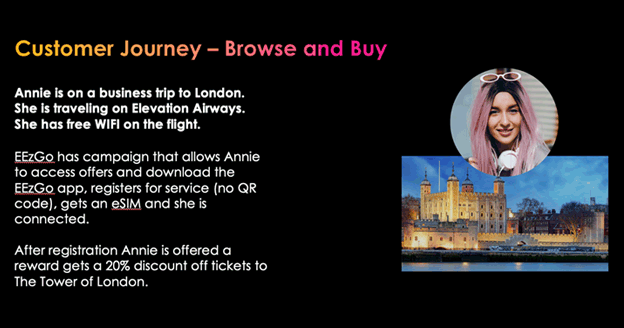 Customer Journey - Browse and Buy
It describes Annie's journey as simple and easy to understand. It sets the scene, describes the interactions and expected outcomes. Stories vary in terms of details so like the stations on the map these are linked and stored in a central repository. This helps to see the interactions between stories and ensures we always think in terms of 'total experience'.
The next article will focus on another aspect of the journey map and this will be the support journey. So to end this article I wanted to give credit and not force Harry to wait 91 years to receive credit for this creative and innovative thinking.
"This customer journey diagram is inspired by the original design conceived in 1931 by Harry Beck, Thanks, Harry!"
Learn more