Layout canvas
When Peter Parker, Spiderman's alter ego, famously uttered the adage, "with great power comes great responsibility," telcos probably weren't top of mind.
Yet with their aspirations to transform into super-operators, blazing new and innovative 5G monetization trails, these carriers are well-placed to take the superhero's words to heart.
What's new with service assurance?
Most operators, from CSPs to MVNOs, are currently transitioning to end-to-end service orchestration (E2ESO) – the operational capacity to instantiate a given service across telco domains such as RAN, transport, 5G core, data center and now, edge. E2ESO is also extending to hyperscaler domains, driving a need for enhanced automation – hyperautomation in fact.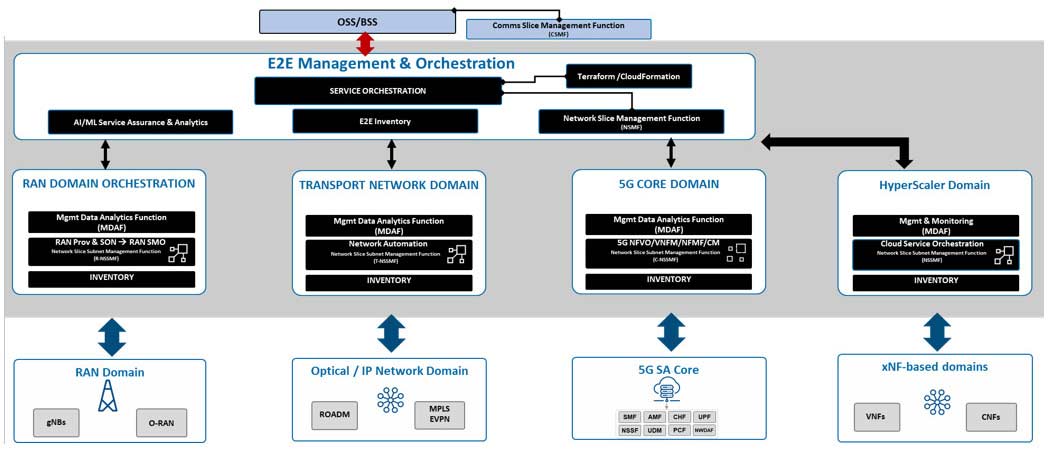 Figure 1: Telco's End-to-End Service Infrastructure
What is E2E service assurance and why is it crucial?
Service assurance has been a constant fixture throughout the history of telecommunications, defining the ability to measure service behavior and performance, monitor anomalies and events, and enable report and infrastructure dashboard capabilities.
As the industry evolves toward E2ESO and hyperautomation, service domains and silos are expanding, leading to increased complexity. E2E Service Assurance examines each of the operator's domains, measures performance and computes KPIs. Further expansion towards the edge often leverages a hyperscaler's service infrastructure as an extended footprint. As a result, service assurance must measure both service performance and customer experience across the board, enabling them to keep up as operators expand their business footprint.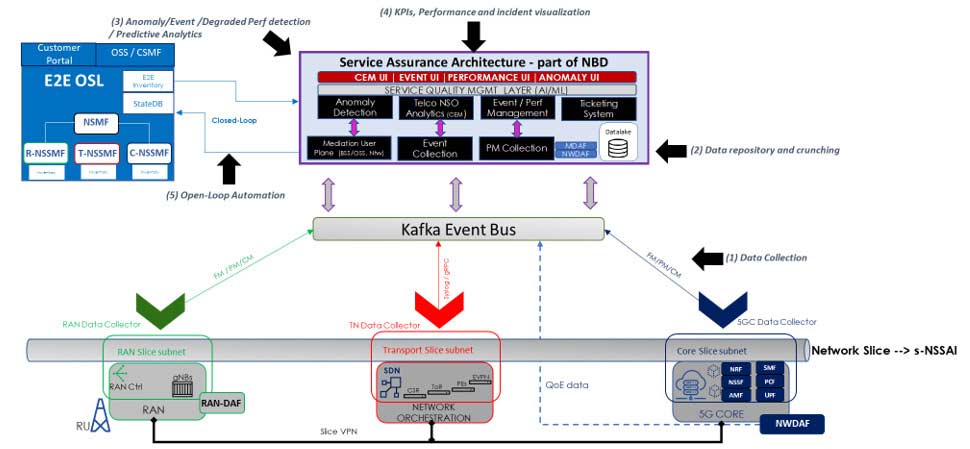 Figure 2: End-to-End Service Assurance
So how does end-to-end service assurance operate?
End-to-End Service Assurance converges monitoring data (FM, PM, SQM), and correlates anomalies and events across all domains, thereby ensuring end-to-end visibility. It should be noted that each domain brings its own management and monitoring methodologies. As an example, RAN analytics are generated by SON (Self-Organizing Networks) for legacy RAN and by the RAN Intelligent Controllers as part of Open RAN. MDAF (management data analytics function) is an important step toward achieving management consistency in the transport, edge, 5GC, and even hyperscaler domains. The Network Data Analytics Function (NWDAF) is an ideal 5GC addition for measuring the end user service experience and computing KQIs. 
Unlocking the potential of intent-driven orchestration
With 5G, operators are looking at network slicing to provide differentiated services – for which customers will be willing to pay a premium. Delivering personalized, sophisticated services that provide greater consistency, quality, precision and constant monitoring introduces new sets of requirements for assurance and its connection to the orchestration platform.
Service assurance will detect anomalies end-to-end and provide relevant information back to service orchestration – either simply for information (open loop) or to trigger predefined actions (closed loop) to maintain the service intent. The role of service assurance is critical in the operator's operational framework. To support unique services and develop a competitive advantage, telcos are gradually implementing the most recent service infrastructure innovations (e.g. virtualization, containerization, micro-services). However, this necessitates additional tools for measuring service quality and customer experience, resulting in the evolution to Experience Operations Center (EOC).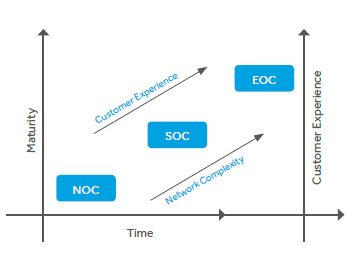 Figure 3: Network to Experience Operations Center
Service assurance enables operators to report near-real-time network and service health to the network operations center (NOC), service operations center (SOC) and EOC to track customers on the network, and then identify and improve their experience.
The EOC provides a seamless end-to-end client experience by assessing service quality KPIs. Using integrated KPI/KQI data from numerous sources, it controls experience-related operational tasks (service assurance).
Optimizing monetization by converging orchestration, service assurance and the 5G value plane
While service infrastructures are becoming more sophisticated, operators want to build new revenue streams that connect legacy and new services. With the 5G Value Plane, Amdocs meets this need, providing a unique combination of orchestration and assurance.
Service Assurance monitors any exposed and charged functions/services based on their respective SLA requirements. The combination of Amdocs E2ESO and service assurance, alongside the 5G Value Plane work in synch to improve customer satisfaction and quality of experience, by:
Securely exposing various services and functions with the network exposure function (NEF)
Predicting quality of experience and resource consumption with the network data analytics function (NWDAF)
Monetizing various network currencies through diverse triggers to the charging function (CHF)
Controlling network behavior and service selection with the policy control plane function (PCF)
The ultimate super-combination
To remain competitive in a rapidly evolving industry operators must differentiate and deliver tailored services that meet stringent service criteria. Implemented alongside innovative vendor services, E2E service assurance accelerates this transition from operator to super-operator, enabling chargeable services, greater monetization and new use case possibilities. And while E2ESO, assurance and the 5G Value Plane all make these possible, it's the ability to identify the right partner to fully leverage service assurance that helps enhance across-the-board.
Learn more