Layout canvas
What makes mobile private networks & network slicing so important for CSPs & operators? There are viable use cases that prove these two features can rewrite network legacies moving forward.
Both network slicing and mobile private networks (MPN) are regarded as crucial components of 5G networks designed not only to accelerate the commercialization of wireless technology but also to satisfy severe enterprise and industrial wireless requirements. Many feel that the distinguishing characteristic of 5G is its new radio (NR), which provides quicker speeds and lower latency. The 5G core plays a significant role in network control and is the crucial service enabler for all vertical applications, hence enabling network slicing and mobile private networks. Does one-size-fit-all?
In any clothes store, we frequently seek the one-of-a-kind item that nobody else has and that suits us uniquely. How may it be different for businesses with respect to services? Indeed, on-premises private and dedicated wireless networking services may work for some users, but others may find additional advantages. However, both services represent opportunities for MNOs to expand a new sense of synergy between enterprises, service providers, and hyperscalers, which will require an advanced level of system integration and operational platform management solutions with more integrated business capabilities to take greater control of their expanding telecom networks.
What makes mobile private networks and network slicing relevant to operators and enterprises?
Mobile Private Networks describes a network that is entirely separate from the public mobile network. It is usually acknowledged that MPNs have a premium price tag because they:
Deliver on-premises network physical assets covering a particular location, site, or premises
Use specialized spectrum for 4G/5G technologies, which can be licensed or unlicensed; 3.5 GHz CBRS is the most likely candidate
Utilize dedicated management operating software to own their private network and maintain complete control and security over it
Ensure that the MPN solution can be operationally adapted to meet various vertical use cases, such as manufacturing, airports and ports, utilities, financial utilities, logistics, and others
Keep collected data local and securely confined to the deployment site
It is essential to highlight, however, that several tasks will be required throughout the lifecycle of the global solution, including planning and design, deployment, integration, and operational management of all services, which can be delivered by various types of partners. This consists of mobile network operators (MNOs), new specialty players, technology providers, and BSS/OSS and network systems integration capabilities.
On the other side of the fence, network slicing enables CSPs or MNOs to construct cloud-native, logical network partitions based on dedicated resources utilizing either their wireline or wireless infrastructure. Depending on their setup, each network slice and its associated resources may be exclusively dedicated to a single customer or shared with multiple customers. As we move to a fully virtualized and cloud-native 5G standalone core, MNOs will move to more dynamic network-slicing OSS-based capabilities where MNOs or service providers and even third parties (such as enterprise customers) can create and connect their own network slice partitions (network slice subnets) and connect them together to formalize a network slice on-demand, thereby creating a Network Slice as a Service (NSaaS). Dynamic business and operational capabilities resulting from a BSS/OSS integrated service infrastructure enable network slice instances to be configured in real-time and to meet stringent latency, packet loss, and jitter requirements.
MPN and network slicing appear to give a private and dedicated network in practically all aspects, except for how generated data will be handled and kept. Mobile private networks and network slicing also present hyperscalers with the opportunity to enter the telecom war field. Typically, hyperscalers will likely collaborate with CSPs and MNOs to enhance their service offering with hybrid cloud/edge services to closer locations, functions, and apps for an enhanced user experience.
But we must examine if MPN and network slicing may coexist in an MNO's service-providing catalog or if they are mutually exclusive.
Do they complement or compete?
Network slicing should not be confused with mobile private networks for 4G/5G networks, notwithstanding everything examined and discussed in the preceding sections. In fact, as they encourage diverse applications. MPNs support the concept of a radio network based on the utilization of dedicated base stations and spectrum (a real isolated RAN), which could be comprised of a "radio slice." This "radio slice" could be transmitted from an operator base station located within or in close vicinity to the business location. This is a highly probable situation involving MPN and Network slicing.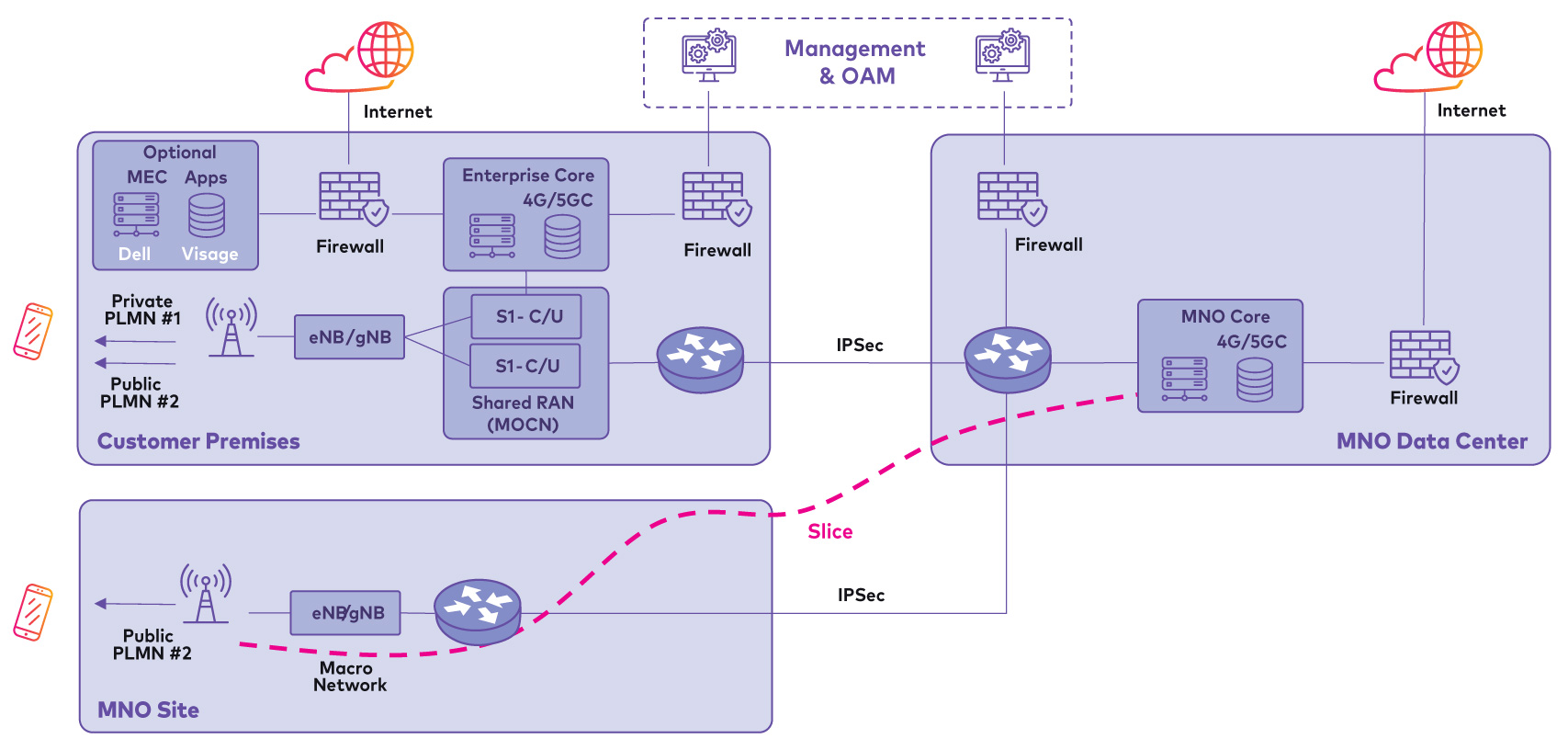 Fig.1: MPN and network slice example
However, it is also true that network slicing falls under the definition that an MNO will provide regarding the private cellular networking menu, where slice resources from the RAN (Radio Access Network) and ad-hoc networking (x-Haul) and 5G resources (5G Core) can be reserved partially or dedicated entirely to a specific customer. However, there will be other circumstances in which a complementary model could deliver excellent business outcomes for end customers. Notably, when a financial institution deploys a dedicated private network on their primary regional site (for data governance and strict security) at high costs and leverages a network slice for any other subsidiaries that are near already installed CSPs network resources and fiber/wireless connectivity assets at a fraction of the cost of a mobile private network-based site.
In such circumstances, MNOs and enterprises will be able to address and satisfy distinct use cases and criteria that neither MPNs nor network slicing can provide on their own, but which, when combined, can finally exceed expectations.
Conclusion
Mobile private networks and network slicing provide multiple levels of essential benefits and distinctions that do not necessarily overlap in any circumstance, as described below: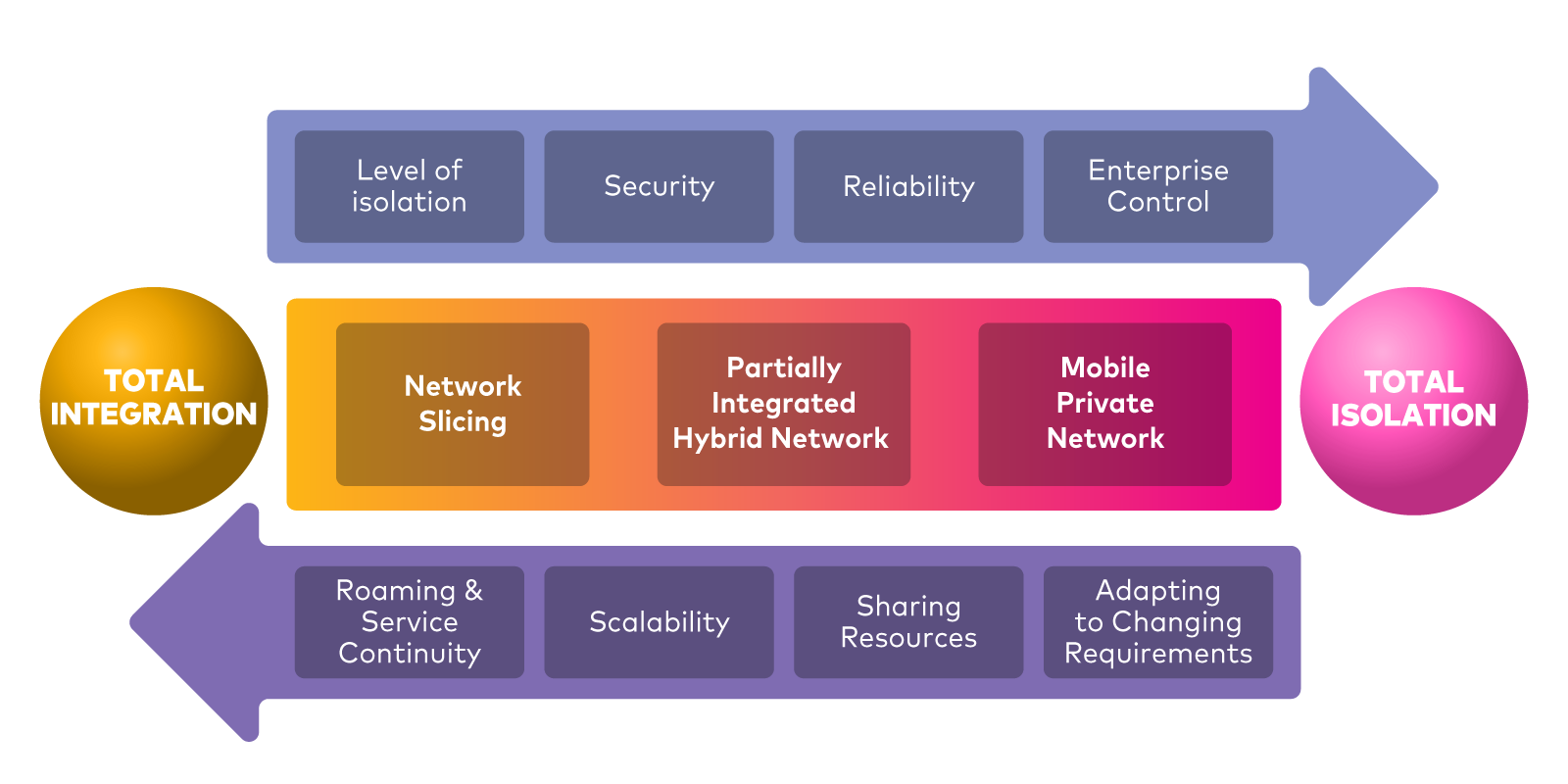 Fig.2: Key differences between MPN and network slicing
MNOs, corporations, and hyperscalers must handle the difficulty of choosing the proper partner to complement their skills:
Technological preparedness for these two technological behemoths
Decrease the costs of the solution and integrate various vendors and industry players for MPNs and Network slicing
Meet the expected level of isolation and integration required
Need for the enterprise to acquire and manage spectrum
Ensure and provide the right degree of control (for the enterprise)
Help telcos and operators, particularly in the network slicing paradigm where CSPs/MNOs or even hyperscalers might be the principal end-to-end provider or merely supply a portion of the slice in a Network Slicing as a Service approach
Both network slicing and mobile private networks will be crucial for the next generation of wireless/wireline networks and their potential convergence to enhance CSPs' service infrastructure monetization and the provision of new services. More importantly, we must comprehend the various applications that MPN and network slicing can introduce alone and collectively.
In that sense, Amdocs Networks takes a unique approach to MPN and network slicing, where service intelligence and agility are not derived from physical assets but from BSS/OSS integrated capabilities and service integration to customize the intended solutions. Accelerating new service creation, enhancing operational capabilities, and integrating other partners.
Learn more