Layout canvas
The core, or the "brain" of the network is the crucial, seamless platform that enables the performance of tasks that underpin the entire operations of a service provider.
It is this core upon which 5G, and future technology use cases will rely in order to guarantee the high levels of network performance that future applications will demand. To deliver the promises of 5G, the core must first undergo a transformation. It must become cloud-native, virtualized, disaggregated, highly elastic and gain the ability to support multi-technologies.
As background, legacy networks were built to support a predictable demand of network usage. But such models are no longer sustainable in an environment where the demand for data is ever-growing and millions of devices require connectivity. For this reason, as the industry moves towards 5G, operators will need to identify a path that allows them to easily transition to Open Core architecture – one which utilizes more virtualization and extracts maximum value from its cloud-native architecture.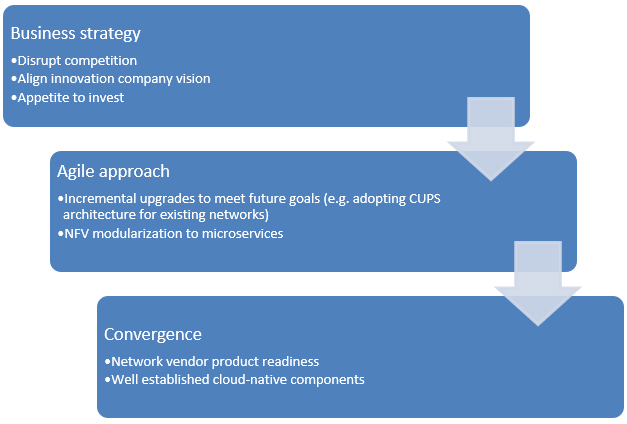 Three main tenets of a cloud-native open core network are disaggregation, automation and microservices-based deployment architecture. First, the open and disaggregated architecture provides the flexibility to deploy components anywhere in the cloud without dependency on a single vendor. Second, massive automation for setting up the E2E infrastructure with minimal human intervention provides a great degree of agility. And third, microservices-based architectures provide an avenue to scale based on variable needs like cost, quality of service and so on across the network.
Working together on innovation
The Telecom Infra Project (TIP), of which Amdocs is a contributor, enables service providers to successfully navigate the 5G technology evolution. One of the most recently formed project groups (PG) at TIP is Open Core Network (OCN), which seeks to find innovative ways to work with packet core technologies across any access wireless networks operating on licensed, unlicensed and shared spectrum, as well as develop microservice, orchestration and automation frameworks on the OCN platform.
The OCN PG is today disrupting the legacy status quo by emphasizing the use of open-source entities such as Facebook Magma. Overall, OCN has adopted a phased approach to tackling various 5G uses cases, with the current phase emphasizing fixed wireless access, followed by private LTE networks and so on.
The Orchestration workstream, of which Amdocs is co-lead, is making further innovation inroads. As part of our efforts to establish ourselves as leaders in the space, we have adopted the vision to provide leadership within this group to develop and deliver a framework for integrating, developing and deploying microservices for the 5G core.
But what are the pillars of an Open Core network?
A cloud-native network, service-based architecture and network slicing form the major building blocks of an open and converged core network. A service-based architecture provides a set of interconnected network functions (NFs), with authorization to access each other's services. It uses service-based interfaces between control-plane functions, while user-plane functions connect over point-to-point links. It also allows NFs to become more granular and decoupled, thereby allowing individual services to be updated independently, while enabling on-demand deployment, aiding automation and agile operational processes, and speeding time to market.
Cloud-native architecture is built on the principles of software-defined networks (SDN), which attempts to centralize network intelligence and distribute processing towards the edge of the network at its crux. The final piece of the puzzle is network slicing, which is the key to monetization of 5G use cases, enabling operators to tailor and slice the network to address specific use cases and customer requirements.
The importance of a systems integrator
Despite the power of technology, it can still be difficult to determine the best solutions for your specific network's requirements. This is where a system integrator's expertise, as well as the ability to ensure all components seamlessly operate and talk to each other, become invaluable.
Systems integrators are pivotal in helping service providers select the best solution for network slicing and building cloud-native, service-based architectures to meet the network's needs. These players offer a wealth of network insights from their vast experience and expertise. For this reason, an essential step on the path to Open Core and building a successful 5G network is choosing a systems integrator who is reputable and reliable.
Crucially, such players are key to ensuring your smooth transition to Open Core with the right solutions to support the needs of your network. To learn more how Amdocs can help your transition to Open Core, contact us.
Learn more