Layout canvas
5G has catapulted product and wireless capabilities beyond the imagination. With growing expectations and market sizes alike for integration services and innovation in connectivity, emerging markets like IoT and Network-as-a-Platform solutions have underscored the crucial role of user device management.
The global IoT market size is growing every year. As per a leading research company, the global IoT market size in terms of revenue was estimated at $300 billion in 2021 and is anticipated to rise to $650 billion by 2026 with a CAGR of 16.7%. The major factor driving the growth of the 5G Industrial IoT market is 5G which enables high reliability and ultra-low latency networks for manufacturing industries. The broadband services market is also witnessing significant growth due to the digital transformations of businesses in all industries across the globe and higher broadband penetration in households. The global broadband services market was estimated at USD 379.82 billion in 2021 and is expected to reach over USD 748.6 billion by 2030, poised to grow at a noteworthy CAGR of 7.8% from 2021 to 2030.
Companies managing a large fleet of distributed devices must be able to leverage telemetry data from individual devices which are spread across the globe, running on different software and hardware platforms. Nowadays, companies are struggling to manage huge amounts of data which is being generated by these devices. Data is collected from a wide range of sensors on manufacturing infrastructure, weather stations, smart meters, delivery trucks, and all forms of machinery.
With respect to implementing IoT solutions, below are a few factors that are worth discussing here:
Distributed architecture: Edge computing and cloud computing come with their own pros and cons. Companies must find a balance between edge computing and cloud computing. There is a need to have a hybrid data processing model to avoid sending massive amounts of data to the Cloud. In remote deployments where connectivity is not guaranteed, it would be advisable to rely on edge computing and process and aggregate as much data on edge before pushing it to the cloud infrastructure.
Cloud infrastructure: Cloud infrastructure offers key benefits such as agility, resiliency, scalability, and DevOps in-built capabilities. It provides an infrastructure where data can be gathered from anywhere in the world and processed in real-time in a data center to provide valuable insights and enable data analytics. Cloud infrastructure provides cost-effective deployment models such as serverless computing.
Analytics: The end goal of IoT deployments is to gather meaningful insights from the data collected and to act on those insights. Device data can be used to view historical trends in intuitive dashboards. With advanced analytics, companies can take advantage of tools such as machine learning (ML) to enable predictive use cases such as predictive maintenance. Analytics capabilities allow filtering, enrichment, aggregation, correlation, slice, and dice operations on the telemetry data collected from the devices. Visualization tools such as Kibana offer a single glass pane capable of viewing the devices distributed across logical groups, regions, and countries. The comparison charts of performance can be generated by region, device model or software version, etc. Alarms, notifications, graphs, and dashboards can be generated to provide visibility to achieve efficient operations of the business.
Security: Digital IoT device certificates (X.509 certificates) are the cornerstone of a secure, trusted IoT. Issued by recognized certificate authorities, they make it possible to verify the identity and authenticity of IoT devices and host the secrets required to enable the cryptographic methods used to encrypt and decrypt communications. Digital device certificates, more specifically X.509 certificates, are digital documents that are used to authenticate client and device connections on the IoT. Built based on a similar approach used to authenticate connections across the internet, X.509 certificates have established themselves as the most widespread client authentication system. Its advantage over username and password schemes, for example, is that the private key – the key secret behind the authentication process – is hosted on the device and never exposed to the internet.
Device connectivity: IoT connectivity is how an IoT device, which can be anything from a simple sensor in a factory to a self-driving vehicle and encompasses applications from streetlights to robots, connects to the cloud, other devices, and integration points such as IoT gateways. IoT connectivity brings value from IoT by communicating their data to enable action to be taken, services to be delivered, and revenue generated. The fragmented nature of IoT deployments means organizations can choose from many IoT connectivity standards. How to connect to IoT is one of the most important decisions when it comes to IoT. IoT connectivity should be selected based on a careful assessment of each deployment's characteristics. For some very high speeds, ultra-low latency connectivity is required. This may lead to the adoption of 5G or 4G cellular IoT connectivity, but this decision must be balanced against the cost and power usage these technologies require. The three main technical requirements for any enterprise looking into Internet of Things connectivity are coverage, energy efficiency, and data rate. Key IoT connectivity technologies include 3G, 4G, 5G, NB-IoT, LTE-M, LP-WAN, Bluetooth, Satellite, etc.
Data management and Data dtorage: IoT data has specific characteristics, therefore would need a different approach to data management. It is also important to note that an organization may need different data storage mechanisms for data they want to gather real-time insights from versus data they want to store in batches to perform historical analysis on. One approach with high relevance for IoT is time series data, which can be used for real-time alerts or historical data analysis. In addition, the volume and unstructured nature of IoT data make it a good match for NoSQL-based databases. Hyperscalers provide database services that can be a good fit to comply with requirements coming from IoT. Amazon DynamoDB and Amazon Timestream are both serverless databases offered by AWS. However, DynamoDB is widely used as a cloud-based serverless NoSQL database service, while Amazon Timestream is a serverless time-series database solution that enables trillions of events to be analyzed and stored at a thousand times faster rate than relational databases and a fraction of the cost.
Device management: Device management provides capabilities to provision (onboarding and configuration), monitor, troubleshoot and diagnose, maintain, secure, and retire the growing sprawl of connected objects (also called the Internet of Things (IoT) endpoints or edge devices) in your home or enterprise network. Device management should be scalable and should be able to support the heterogeneity of IoT deployment. With a single pane of glass, it should be possible to see how many devices are connected, the current state of those devices, and the software versions running on those devices. Device management should be able to visualize telemetry data in real-time. Outdated firmware or software on the devices can present a security vulnerability and thus the ability to keep it up to date lowers risk. Device management should also provide a management portal to provide intuitive and easy-to-use UI tools to onboard new devices and create data models. Self-care portal enables end users to troubleshoot and fix common problems encountered. A self-care portal can help to reduce the number of calls to the customer support center and hence reduce operation costs. Effective device management platforms can play a key role in enhancing customer experience and therefore reducing churn rate.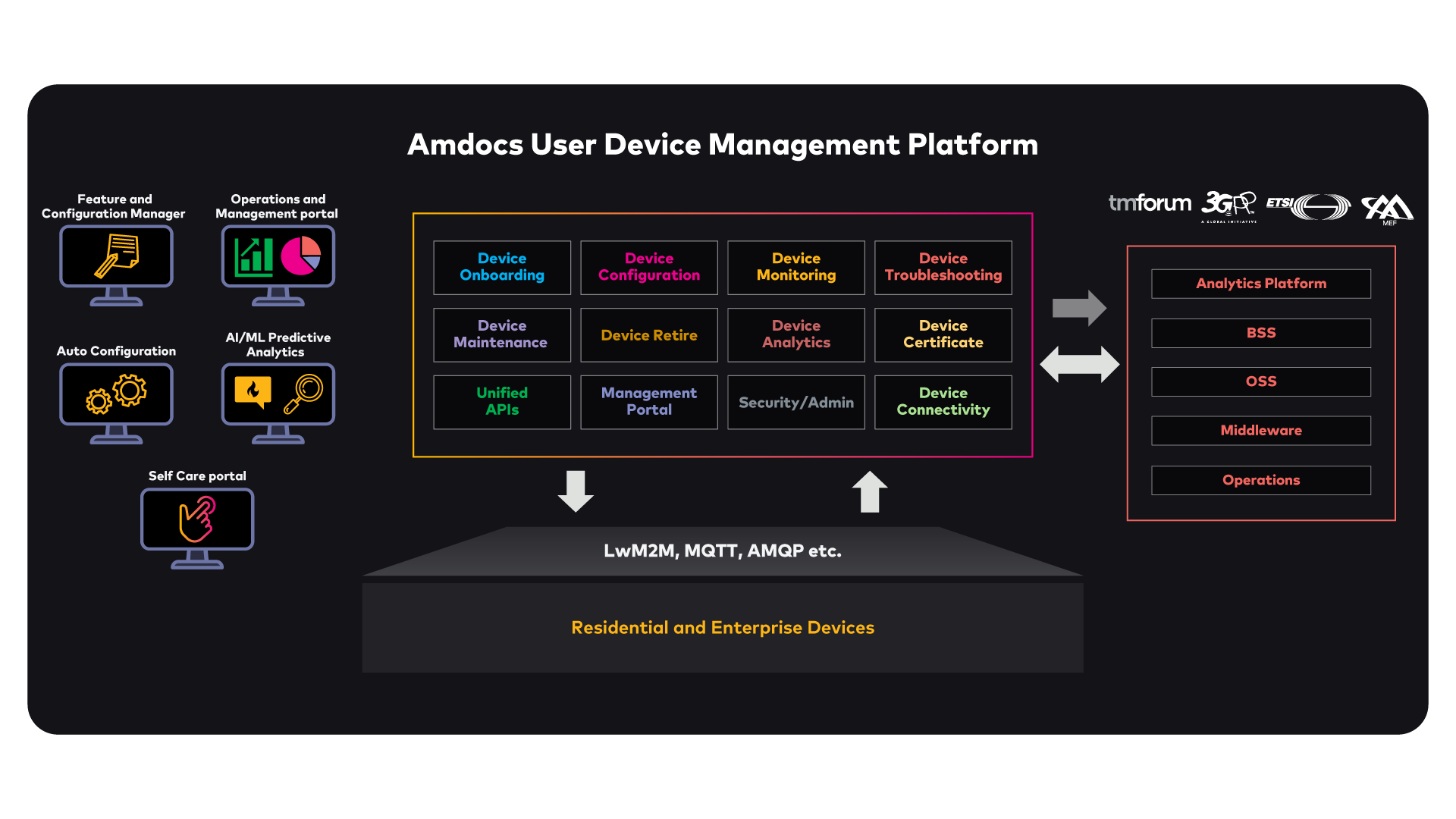 Amdocs User Device Management Platform
Amdocs has gained invaluable experience and has been collaborating with CSPs across the globe to fulfill their business needs. Amdocs offers a User Device Management platform which is a unified platform to onboard, configure, monitor, troubleshoot, and manage any device (residential or enterprise, wireless or wireline) at scale. Amdocs User Device Management platform supports all types of devices over TR-069, TR-369 USP, SNMP, and other protocols. The platform can scale horizontally to support an unlimited number of connected devices. It supports both local and geo-redundancy deployment of the platform, as well as the cloud (public, private, and hybrid) and on-prem auto-scaling.
Key salient features of the Amdocs User Device Management platform are:
Automated onboarding
Device analytics with predictive analytics
Remote device configuration
Self-care and management portal
Unified APIs to support OOTB Integration with OSS/BSS
Supports standard communication protocols
Vendor agnostic – any device type
Device diagnostics and auto-repair
In addition to the User Device Management platform, Amdocs offers deployment and integration services and consultancy services in this area.
Visit Amdocs Networks to learn how our User Device Management platform can empower you to support the newest generation of innovative use cases
Learn more