Layout canvas
This blog is a part of the Cloud Strategy Unboxed series and looks at the importance of training for cloud adoption at all levels of an organization and how advocacy can inspire early adopters and improve the organization's trust in the CCoE and its cloud strategy.
The education funnel – nobody is excluded from training
An often-heard view is that only those directly working with the cloud require cloud training. This is not true and poses a risk to cloud adoption. For most organizations, the cloud becomes a significant part of the organization's strategy. Its reach within the organization is broad, impacting revenue, client perception, corporate brand, talent acquisition, agility, innovation and more.
As such, and as part of a comprehensive cloud adoption strategy, everyone should have at least a basic understanding of the cloud and the organization's cloud strategy. Cloud fluency is a term we use to describe this basic understanding. It encompasses the broader organization's understanding of key cloud services, terminology, and the primary differences between traditional and cloud IT and the impact these differences have on applications, budgets, and user experience.
Personas
There are typically five personas to consider with cloud training, and we can group all staff within an organization into one of the personas. While the exact size of each group will differ for each organization depending on the total number of staff, the ratios between the different groups will be similar.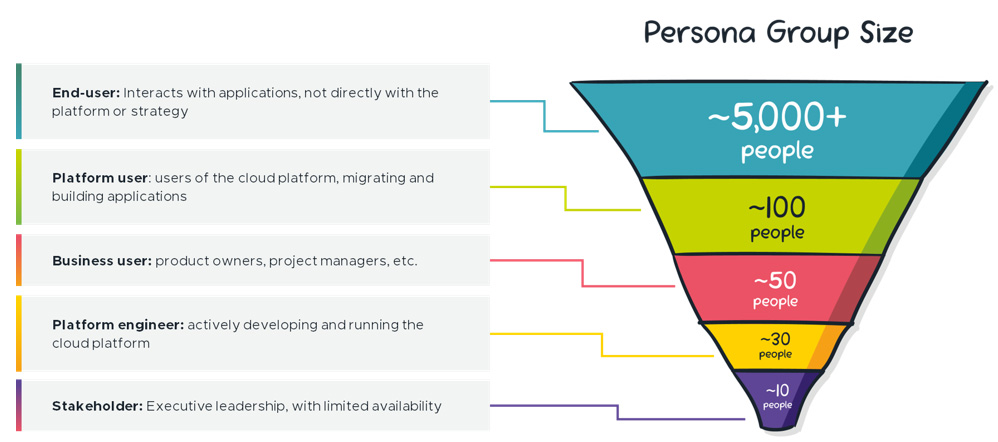 Figure 1. Persona groups, exact size may differ per organisation, but the relative size between groups will be similar
The smallest group are the stakeholders. These executives and leaders with limited availability will receive an executive summary and cloud fluency training.
Next are the engineers building and operating the organization's cloud platform as part of the CCoE . Depending on their existing experience, they may need deep dives and hands-on workshops on cloud topics such as architecture, security, and networking. Often, their training will need to be fast-tracked before the rest of the organization so they can productively work on the cloud platform as soon as possible.
The third group from the bottom are the business users, product owners, portfolio leads, and some project managers. While developers can get enthusiastic about technology, the business users need to be convinced of the value to them and the customer. They need confidence in the CCoE, platform, and cloud strategy and will want to see which risks have been identified and mitigated.
Advocacy is equally important for this group. Besides training and knowledge transfer, they need to see what is possible in the cloud with the right approach and be inspired to open up to new ways of working. Training for business users focuses on topics such as financial operations, total cost of ownership (TCO) comparisons, risk and compliance management, and the benefits and challenges of different architecture options.
Next are the platform users. The developers and application teams frequently interacting with the cloud platform, often in a technical capacity. A common baseline includes cloud fluency, platform user training, migrations, and architectural best practices. However, this group typically has the most variety in intermediate and advanced training as there are different career paths and specializations to consider.
The largest knowledge gap of traditional application teams that needs to be addressed is infrastructure, which will be "left-shifted" and added to their scope under a modern cloud strategy. While the Application Enablement team will support them, this should be temporary; the technical teams need to gain this experience to become self-sufficient and ensure scalability.
Lastly, at the top, we have the broader organization. They will generally not interact directly with the cloud platform but should still be involved in the organization's cloud strategy. Training will cover the organization's cloud strategy and sufficient cloud fluency to understand high-level discussions about cloud projects. Ten per cent milestone The journey of cloud fluency occurs when a certain percentage of staff within an organization — roughly ten per cent according to many social studies — incorporates cloud language into their daily vocabulary. This minority of cloud-fluent staff becomes a catalyst for change, the organization's use of the cloud, and for teams to migrate their applications.
The timing of cloud training in relation to other cloud strategy initiatives is critical. For example, achieving 10% fluency should roughly align with the first usable version of the cloud platform. Train teams too early before the cloud platform is available, and they will be out of practice and lose knowledge. Train too late, and they will become frustrated when they try to use the platform without sufficient knowledge. Either way, this can lead to stagnation and, ultimately, failure of the cloud adoption journey.
It is also important to consider the training frequency to ensure that employees are not overwhelmed with new knowledge or delayed in acquiring the next round due to course schedules. The ideal pace differs per person, so instructor-led sessions must be balanced with self-paced courses.
organizational cloud fluency can be celebrated when most of the staff have attended cloud fluency training. This will often be coupled with growing interest in deep-dive courses from staff that have not yet interacted directly with the cloud.
Learning needs assessment
Course contents are typically divided into three levels that align with CSP certification tracks.
Foundational
This level is designed for employees who are new to cloud computing and require an introduction to the basics of cloud computing. The courses at this level will provide a solid foundation, including an overview of the different types of cloud services, their benefits and drawbacks, and how to use them.
Intermediate or professional
This level is designed for employees with some cloud computing experience and requires a deeper understanding of the technology. The courses at this level will cover more advanced topics such as cloud architecture, data migration, security, and governance.
Advanced or speciality
This level is designed for employees who are experts in cloud computing and require training on specific and often niche topics. The courses at this level will focus on implementing and managing complex architectures and challenges, including containerization, serverless computing, and AI/ML in the cloud.
At the start of the program, the organization should assess the current cloud competency level of all team members participating in the program. This is done through tests in collaboration with each Cloud Service Provider (CSP) that the organization wishes to support in their cloud strategy. These tests are typically self-assessment and fairly high-level. As such, they should be augmented with the necessary organizational context. Besides the general test, short 10-question exams should be created for each cloud career path. These can determine for each candidate if they should start with foundational, intermediate, or advanced training content.
Incentives and careers
There are different ways to incentivize staff to participate actively in learning. For many, the opportunity to learn and grow might be incentive enough, and some form of financial incentive, such as a bonus linked to learning KPIs, can be used to reward that mindset. For others, incentives of a competitive nature can be highly effective. For example, recognition or awards for achieving the most (relevant) certifications.
In addition to direct incentives, integrating cloud competencies into the organization's career framework will provide staff with a clear path for career growth and promotion. This integration requires a multi-staged design. Each stage reflects a particular seniority level, and appropriate cloud capabilities need to be considered within each stage.
Besides technical capabilities, soft skills like mentorship are just as important to consider here.
Many existing roles, such as application developers, will be expected to have some degree of interaction with the cloud, and new roles will be created in the organization that are specific to the cloud. The following is an example of a cloud engineer role. This example has four levels of seniority, each with expectations on training, certification, and primary responsibility. These expectations should be expanded upon with the organization's own cultural, business, and technical requirements for the role, and each level would typically be associated with an appropriate organizational title.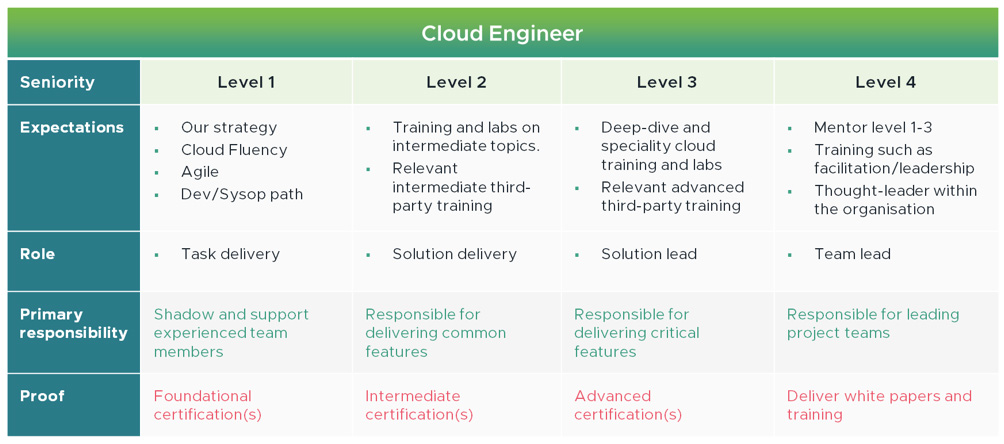 Figure 2. Career progression for a cloud engineer
Training courses
A cloud training program consists of third-party courses and courses created specifically for the organization. Many good quality third-party courses are available for common topics such as agile, DevOps, cloud architecture, the various cloud services, and each of the available cloud certifications.
Custom internal courses will be required to teach staff about the organization's cloud strategy. Its specific approach to the cloud that includes onboarding, approvals, responsibilities, organizational best practices, and other topics that will often be unique to the organization.
Cloud fluency
This topic is a must for all organizations adopting the cloud. The course should cover basic cloud concepts, terminology, and key services. For example, that a server on AWS cloud is called an EC2 instance. Fundamental differences between on-premises and the cloud must be covered at a business level. For example, staff should have a high-level understanding of the shared responsibility model and the key benefits of using the cloud for applications.

For organizations pursuing a multi-cloud strategy, at least three cloud domains will need to be covered. A cloud-agnostic course that includes common terminology, concepts, and a comparison between the different cloud providers that the organization supports, and a separate course for each supported cloud provider that covers their specific terminology and key services.

Our cloud strategy
A course that provides an overview of the organization's cloud strategy. For the most part, this will be based on the organization's operating model, covering topics such as the Cloud Centre of Excellence, responsibilities (RACI), processes such as application onboarding, and the cloud platform. Typically there will be three versions:

A 30-minute executive summary intended for executives and leads.
A one-hour less-technical summary. This version will be the most used, intended for the broader organization, business users, and certain vendors that will work with the cloud platform.
A deep dive of two hours or longer that includes the technical aspects of the strategy. This version is limited to CCoE members and some advanced application teams, as it can contain potentially sensitive security details about the organization's cloud platform.

Non-technical deep-dives
These courses intended for business users, project managers, and similar can cover topics such as operational cost estimation, recruiting cloud talent, agile project management, migration overview, FinOps, and a comparison between different cloud architecture options.
Technical deep-dives
Technical deep drives tend to be either for the CCoE engineers – focused on building and securing a comprehensive cloud platform, or for application teams – focused on best practices. For application teams, there should also be a course on using the cloud platform, deployment pipeline, and shared services.
Certification
It is recommended to make certification a requirement to ensure that teams have proof of knowledge gained from their training and to highlight where further training may be needed. Such a requirement will mean that budget needs to be made available by the organization to cover the certification cost, though the cloud service providers do offer volume discounts.
Cloud certifications are typically available at three levels, basic, intermediate, and advanced – though the terminology differs between providers.
The time needed to complete training and achieve certification will depend on the certification level and any existing experience. For example, a person with three years of cloud experience can complete the intermediate training and certification in a week, while a person with one year of experience might take up to three weeks.
When ramping up certifications within an organization, gamification events can be created to provide a place for team collaboration in acquiring certifications. For a gamification event, each certification will be assigned a number of points. The winner is the team with the most points at the end of the competition. Below are three examples of gamification events:
Collaborative business units
Internal business units compete against one another. Typically this will have a longer timeline, such as 6 or 12 months. This makes it potentially easier to be part of the organization's KPI and promotion strategy.
Collaborative teams
Participants are split into random teams, and the team with the most points acquired in the timeframe is the winner. This approach allows for running more frequent mini-competitions throughout the year.
Individual pursuit
Participants acquire certificates to either be the first to acquire all of them or be the participant with the most certificates by a given date. This is a great way to encourage staff to take the next step in gaining cloud knowledge, especially if they have limited interest in acquiring new certificates outside of their comfort zone.


Knowledge portal

A knowledge portal is a centralized location where the organization's cloud and cloud application knowledge can be collected. It offers a space for learning, collaboration, and discussion between all teams and individuals interacting with the cloud.

Launching a knowledge portal should happen fairly early in the cloud adoption journey. Initially, it can contain some articles and training references about the cloud. Later, the cloud onboarding process can be described in detail, and extensive training and certification sections can be added with links to quality third-party content for each certification.

There is value in building a community around the knowledge portal rather than limiting it to one-way information sharing. Features can be added, such as comments and discussion on articles, or a certification group scheduler to encourage this.

The knowledge portal would typically be owned by the Cloud Centre of Excellence, specifically the Education & Advocacy team . As such, they can use it as a channel to share the cloud platform roadmap with feature request and voting. New cloud application case studies can be presented and discussed, and feedback on various areas of the cloud platform can be requested from application teams.

Conclusion

Ensuring employees at all levels of an organization are trained and cloud fluent is essential for the success of cloud adoption. Advocacy is needed to inspire early adopters and improve the organization's trust in the cloud strategy. The timing of cloud training in relation to other cloud strategy initiatives is important. For example, cloud platform training must align with the availability of the cloud platform to put the new skills to use. The training program should consider suitable course contents — contextualized to the organization's cloud strategy and platform, incentives, careers, and certification. Finally, creating a knowledge portal and building a community around it is crucial for learning, collaboration, and discussion between all teams and individuals interacting with the cloud.
Don't miss out on unlocking the full power of the cloud. Contact us today for a personalized consultation or to learn more.
More from Cloud Strategy Unboxed
Learn more