Explore the evolving Africa MVNO landscape, from market statistics to regulatory impacts, and uncover the path to success in this growing telecom sector.
The global MVNO landscape is evolving rapidly. By the end of 2022, there were 129 million MVNO subscriptions worldwide, with Africa contributing 7 million (5.4% of the global market).
In Africa, MVNOs represented only 0.6% of total mobile subscriptions in 2022, much lower than the global average of 1.3%. However, some countries like Senegal have a higher MVNO penetration at nearly 14%.
Although MVNO subscriptions in Africa grew by 4% in 2022, the market is set to grow faster from 2023 onward, driven by factors like the licensing of around 31 MVNOs in Nigeria and Cell C's migration to MVNO in South Africa.
Market drivers
The African MVNO market's growth is driven by vertical markets, including financial institutions and retailers, looking to enhance their digital offerings.
The market is also influenced by the rising demand for data and digital services, coupled with a tech-savvy consumer base seeking affordable data packages.
Regulation
The regulatory environment plays a crucial role. Some countries, like Kenya, Senegal, and Nigeria, have introduced MVNO-specific regulations, boosting the market.
Success factors for MVNOs in Africa
Successful MVNOs in Africa often have strong distribution channels and existing customer bases. Banks and retailers, in particular, have found success in launching MVNOs.
Prospects and challenges
Future MVNO growth in Africa will be driven by data demand, service customization, customer loyalty, and competitive pricing. However, there are challenges, including commercial, technical, and logistical hurdles for both MVNOs and suppliers. The African MVNO market holds promise for those who can navigate challenges and leverage its potential. Stay tuned for more insights into this dynamic sector.
Get the report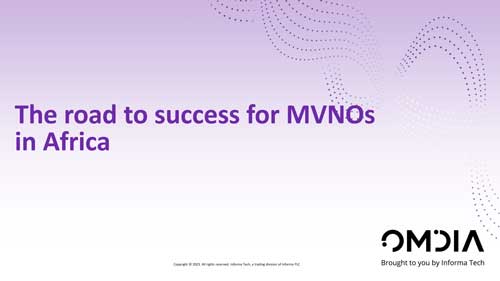 Learn more