Building the right customer engagement strategy is the key to driving revenue, improving customer satisfaction, and staying ahead of the competition.
Discover how leveraging the potential of customer bills and communications can revolutionize customer engagement. In today's competitive landscape, it's crucial for telecoms and CSPs to go beyond traditional bills and transform them into valuable touchpoints that foster stronger customer connections. By harnessing the power of AI & ML and behavior science-based design concepts, CSPs can revolutionize their Bill Experience and unlock a host of benefits that drive innovation and preemptively suggest resolutions for higher customer satisfaction while driving up business growth through cross-sell and up-sell revenue.
Whitepaper highlights:
Understand and predict customer behavior
Proactively address potential customer service gaps
Create and deliver design-led experiences
Deliver personalized communications
AI & ML-driven situational analysis
Download our whitepaper now to unlock the secrets of driving better customer engagement through AI & ML and behavior science-based design concepts. Discover how you can leverage the Bill Experience to enhance your sales and marketing ROI, drive innovation, retain customers, expand into new markets, and satisfy the growing demand for self-serve channels. Stay ahead of the game and position your brand as a leader in the digital transformation era.
Get case study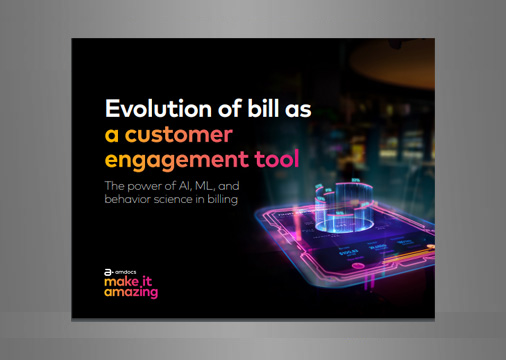 Learn more