Amdocs NFV powered by ONAP
Accelerate the value of virtualization
The industry's first software and services portfolio to leverage ONAP (Open Network Automation Platform) open source, Amdocs NFV powered by ONAP enables service providers to accelerate NFV/SDN service innovation.
Benefit from Amdocs' experience with ONAP early adopters with these key capabilities:
Cloud-based hosted development environment to simplify ONAP distribution
 
Packaged NFV use cases to speed introduction of virtual services like SD-WAN
 
Advanced operations and administration tools to increase operational efficiency.
Avoid vendor lock-in with Amdocs' open network partner ecosystem of more than 80 VNFs to accelerate onboarding and service design.
Fast-track NFV with Amdocs' complementary portfolio of expert services for planning, implementation and operations, as well as integrations to BSS/OSS.
AMDOCS' OPEN-NETWORK PARTNER PROGRAM
Collaboration and community development accelerate the value and flexibility of open source solutions to drive innovative NFV use cases and complex multivendor services. The community of contributors includes customers, developers and leading players in software, hardware and cloud solutions.
Pre-onboarded, certified VNFs and fully integrated, end-to-end multi-vendor solutions powered by open orchestration extend Amdocs' NFV portfolio to enable fast, low-cost design, fulfillment and monetization of hybrid network services.
Visit our Partner Program website for more information.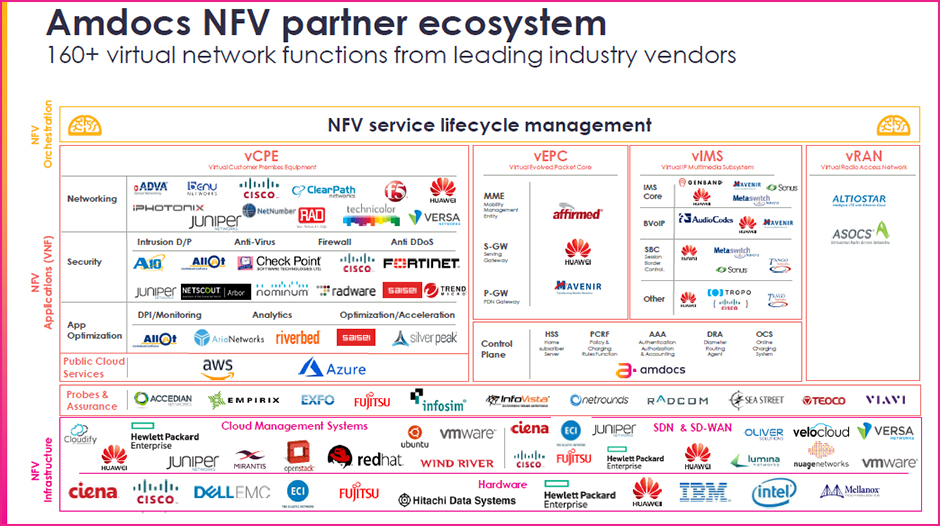 Click image for full size >>
SERVICES
A wide array of professional services for network design, deployment and operations including Network Service Creation, Network Testing and Network Service Assurance.
How Amdocs is lowering entry barriers to ONAP implementation
The launch of Amdocs NFV powered by ONAP
Benefits
Fast, low-risk deployment

Through cloud-based ONAP hosting environment

Rapid TTM

Amdocs offers packaged use cases for new virtual services

Unique expertise

Amdocs brings knowledge and experience from working with ONAP's early adopters

Openness and vendor neutrality

Amdocs' open, multivendor ecosystem has more than 80 VNFs