Amdocs NFV
Powered by ONAP
Accelerate the introduction and management of virtual services, powered by ONAP (Open Network Automation Platform), made available in open source through the Linux Foundation. ONAP is the industry's most holistic NFV/SDN automation platform to design, orchestrate and operate virtual services, leveraging automation through policy, orchestration and analytics.  Amdocs offers a complete solution to help our customers take full advantage of the power of ONAP in open source to innovate NFV and SDN services faster.
ECOMP – the foundation for ONAP
ECOMP is the cornerstone foundation for ONAP bringing a holistic, production-proven, software
Amdocs – co-creator and founding member
As ECOMP co-creator, and with ECOMP to serve as the foundation for ONAP, Amdocs will play a key role in the new ONAP as a founding member
Amdocs – leading early adopters
Our experience and expertise is benefiting global providers like Orange who are using ONAP for innovative new services.
AMDOCS' OPEN-NETWORK PARTNER PROGRAM
Collaboration and community development accelerate the value and flexibility of open source solutions to drive innovative NFV use cases and complex multivendor services. The community of contributors includes customers, developers and leading players in software, hardware and cloud solutions.
Pre-onboarded, certified VNFs and fully integrated, end-to-end multi-vendor solutions powered by open orchestration extend Amdocs' NFV portfolio to enable fast, low-cost design, fulfillment and monetization of hybrid network services.
Visit our Partner Program website for more information.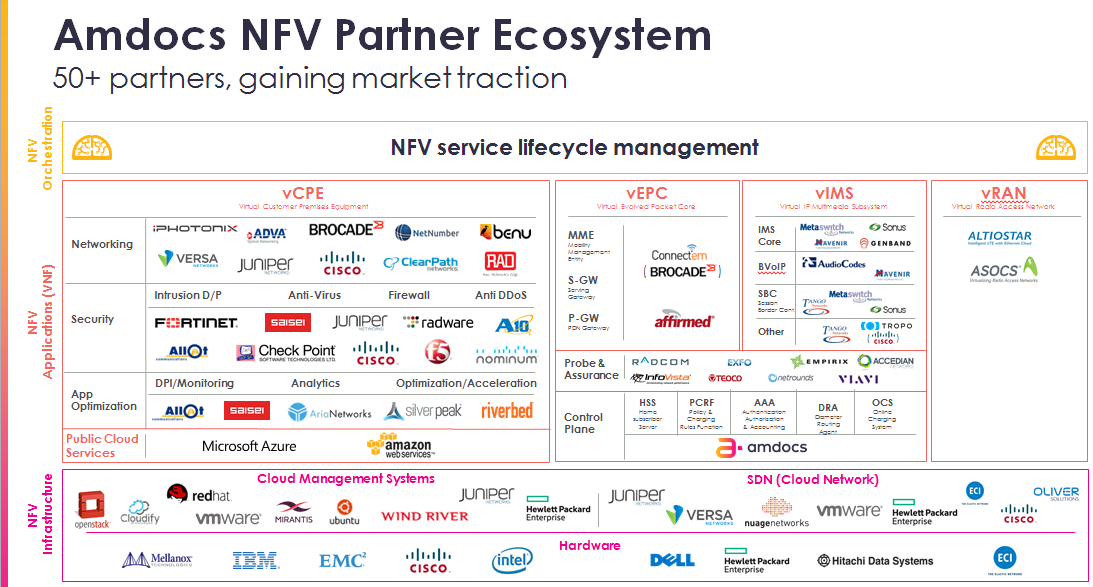 SERVICES
A wide array of professional services for network design, deployment and operations including Network Service Creation, Network Testing and Network Service Assurance.
Open Network Automation: An Industry Perspective
Carol Wilson of LightReading meets with industry leaders from AT&T, Bell Canada, Orange, Linux Foundation and Amdocs to discuss what open network automation means for the industry, the vendor-ecosystem and how service providers will benefit.
Benefits
HOLISTIC ONAP OPEN SOURCE PLATFORM

Accelerates NFV/SDN innovation – design, orchestrate, operate virtual services

ONAP PIONEER

Amdocs brings unique expertise to global service providers who want to build on ONAP and accelerate time to market for new services

Service commercialization pedigree

OSS heritage, BSS integration

OPEN NETWORK COMMUNITY

NFV Partner Program accelerates service innovation