Layout canvas
Amdocs clearly demonstrates it is leading the change and implementing advanced cloud-based applications integrating networks and cloud for the seamless delivery of software-defined connectivity
October, 2020 - SES and Amdocs have just been been recognized by Capacity Media in their annual Global Carrier awards as having the industry's Best SDN/NFV Deployment for their pioneering commercial implementation of an ONAP-powered solution – Amdocs' NFV SD-WAN Package, powered by the Amdocs Service & Network Automation platform (NEO) – on a public cloud (Microsoft Azure) for orchestrating SD-WAN and security services.
The judges described the entry as an award worthy submission, where "Amdocs clearly demonstrates it is leading the change and implementing advanced cloud-based applications integrating networks and cloud for the seamless delivery of software-defined connectivity."
This pioneering project not only enables SES to provide innovative, software-defined, intelligent-connectivity services and NaaS like managed SD-WAN and security offerings, but also to become the world's first satellite provider to deliver a differentiated, scalable portfolio of secure SD-WAN solutions with load balancing across multiple orbit networks and other access technologies.
The judges said they view the SES/Amdocs project "as a very powerful and innovative solution delivered via satellite, bringing clear benefits to consumers and providing seamless connectivity through a myriad of satellites."
SES's vision behind the project
"Our vision is to make satellite-based networks a seamless and wholly integrated part of a global, cloud-scale network ecosystem" explains SES CEO J.P.Hemingway. "Central to this vision is an open, automated operational environment that allows our customers to easily create and deliver new, innovative services anywhere. SES envisions delivering cloud-scale connectivity services and virtualized network functions such as SD-WAN, virtualized Evolved Packet Core (vEPC), security and more, creating massive value for our customers well into the future"
"A very smart move"
The Amdocs solution implemented by SES is the industry's first pre-integrated, orchestrated SD-WAN + NFV-based services package based on ONAP's open-source, open-standard solution –described by Analysys Mason Research Director Caroline Chappell. as a "very smart move" [by Amdocs]. The solution is part of Amdocs service and network automation platform and helps operators to dramatically shorten time to market of secured, managed SD-WAN services and its open, expandable platform enables easy onboarding of additional vendors to enhance their variety/diversity of network and value-added services.
Add this pioneering solution to a public cloud
October, 2020 - SES is the world's first service provider to deploy an ONAP-based solution on a public cloud (Microsoft Azure). Since many of SES' customers run their workloads/business applications on the cloud, SES wanted to be able to offer innovative new services (e.g. SDWAN, NaaS) on the cloud that will enhance their customers' experience and can be deployed, scaled on demand, and delivered with accelerated time-to market and with reduced costs.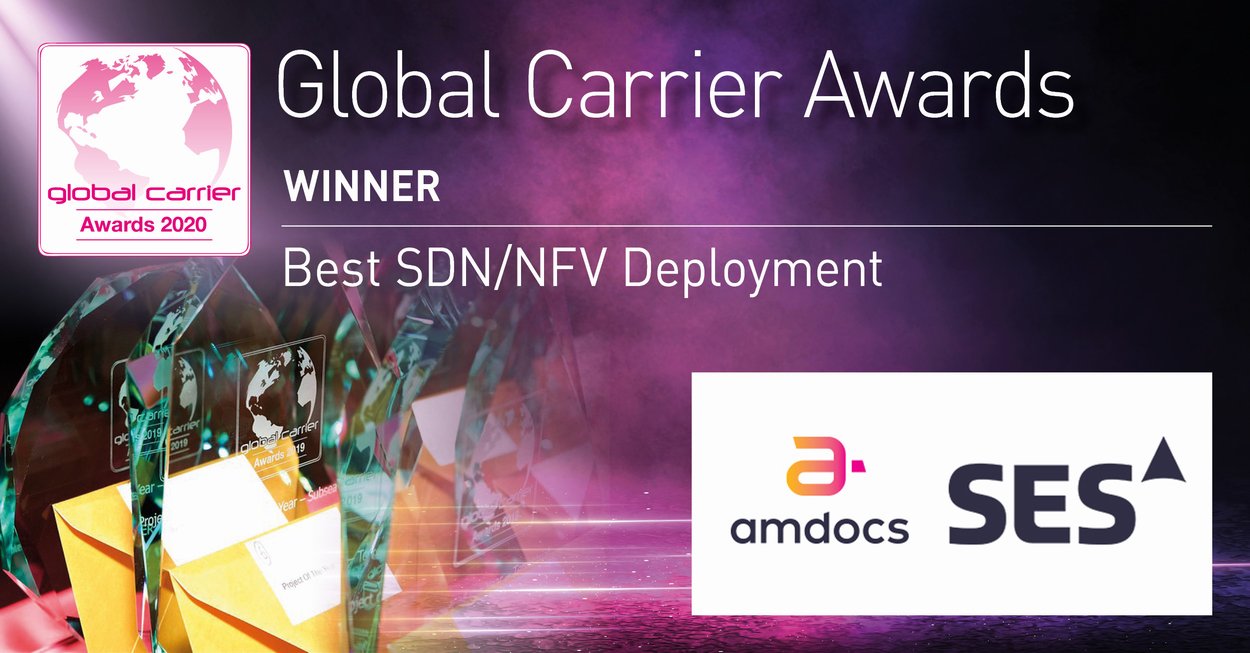 Amdocs…is implementing advanced cloud-based applications integrating networks & cloud for the seamless delivery of software-defined connectivity
By deploying the Amdocs solution on Microsoft Azure's public cloud...
SES can now deliver network services using VNFs running on Azure's public-cloud infrastructure, other clouds, customer premises and data centers.
SES benefits from a highly agile, scalable infrastructure, enabling them to accelerate time-to-market for managed innovative virtual network services.
SES can save costs by avoiding the investments (and time) normally required to set up and run a solution in its own data center, thereby completing the project in just a few months.
SES can provision new services in minutes since Amdocs' solution is also integrated with Azure cloud computing, storage, and networking resources, enabling SES to rapidly scale and continue expanding its offerings, capacity, and capabilities.
The critical role of satellites in taking 5G global
This implementation also supports SES' 5G strategy, which includes SDN-NFV integration into satellite communications, implementing standards/protocols to integrate satellite into 5G networks, and plans to deliver edge-based services: "We've talked about taking satellite mainstream, about having it as a seamless integrated extension to the world's terrestrial telco networks and making ourselves sort of a global cloud-connectivity platform. To do that you need standards, integration and automation. An end-to-end circuit requires orchestration across many pieces. " J.P.Hemingway, CEO, SES.
Learn more