Layout canvas
Day two of this year's Digital Transformation World event saw an illuminating discussion between Amdocs' Menachem (Menny) Konorty and Gint Atkinson, VP network strategy & digital architecture at global content connectivity solutions provider SES.
Delegates attending the Dynamic Orchestration & AI-enabled Service Assurance session heard how SES and Amdocs are preparing to collaboratively pursue 5G network slicing and dynamic SD-WAN / Ethernet services using SES's satellite connectivity. They were also told how SES is transforming into a cloud-native business using Amdocs's end-to-end service and network orchestration solution.
In pursuit of nirvana
Observing that network complexity is a growing challenge, Konorty, head of product management, Amdocs Intelligent Networking Suite, noted how intent-based service and network orchestration represents a "paradigm shift" with the power to enable the "nirvana" of closed-loop autonomous networks, whereby problems are detected and resolved before customers are impacted.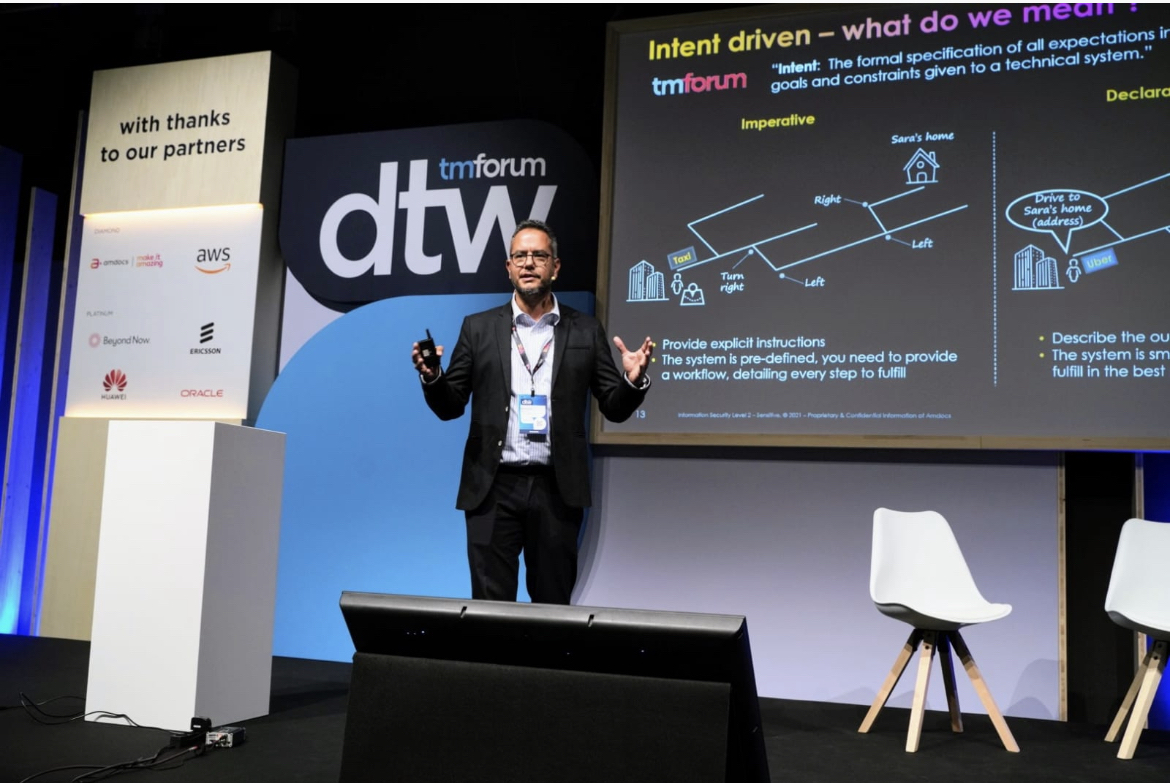 Menachem Konorty, Head of Product Management, Amdocs Intelligent Networking Suite, on stage at Digital Transformation World 2022.
Defining characteristics
But what do we mean when we talk about intent-based orchestration? Konorty offered the following description during his on-stage appearance:
"In simple terms, the service says to humans and systems: don't tell me how to do something, tell me what to do. It targets quality of service and lets the orchestration system figure out how to do it and how to calculate the right path.
"In a way, it's similar to using modern navigation systems instead of the old way of navigating from point A to Z with maps. With the navigation system, you just give the destination and the system knows how to get you to this point, while taking into consideration other factors and the best route to take.
"Obviously, the network is a bit more complex – there are more constraints and considerations, because business and monetization and cost aspects can all be part of the intent – but the analogy stands."
Off-the-shelf deployment
Atkinson remarked that many of the Amdocs products and services that SES has purchased are being "deployed off the shelf" and will integrate with each other.
He added: "With that, we are able to pull everything together and get ready for the next stage of connectivity service, and that is being able to do network slicing as a service. This is relatively straightforward from a technical perspective through deployment of Amdocs' 5G Slice Manager solution.
"All of this came together because of the intensive focus that we have on making everything standard, starting off with TM Forum APIs and architecture and then rolling all the way on through towards going towards 5G, non-terrestrial network support where we're ultimately going to be able to put the 5G locked into the satellite."
Atkinson concluded: "The business imperative to do this was already there but the ability to execute, without doing all of the custom development ourselves, or turning to open source, is what Amdocs has given us. We couldn't go through with this until someone really productized what we needed. That's where Amdocs is helping."
More from DTW 2022