Layout canvas
How can communications service providers (CSPs) harness the power of Artificial Intelligence to drive tangible business benefits and enhance customer experience?
This was the focus of an enlightening session on day two of Digital Transformation World back in September, featuring Yessie Dianty Yosetya of Indonesia-based XL Axiata and Amdocs' Samit Banerjee.
The pair took to the Data & AIOps stage to showcase how – through a project that was a finalist at the TM Forum Excellence Awards at DTW – XL and Amdocs collaborated to improve quality of service for XL's customers across human and online channels, including continuously reducing and minimizing complaints by preventing data issues before they even occurred.
Proactive resolution
XL implemented Amdocs' zero-touch autonomous operations solution, which is powered by AI and machine learning-driven automation tools and supported by an intelligent self-healing engine that identifies unhealthy operational patterns.
The engine regularly performs root-cause analysis and calculates the effectiveness of each mitigation option, choosing the one most likely to solve the problem.
DTW delegates heard how, as well as contributing to an increase in XL's revenue, the project has already led to a 30% drop in customer-complaint tickets and a 47% reduction in average resolution time. Three quarters (73%) of XL's customer complaints are now resolved automatically and this is expected to rise.
The creation by Amdocs and XL of a unique online business process-driven dashboard has allowed XL to quickly understand the potential business impact of an operational problem on customers and revenues, and then proactively resolve it before it impacts customers (as opposed to only identifying issues after customers complain).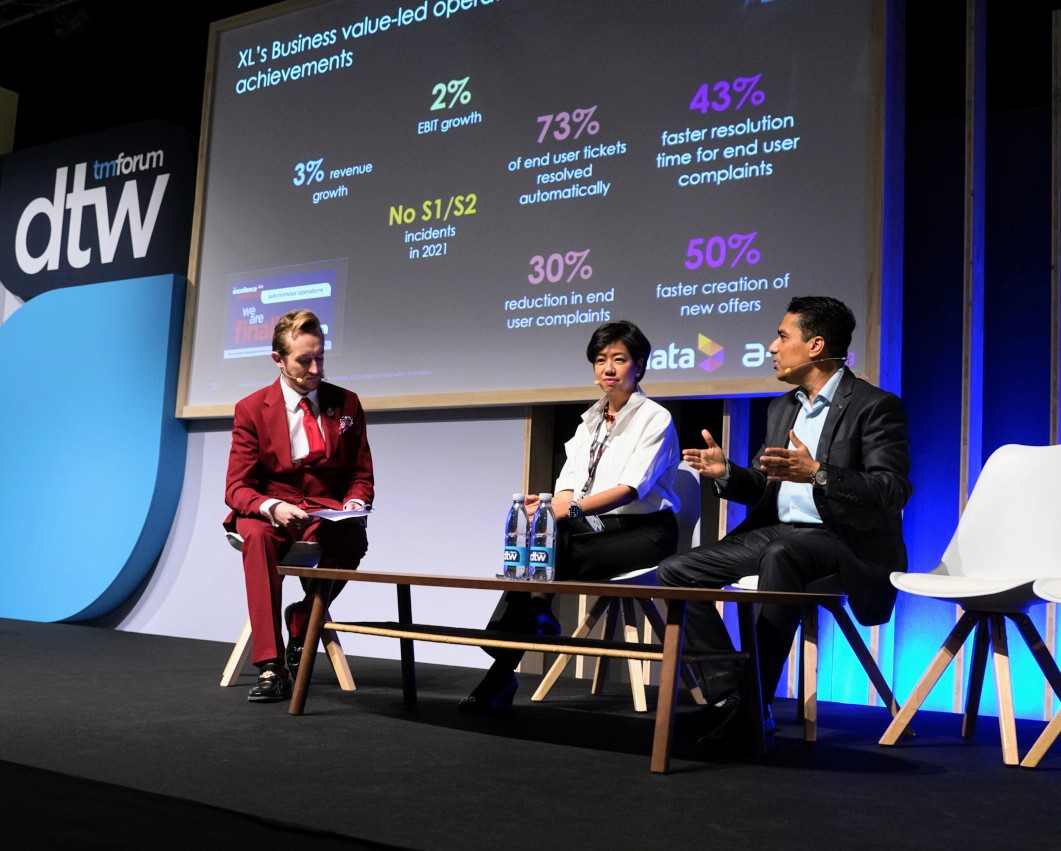 Yessie Dianty Yosetya of Indonesia-based XL Axiata and Amdocs' Samit Banerjee on stage at Digital Transformation World 2022.
Fresh perspective
XL's Yosetya told the audience at DTW that while XL had previously looked at operational performance through a siloed mindset, it had undergone a major shift to look at operations holistically through the "customer lens" and focus on business outcomes rather than operational KPIs. "This is where AI comes in," she said. One of the examples Yessie gave for the "mindset shift" enabled by AIOps, was how it dramatically reduced the time taken to resolve queries from XL's prepaid customers seeking to reload expired SIM cards.
"With AIOps … from eight hours of resolution time, we can [now] solve it with within a minute. That's a massive change," she explained, adding that the reduction demonstrates what's possible when CSPs focus on "creating and correlating the customer journey" instead of "looking at things in boxes."
Mindset shift
Agreeing that realizing the promise of AIOps requires a mindset shift, Amdocs' Banerjee described how the technology creates a virtuous circle of ongoing improvement.
He said: "You have to treat it like a product, not an operation. You can take each area – whether it is observability, monitoring, infrastructure assessment or cloud management – and start to implement the AI/ML component."
He added that the adoption of AIOps should be viewed as a gradual journey rather than an overnight implementation, with ongoing refinement leading to impressive results over time.
More from DTW 2022