Layout canvas
96% of CSP's surveyed state that 5G slicing is a key part of their 5G service strategy. Yet slicing raises significant operational challenges including complexity and the need for a consolidated inventory.
Introduction
5G standalone (5G SA) enables not just basic communications services but industry models tied to devices that can deliver value in ways never thought possible just a few years ago. 5G SA also boosts the use of multi-access edge computing (MEC) for operational and business-driven benefits. 5G SA is a new way for communications service providers (SPs) to do business with their customers, especially business and enterprise customers. 5G SA is also the foundational architecture that enables network slicing at scale if the right operations management functions are in place.
Delivering customer services using 5G SA technology and "cloudified networking" (NFV-VNF, cloud-native network functions [CNFs]) requires a major uplift to existing operations, orchestration, assurance, and monetization systems. These changes are needed to satisfy new business challenges the previously installed generation of systems were never designed to address. For example, the real-time and distributed architecture that defines 5G/MEC services, requires a flexible and rapidly scalable management systems environment able to accommodate dynamic repositioning in the way services are defined, delivered, and updated as customer and network conditions dictate. Existing operations support systems (OSS) and business support systems (BSS) are no longer fit for purpose as the complex 5G SA world takes shape.
We recently surveyed 100+ global communications service providers (communications SPs) concerning their 5G SA business strategies and the importance of updating their operations environment to satisfy the realities of 5G SA operational readiness.
Network slicing enables customers to reap the full services benefits from 5G SA
5G SA network slicing is a virtualized service connection that is supported by a common network connectivity layer. Multiple network slices can be enabled by a fully deployed 5G SA network. Managing each slice, simultaneously with other slices, requires a radically new approach to operations that includes provisioning, activating, and monitoring the service-level quality tied to each slice. Effective service life-cycle management involves degrees of automation to address E2E service-level commitments and for meeting customer expectations in this environment.
5G services require actions and responses at a level and the quantity that are beyond human capability to address. 5G slicing lives in a world where automation, machine learning–driven analytical insight, and even analytics-driven decision making must come together to satisfy technology needs and meet customer expectations. Service-level and network-level complexity abound.
A vast majority of the communications SPs we surveyed indicated that they would be using 5G slicing as a regular part of their 5G services strategy. Yet, network slicing raises several operational challenges that hinder a communications SP's ability to deliver and operate network slicing services at scale (see Figure 1). Chief among these concerns is a consolidated inventory system.
Figure 1- Major operational challenges of delivering 5G network slicing at scale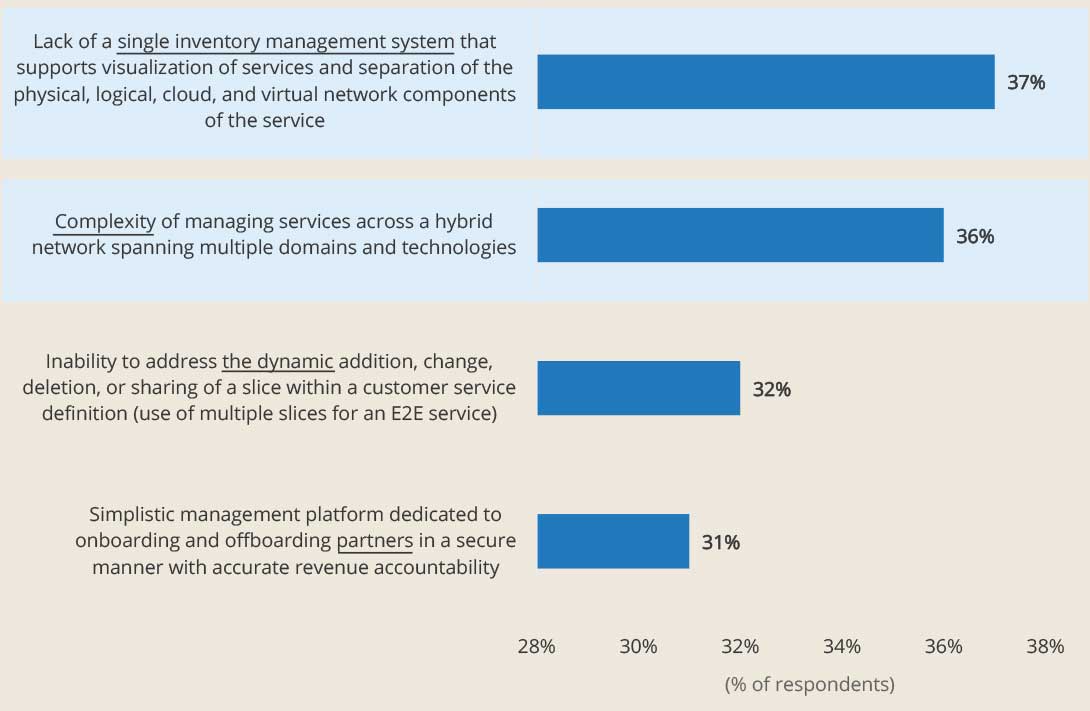 What do you think are the key operational challenges of delivering network slicing services at scale? (select top three answers)
More than one-third of communications SPs stated that the most significant operational challenge they face in the delivery of 5G network services, is the need for a single inventory management system capable of supporting virtualized services and separation of the physical, logical, cloud, and virtual network components of a service. Survey respondents also recognized that overcoming the many nuances from network complexity will play a significant role in achieving overall business success.
Read the IDC whitepaper for a more extensive discussion of the survey findings: