Layout canvas
"Phenomenal", "impressive", "wow" and "wonderful" – these were some of the superlatives used by the TM Forum awards judge Sandra DeZoysa, Group Chief Customer Officer of Dialog Axiata PLC to describe Amdocs and Bharti Airtel's achievements, before presenting them with TM Forum's prestigious Excellence Award in the Customer Experience and Trust category.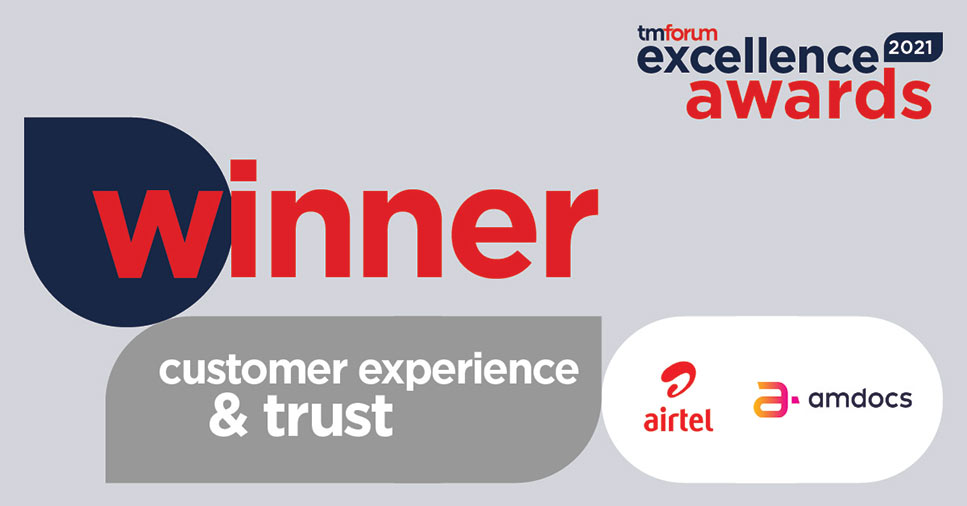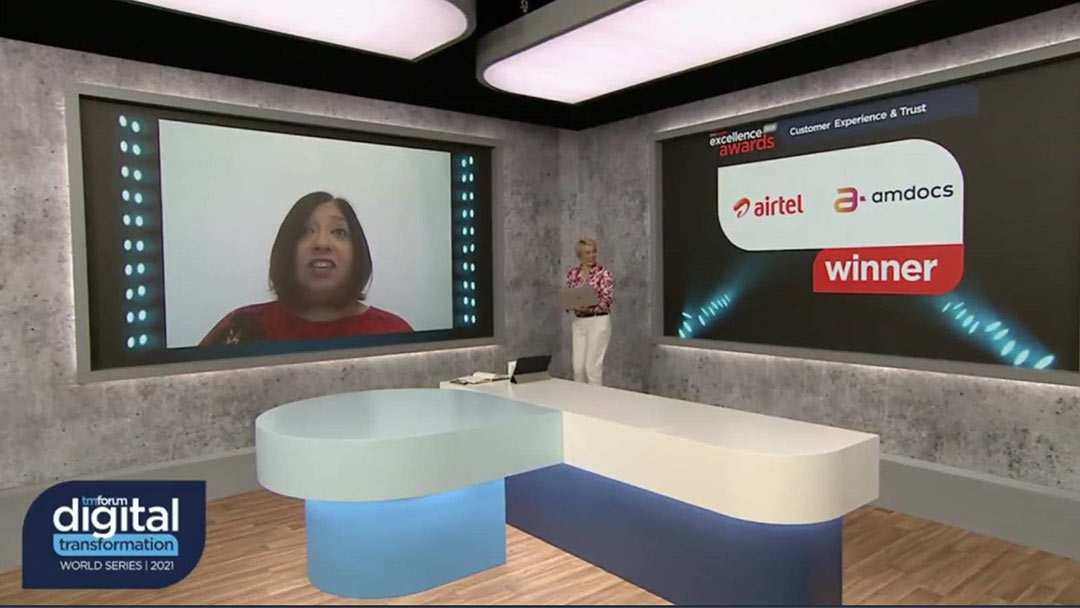 Amdocs SmartOps introduced AI-driven automation to Airtel's existing business support systems, to dramatically improve their digital operations and, subsequently, Airtel's end-user digital experience. Bharti Airtel is one of India's leading integrated operators with more than 300 million active subscribers, providing mobile, fixed, broadband, and direct-to-home TV and broadcast services.
"Obviously we expected AI-driven automated operations to have a positive impact on customers' operational frustrations and their digital experience as a whole thanks to capabilities like proactive and pre-emptive monitoring, and zero-touch operations through self-healing and auto-resolutions, but the successful results far exceeded all expectations," explains Airtel CIO of Consumer Business Nathan Phipps.
Zero-failure promise
Airtel's objective was to reduce customer frustration resulting from faults and process inefficiencies, and to provide an unbeatable digital user and operational experience to support their "Zero Failure" public promise to consumers. This included reducing their need to contact call centers by making complex processes and call centers super-efficient and fault-free, and making it easier for customers to order products and pay bills. 
"We know that 'zero questions' is an impossible utopian thought, especially for a telecom brand – but that won't stop us from trying because we know that the closer we get to zero, the happier our customers will be," said Airtel Chief Marketing Officer Shashwat Sharma. "For us, this is not just a campaign, we are now re-engineering the entire organization towards this goal and are obsessed with building a culture of consumer centricity." The findings included:
Customer frustration dropped to a near-zero level
60% reduction in call centre volumes in six months
Order fallout decreased by 90%
Nearly 100% accuracy in bills paid via online and mobile apps
A unique digital-experience metric
This award recognizes companies that have conquered digital experience and trust challenges resulting in significant improvements in digital experience metrics such as NPS, churn/loyalty, usage of digital touchpoints, ARPU uplift, or growth in market share.
For Airtel, existing digital experience measurement mechanisms didn't suit their needs – they wanted to be able to monitor and measure improvements in real time, and directly map business impact and value against specific system impact and operational KPIs. So Airtel developed their own unique experience measurement mechanism: the Customer Frustration Index - a weighted average of six key business parameters that Airtel identified as most likely to impact customer frustration and churn.
Tough competition
Since 2007, TM Forum's Excellence Awards have recognized the world's leading companies for innovative achievements spanning digital transformation, business and IT agility, customer centricity, cross-industry partnering and collaboration, and product and service innovation across six event themes. 
"TM Forum's Excellence Awards are amongst the toughest and most rigorous in the telecommunications and technology industry. We had an outstanding selection of submissions this year and it was difficult to choose between all the companies partnering and innovating to bring the industry into the new age of digital telecoms. It was a tough competition, so congratulations to all the winners this year, you truly reflect the best cases of customer experience, digital transformation, automation, and innovation worldwide," remarked Head Judge of the TM Forum Excellence Awards, Camille Mendler, Chief Analyst, Omdia.
Learn more