Mastermind
your
Surge ahead of the competition by deploying a data-driven strategy
Mastermind your data journey
Surge ahead of the competition by deploying a data-driven strategy
The journey from raw data to actionable insights can be challenging; Amdocs' approach to data guarantees you'll navigate it successfully.
As they adopt next-generation technologies, CSPs face two significant obstacles: increasing revenues to support their investments in 5G, fiber, and other cutting-edge infrastructures - and minimizing costs to maintain profitability.
By transforming complex data into an intelligent dynamic data foundation that leverages AI to extract valuable insights and create tangible business impact, we have what it takes to overcome these challenges. It's all part of our holistic end-to-end framework: driving our ability to architect and build workflows that serve business objectives, while ensuring data is consolidated and scalable.
Amdocs & generative AI: Paving the way for a new era in CSP operations
Generative AI is a game changer for CSPs, transforming every aspect of their operations. Discover the revolutionary impact of Amdocs and generative AI in telco as they pave the way for unprecedented efficiency and customer-centricity.
Whether you're planning a major modernization or spearheading a business unit-led project, our end-to-end framework ensures that your data journey is successful.
Transform your data infrastructure into a modern and scalable system on the cloud. Our Logical Data Model simplifies complex data structures and terminology, providing a business-ready data framework. With our support, you can implement end-to-end AI and analytics use cases to bolster your business KPIs.
Explore how we can join forces to define your customer journeys and experiences, and manage day-to-day operations to ensure data quality, cost control, and performance.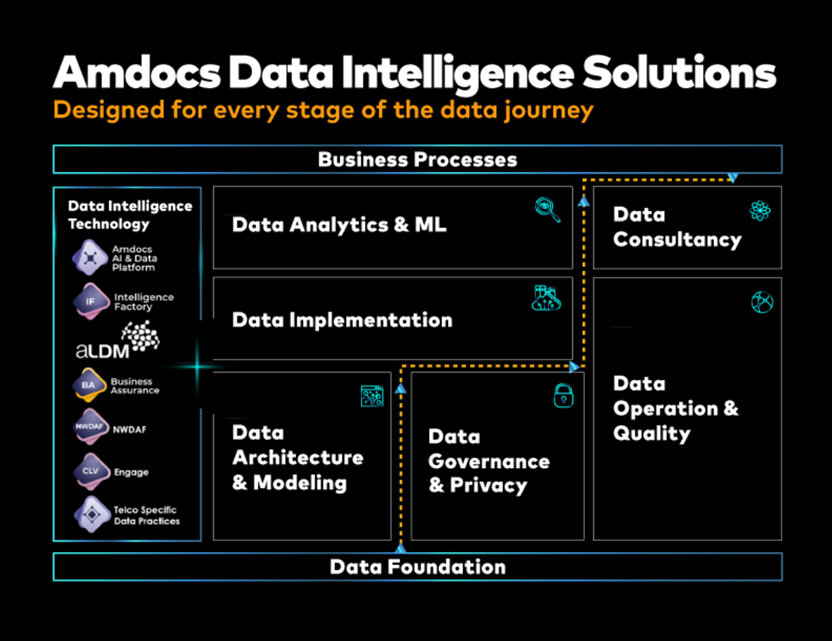 Amdocs Digital Intelligence Solutions Framework
Benefits
Better results

We have modeled 1,000+ CSP domains, entities, KPIs, and attributes, making it easier to consume and generate value from data.

Lower risk

Amdocs data intelligence seamlessly integrates with CSPs' existing systems, minimizing the impact on day-to-day operations.

Faster time to value

While CSPs are undergoing digital transformation, Amdocs Data Intelligence architects and builds their data to fit their new systems, significantly shortening time to value.

Closing the loop

Amdocs Data Intelligence enables CSPs to easily push decisions back into the core systems empowering an end-to-end solution, from insight to action.
Proven results
40%
reduction in data - related OPEX
20%
reduced DWH sustaining costs
65%*
cut in data management costs (*up to 65%)