Enterprise & Connected Society
Inject intelligent automation into every facet of your business to sell smarter, deliver faster and drive growth
Break free from the constraints of time-consuming, manual-intensive labor and expensive processes by injecting intelligent automation into every facet of your business. Amdocs Enterprise Accelerator enables you to successfully grow your enterprise (B2B) business with value-added services through automated solutions for accurate selling and faster service delivery.
Increase revenues beyond connectivity and overcome the challenges of servicing the high-potential enterprise market. Amdocs Enterprise Accelerator allows you to seamlessly:
Configure, price and quote offerings
 
Automate order fulfillment
 
Empower enterprises to consume and manage next-generation network services via a digital self-care and self-scale experience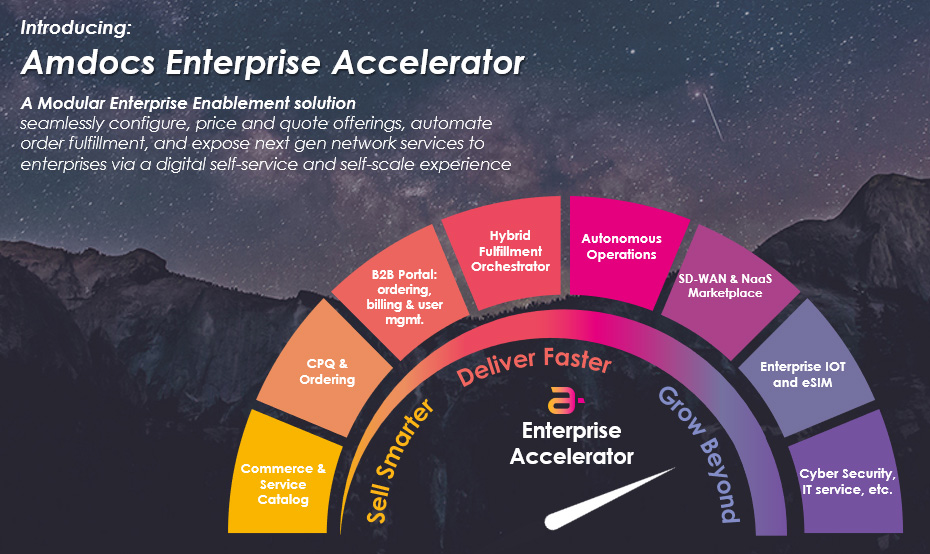 Amdocs Enterprise Accelerator
Sell smarter
Enable accurate processes and profitable deals with holistic customer and contract management
Deliver faster
Drive end-to-end visibility and control through automated order fulfillment and service assurance
Grow beyond connectivity
Adopt compelling business accelerators beyond core connectivity business
Amdocs Enterprise Accelerator
Welcome to the new world of the enterprise and the connected society
Learn More
Untangle Enterprise Sales Complexity with an Agile Lead-to-Cash Automation
Increase sales win-rate and profitability, reduce order fall-out and cancelations
Learn More >>
The enabler: Amdocs Enterprise Accelerator
Amdocs Enterprise Accelerator enables you to deliver a superior, automated enterprise service to sell smarter, deliver faster and grow beyond connectivity
Learn More >>
The 5G Enterprise Opportunity
5G promises a world of unprecedented speed and agility, powering exciting and innovative digital experiences. For service providers, it also promises new and lucrative revenue streams for the enterprise business.
Learn More >>