Transition to A Virtual Network
Fast-track service agility and innovation

Intro
Featured Video
Benefits
Learn More
The industry's first software and services portfolio to leverage ONAP (Open Network Automation Platform) open source, Amdocs NFV powered by ONAP enables service providers to accelerate adoption and monetization of NFV/SDN.

Benefit from Amdocs' unique experience with ONAP early adopters, extensive technology know-how and innovative mindset, combined with these key capabilities:
Streamlined design, instantiation and operations in the hybrid network with modular capabilities powered by ONAP, including VNF onboarding, service design and creation, active inventory and closed loop operations
 
Open source based automation to design, orchestrate, operate & manage the virtual services lifecycle
 
Packaged NFV use cases - comprising processes, best practices and tools, for rapid introduction of virtual services, including SD-WAN, vEPC, mobile IP and virtual RAN
 
Cloud-native, hosted development environment, supported by advanced operations and administration tools and expert services for rapid, cost-effective testing and validation of VNFs, and for trialing ONAP
 
Order fulfilment orchestration for complex hybrid services designed for enterprise and consumer segments, as part of a broader Amdocs B2B offer
 
Feature-rich, configurable virtual policy controller (vPCRF), pre-integrated with ONAP, is ready to support 5G NSA and for deployment in NFV, private or public cloud environments
Avoid vendor lock-in with Amdocs' open network partner ecosystem of more than 160 VNFs to accelerate innovation and introduction of complex multi-vendor NFV-based services.

Fast-track NFV adoption with Amdocs' complementary portfolio of expert services for planning, implementation and operations, as well as BSS/OSS integrations.
 
Network-as-a-Service: transforming the enterprise marketplace
Network-as-a-Service (NaaS) is an emerging, game-changing opportunity that enables service providers to revolutionize their network and cloud service offerings for the crucial enterprise segment.

Amdocs' modular and programmable NaaS solution automates, orchestrates and simplifies the design, ordering and management of network and value-added services for faster time to market, increased efficiency and a transformed customer experience.

With on-demand connectivity, a self-service portal and digital VNF marketplace for value-added services, it enables service providers to offer consumer-like choice with scalability, visibility and control, while increasing agility and control to cope with constantly evolving business needs.
Amdocs' Open-Network Partner Program
Collaboration and community development accelerate the value and flexibility of open source solutions to drive innovative NFV use cases and complex multi-vendor services. The community of contributors includes customers, developers and leading players in software, hardware and cloud solutions.

Pre-onboarded, certified VNFs and fully integrated, end-to-end multi-vendor solutions powered by open orchestration extend our NFV portfolio to enable fast, low-cost design, fulfillment and monetization of hybrid network services.

Visit our Partner Program website for more information.
Amdocs NFV partner ecosystem >>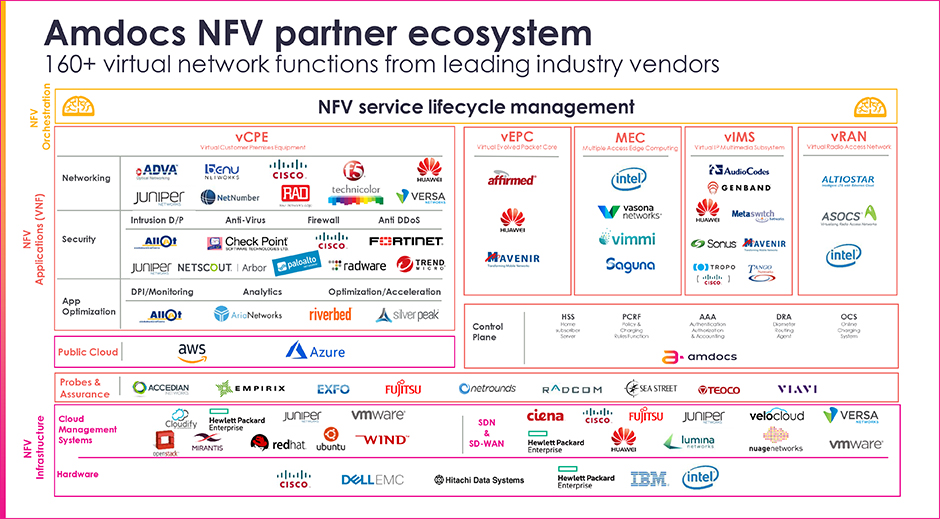 NFV EXPERT SERVICES
Building on our solid delivery experience and technical expertise, coupled with experience with ONAP and NFV early adopters, we are in a unique position to offer a wide range of expert services for network planning, implementation and operations.
Amdocs Virtual Policy Controller
Feature-rich, configurable Virtual Policy Controller (vPCRF), pre-integrated with ONAP and ready to support 5G NSA.

Amdocs Virtual Policy Controller network functions can be deployed in NFV, private or public cloud environments and in multiple configurations.

This enables CSPs to keep up with changing traffic demand as well as rapidly introduce new subscriber services that leverage real-time policy decisions over subscriber access to network resources.
SES Networks leverage the public cloud to deliver intelligent network services
Hear from SES Networks and Amdocs on the 1st ONAP Based Network Automation and Service Orchestration Solution deployed on Microsoft Azure
Fast, low-risk deployment
Through cloud-based ONAP hosting environment
Rapid TTM
Amdocs offers packaged use cases for new virtual services
Unique expertise
Amdocs brings knowledge and experience from working with ONAP's early adopters
Openness and vendor neutrality
Amdocs' open, multivendor ecosystem has more than 80 VNFs
Learn More
case study
On-demand, cloud-based enterprise services
Network-as-a-service success story
case study
SES introduces intelligent enterprise connectivity
Ready-to-deploy, pre-integrated service orchestration solution
case study
Rapid time-to-market for SD-WAN Services
Leading media & communications service provider implements commercial SD-WAN service in <7 months
Solution brief
Amdocs NFV SD-WAN package on Azure
Amdocs and Microsoft collaborate to allow CSPs to modernize, automate and digitize as they grow beyond connectivity and deliver managed SD-WAN and virtual network services by deploying
Amdocs ONAP based NFV orchestration platform on Azure for scalable, cloud-based, network automation and service orchestration of network services.
micro site
Amdocs NaaS Solution
Helping service providers transform their B2B customer experience today
solution brief
Fortinet and Amdocs pre-integrated virtual security solution
Enabling CSPs to automate network services orchestration, accelerate innovation and deploy the broad portfolio of Fortinet security virtual functions at customer premises, data centers and public clouds
market view
Network Virtualization
3 approaches to NFV deployment and an overview of typical implementation strategies
brief
Amdocs NFV Strategy & Planning Services
Consulting services providing you with tools and insights to develop your NFV strategy
brief
Amdocs NFV Implementation Services
Deploy, configure and integrate virtualized network and services, drawing on our experience in VNF and service onboarding, NFV platform delivery, testing and DevOps
brief
Amdocs NFV Operations Services
Find out how Amdocs' skills and best practices help to optimize your hybrid operations and drive value from network virtualization