CatalogONE
The heart of your organization
Intro
Customer Success
Design Thinking: A Success Story
Learn More
An open-cloud native catalog solution that enables service providers to launch new services in minutes. It provides business & marketing with a simple user interface for their needs, analytics dashboard, collaborative processes and embedded intelligence to rapidly define,  implement, test, launch, manage new offers, product & services.
CatalogONE is a revolution
In its business empowerment
Intuitive and business-focused UI, intelligence, approval workflow, real-time publishing


In its approach
collaborative processes, run time configuration


In its design
role based UI with Design-led thinking


In its flexibility and openness
cloud-native architecture, powered by microservices360, federation of partner services
CatalogONE architecture is Cloud-native and built on API-first design and open source technologies through domain driven design.  It leverages market-leading PaaS to provide pre-defined telco-grade CI/CD environment and lean operations through amdocs Microservices360 framework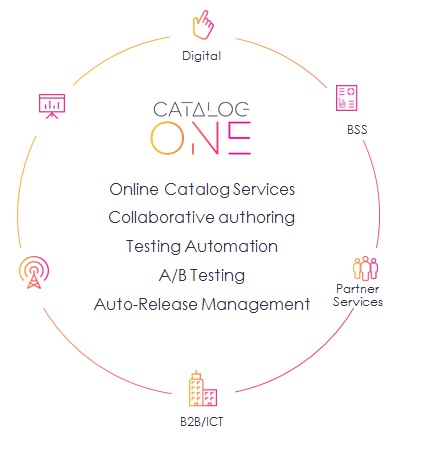 CatalogONE is the heart of your business
Advanced business models & offerings – consumer & business
Personalized and contextual offers, pricing & promotions
Digital services, ICT services, virtualization
Consistency across systems & touch points
Ability to understand and re-act to business changes in real-time
Customer Success
KT implements Amdocs CatalogONE cloud-native solution to accelerate introduction of new 5G offerings
KT Corporation
Learn More >
Customer Success
KT implements Amdocs CatalogONE cloud-native solution to accelerate introduction of new 5G offerings
Continue Reading
Close
video
Design Thinking: A Success Story
Learn about the design-led thinking process used in the development of our new CatalogONE product
Learn More
case study
Sprint digital transformation case study
Sprint digital transformation implementing DigitalONE and CatalogONE with a unique co-development approach enable digital, omnichannel experiences and continuous new, fast-to-market offerings and reduced cost.
white paper
Centralized product catalogs will be key to differentiation in the 5G era
5G will mandate extensive product catalog capabilities for supporting new business models, use of network resources and for engaging with external ecosystems and third party partners, in order to effectively monetize new opportunities.
white paper
The Future CSP Marketer: CMOs Take Charge in Digital Transformations of Business Drivers
What the future holds for CSPs marketers? Leading CSPs are placing more responsibilities on their marketing departments which is underscored by the shift of modernization budget to CMOs.
data sheet
Amdocs CatalogONE - A New Catalog Paradigm
CatalogONE can drive your business growth and modernization
brochure
CatalogONE
Amdocs CatalogONE's broad set of innovative tools and capabilities are designed to enable digital service providers to flourish in an ever-changing, on-demand world
analyst's view
The Elastic Telco: How a Smart Catalog Drives a Smart Business
"The new Amdocs catalog performs incredibly complex acrobatics on the inside to offer the profound agility SPs are looking for yet take usability to a new level of simplicity on the outside" - Stratecast partners, a division of Frost & Sullivan